Cliffs Natural Resources (NYSE:CLF), the largest producer of iron ore pellets in the United States, has seen its stock price steadily decline since closing at just under $100/share in July of 2011. However that decline turned into a tailspin in early February after the company said it would slash its dividend and sell more stock to pay down debt.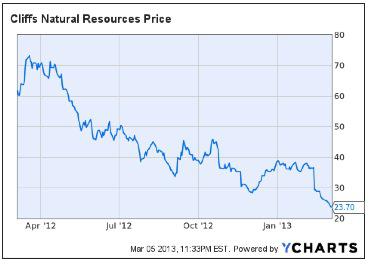 Earnings Impacted by Lower Iron Ore Prices
The company had reported its earnings the day before, recording a $1.6 billion loss in the final quarter of 2012. This news was not all that surprising as the company had pre-announced it was taking the write downs after demand for iron ore slumped in the fourth quarter. Excluding charges, Cliffs made $493 million in full-year adjusted earnings - down 69% from the $1.6 billion earned in 2011.
Dividend Slashed/Shares Issued
However when the company announced, just a day later, that it was also slashing the quarterly dividend by 76% to $.15/share from $.625/share, as well as issuing nine million more shares of common stock and 27M depositary shares to help shore up its balance sheet, the share price….wait for it…fell off a cliff, losing more than 20% in value in a single day.
Management acknowledged that poor prices in iron ore has forced it to reconsider all of its projects and expenses and it determined that it needed to preserve cash in order to better withstand volatile swings in commodity prices. Thus, it was only prudent to cut the dividend. It's hard to argue with logic like that, but for those that had purchased the stock for its yield, the argument offers little solace.
Margins Impacted
To be sure, for nearly a year from September of 2011 through September of 2012 iron ore prices had declined from around $125-$150 a ton to $100/ton. Since it costs the company a little more than $60 per metric ton just to get it out of the ground, the price decline in iron ore has had a very real impact on the margins and profitability of the company.
By comparison, competitors Vale (NYSE:VALE) , Rio Tinto (NYSE:RIO) and BHP Billiton(NYSE:BHP) have costs in the range of $34 - $45 per ton and thus have been able to better withstand the price declines.
Suffice it to say that in a very large sense, the financial health of Cliffs is tied to the price of iron ore. You can see, from the chart below that, until recently, the price of iron ore and the price of CLF were closely correlated.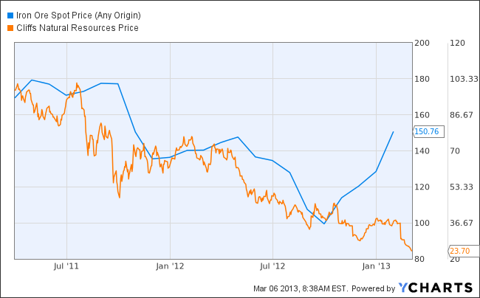 Iron Ore Spot Price (Any Origin) data by YCharts
However, as Spot Prices in Iron ore have rebounded somewhat back to the $150/ton level before puling back here lately, CLF continued its downward momentum creating a large disparity. This disparity started with the release of its disappointing 3rd-quarter results and then continued on the pre-announcement of the impairment charge and finally has been exacerbated by the dividend cut and capital raise.
But the bad news, it seems, just keeps coming. This past Monday the stock slumped an additional 5.8% on news that China, which is Cliffs' largest market, was taking steps to slow growth even further. If true, this would have the effect of putting a damper on already sluggish demand.
Let's Make a Deal?
In addition, recent reports from Bloomberg (here) indicate that China is creating large mining companies that will be able to compete with global mining conglomerates for acquisitions of foreign companies. With it's heavy debt load and declining stock price, Cliffs may indeed, be seen by the Chinese as a takeover candidate.
Don't Try to Catch a Falling Knife
There's an old saying, "don't try to catch a falling knife." Cliffs Natural Resources is still falling and I'm in no particular hurry to step in and try to catch a bottom. Not withstanding any takeover possibilities, which would be premature to speculate on at this point, and the fact that iron ore prices have rebounded nicely and should provide some attractive leverage for the company going forward, CLF is a ticker that I'm going to steer clear of right now.
Two Big "Ifs"
Having said that, Cliffs is definitely on my "Watch List". If economic conditions in China continue to improve, and if iron ore prices don't significantly weaken again, Cliffs Natural Resources should be positioned to quickly get back on the track to profitability and I want to be ready when it does.
Disclosure: I have no positions in any stocks mentioned, and no plans to initiate any positions within the next 72 hours. I wrote this article myself, and it expresses my own opinions. I am not receiving compensation for it (other than from Seeking Alpha). I have no business relationship with any company whose stock is mentioned in this article.