Investors are wandering further afield in emerging markets in search of countries with better economic growth rates and more manageable debt relative to developed economies. Some are using frontier markets ETFs to buy countries and regions with one trade, low costs, diversification and liquidity.
ETFs for this burgeoning asset class include iShares MSCI Frontier 100 Index (NYSEARCA:FM), Guggenheim Frontier Markets ETF (NYSEARCA:FRN) and PowerShares MENA Frontier Countries ETF (NASDAQ:PMNA).
These ETFs often invest in countries with more attractive GDP growth than the U.S. and other developed markets. Of course, they are riskier and long-term investors should be prepared to endure volatility. Investors also need to be cognizant of any currency-related risks in these foreign-equity funds.
Frontier ETFs can provide diversification in a market that seems highly correlated on major economic and political risks, reports Roben Farzad for Bloomberg Businessweek.
Frontier markets represent 30% of the world's population "crammed into some of its fastest-growing economies," Farzad writes. "Nourished with enough stability and free-market reforms, and the noblesse largesse of foreign investors, frontier markets are primed to go more mainstream, especially with ETFs like the fledgling iShares MSCI Frontier 100 now casting for talent."
FM holds assets of $52.7 million and charges an expense ratio of 0.79%, according to manager BlackRock. The top five country holdings are Kuwait, Qatar, Nigeria, United Arab Emirates and Pakistan.
The frontier markets ETF is up about 9% the past three months.
iShares MSCI Frontier 100 Index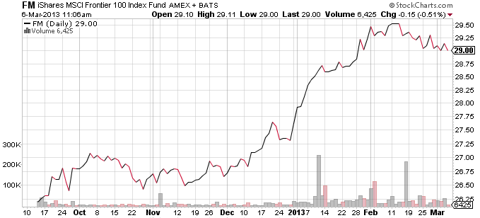 Disclosure: I have no positions in any stocks mentioned, and no plans to initiate any positions within the next 72 hours. I wrote this article myself, and it expresses my own opinions. I am not receiving compensation for it. I have no business relationship with any company whose stock is mentioned in this article.