The market continues to march to new highs even as breadth continues to weaken. The rally is starting to feel a little long in the tooth to me. I think it is time to take some profits and rotate to some defensive picks with high yields that should provide some protection if we do get an inevitable pullback. One stock that makes sense to me right here is Vodafone (NASDAQ:VOD).
One thing that attracts me to this stock right now, other than its high yield, is a possible significant catalyst that should unlock substantial shareholder value. Rumors are picking up that Verizon (NYSE:VZ) will make a play to buy the 45% of Verizon Wireless that Vodafone holds, but is not fully reflected in the company's current market capitalization. This would be a logical and strategic move by Verizon, and would align to the robust M&A activity we have seen so far in 2013.
In addition, it is a stock that has not participated fully in the rally in the last few months and has a ways to go to catch up to the overall performance of the S&P (see chart).
Click to enlarge images.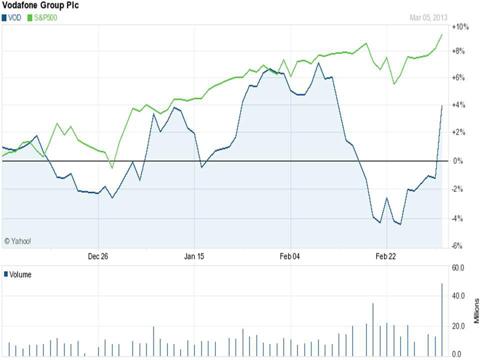 It also has also attributes that should appeal to value and income investors.
Here are six reasons why VOD is a solid bargain at just $27 a share:
It yields almost 6% based on 2012's payout schedule (5.7%).
The company boasts an A- rated balance sheet and a low beta (.74), which means it should decline less than the overall market should volatility increase in the market.
The stock is priced at 10.5x forward earnings and less than eight times current operating cash flow.
It is selling near the bottom of its five-year valuation range based on P/S, P/E, and P/CF.
S&P has a "Buy" rating on the shares and the company has a significant and growing emerging market customer base.
It has solid long-term technical support less than 10% below its current trading level (see chart).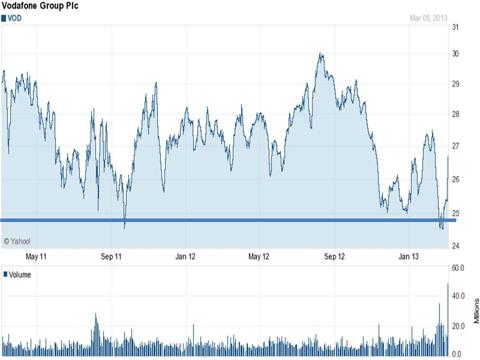 Disclosure: I am long VOD. I wrote this article myself, and it expresses my own opinions. I am not receiving compensation for it (other than from Seeking Alpha). I have no business relationship with any company whose stock is mentioned in this article.