VIX - Market Sentiment:
Wednesday S&P futures continued to rip higher as the world continues to get positive economic data points. It is almost hard to believe on February 26th futures were trading near 1480 and now have ripped 60 handles higher in just 6 short trading sessions. The ADP Non-Farm numbers came in a blazing 16K over expectations combined with advancing investor sentiment and mortgage applications. Big moves today were gains in the mining stocks as Freeport-McMoRan (NYSE:FCX), US Steel (NYSE:X), and Newmont (NYSE:NEM) all ripped higher. Not all names were up however as Staples (NASDAQ:SPLS), Harris Corp (NYSE:HRS) and J C Penny (NYSE:JCP) were all significantly lower across the board. JCP of course reported a disaster of a quarter and former CEO Allen Questrom was seen on CNBC questioning the current direction of the JCP board. Shares continued to slide to a new 52 week low as volatility continues to increase as JCP puts become more expensive as shares continue to dive.
Market volatility on the other hand seems to be almost nonexistent if one looks at the spot CBOE Volatility Index (VIX) and futures. Amazingly the VIX continues the collapse moving from 19 back down to the 13.50 level in just those few short trading days. Volatility ETF (NYSEARCA:VXX), 2x ETF (NASDAQ:TVIX), and alternative 2x ETF (NYSEARCA:UVXY) have been crushed during this time as futures continue to be sold off. Today the VIX did trade above average volume but calls and puts were both overall sold. Calls were net sold to the tune of 177K against some profit takers on the puts at 970K worth of net selling. Large block trades today were closing positions on both the put and call side with call spreads being sold across the board as the S&P charges to new highs. Futures ended the day flat and mixed as shown below.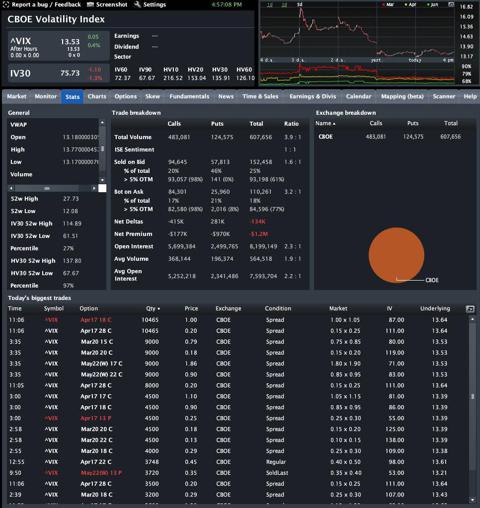 Statistics and Screenshot Provided By LiveVol
VIX futures are listed below.
Yesterday
· March VIX futures 14.55
· April VIX futures 15.55
· May VIX Futures 16.35
Today
· March VIX futures 14.65
· April VIX futures 15.55
· May VIX Futures 16.30
Options Paper:
Option paper started the day strong but fizzled throughout the day trading just about average at 15.7M contracts. S&P ETF (NYSEARCA:SPY) as normal lead the way with 2.3M contracts just at the average daily volume. Volume was followed with Apple (NASDAQ:AAPL), Bank of America (NYSE:BAC), Russell ETF (NYSEARCA:IWM), and NASDAQ ETF (NASDAQ:QQQ) rounding out the top 4 non-index names. All names were near or under average in terms of volume. One ticker standing out to me was the S&P Retail ETF (NYSEARCA:XRT) which saw a very bearish collar roll out one month. At 1:45 today a huge order rolling a 69-67 March collar to an April 70-68 collar. This trade bought the short March 69 calls 20K times for .39 and sold the March 67 puts 20K times for .25 for a net debit of .12. At the exact same time the April 70 calls were sold 20K times for .72 and the April 68 puts were bought 20K times for 1.49 for a net debit of .77. Overall the roll cost the trader .89 or 1.78M to put on the trade and is more than likely a hedge against 2M long shares vs. an outright bearish bet. Options volatility in the front month collapsed throughout the day as options were more than 5x average daily volume with puts outnumbering calls 2.5 to 1. Add to this the 20K of April 67 strike puts and 40K April 64 strike puts trading on the day and you have someone who believes retail will falter before April expiration.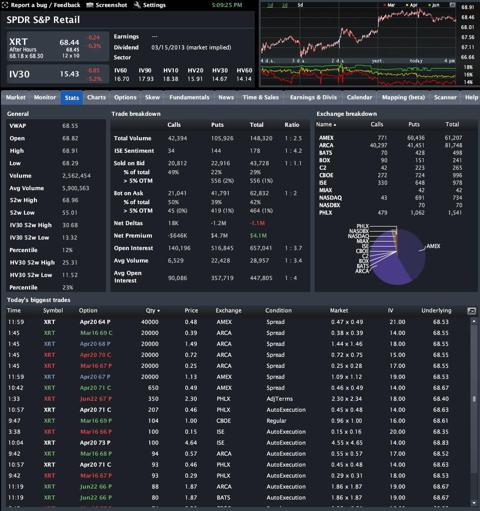 Statistics and Screenshot Provided By LiveVol
For those who follow me and my trades on Twitter I flagged some wild option activity in a name not common to the sonar report - Ruby Tuesday (NYSE:RT). RT typically only trades less than 100 contracts a day and today all 1,564 contracts were puts without a single call trading on the day. Of the puts 94% were bought on the offer with the March 7.5 strike ITM puts being the most active by far. Against just 4 contracts of open interest 1,153 March 7.5 strike puts were bought today in larger blocks. This is particularly odd to me as earrings were reported back on January 9th and I can see no upcoming conferences or earnings to speak of. Options activity was more than 15x average daily volume with put inflows seeing north of 26K in premium. I typically do not report on names like this but the options activity has this one squarely on my radar as a potential short opportunity.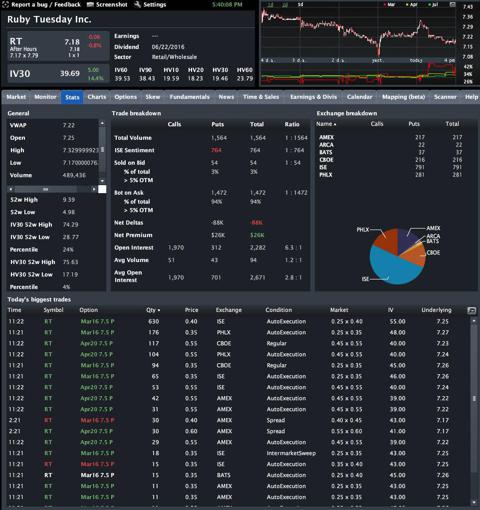 Statistics and Screenshot Provided By LiveVol
Popular ETFs and equity names with bullish / bearish paper:
Bullish Option Flows - ISE and % OTM calls bought on offer
Ultra Petroleum (UPL) 69% - 2.9K OTM calls
Weatherford (NYSE:WFT) 61% -2K OTM calls
Pandora (NYSE:P) 59% - 5.5K OTM calls in the March 15 strike playing for an earnings blowout.
Equity Research (NYSE:EQR) 1.9K ISE calls
Charles Schwab (NYSE:SCHW) 1.8K ISE calls
Bearish Option Flows - ISE and % OTM puts bought on offer
Fifth Third Bank (NASDAQ:FITB) 94% - March 15 strike puts 2.5K times
Micron (NASDAQ:MU) 62% - 5K OTM puts bought
Gilead Science (NASDAQ:GILD) 61% - 2.5K OTM puts bought
Delek (NYSE:DK) 1.7K ISE puts
Enterprise Products (NYSE:EPD) 1.9K ISE puts
As always happy trading and stay hedged.
Remember equity insurance always looks expensive until you need it!
Disclosure: I am long AGNC, BA, CBB, CONE, ENDP, IOC, JCP, MTGE, NRG, TLM, TUMI, and I am short ARUN, DDD, EDU, LULU, SPY
Trades Today: Took some profits in DDD short, Added to SPY short, Covered some ARUN short
Disclaimer: The opinions in this document are for informational and educational purposes only and should not be construed as a recommendation to buy or sell the stocks mentioned or to solicit transactions or clients. Past performance of the companies discussed may not continue and the companies may not achieve the earnings growth as predicted. The information in this document is believed to be accurate, but under no circumstances should a person act upon the information contained within. I do not recommend that anyone act upon any investment information without first consulting an investment professional as to the suitability of such investments for his or her specific situation.
Disclosure: I have no positions in any stocks mentioned, and no plans to initiate any positions within the next 72 hours. I wrote this article myself, and it expresses my own opinions. I am not receiving compensation for it (other than from Seeking Alpha). I have no business relationship with any company whose stock is mentioned in this article.