This past weekend we ran our Alert HQ process and once again found a slew of inverse ETFs on the Trend Leaders list (hopefully that may change by this coming weekend). One of the few tech stocks on the list is Starent Networks (STAR-OLD). Not being familiar with the company I wondered why it's doing so well while so many other companies are sinking.

Background

Starent Networks was founded in August of 2000, with the intent of providing mobile operators with the systems required to deliver a multimedia communications environment to their subscribers. The company supplies high-performance solutions that act as the subscriber-management gateway between radio networks and the IP network, such as the Internet. The solutions are access independent allowing them to serve a wide variety of mobile broadband radio technologies, such as, UMTS/HSPA, CDMA2000, WiFi, WiMAX and Femto networks. Over the past 8 years, the company has deployed its solutions in over 85 mobile operator networks in more than 35 countries. Customers include Verizon Wireless in North America, KDDI in Japan, SK Telecom in Korea, China Unicom and many others in all major regions of the world.

What this means is that Starent is in the sweet spot for mobile communications today. The company provides IMS or IP Multimedia Subsystems that allow cell phone users to connect to the Internet and browse the web, watch movies, listen to music, check email, etc. These systems act as the gateway between the Internet and the wireless world.

With the surge in smart phone usage and the increasing adoption of data plans by cell phone customers of all kinds, Starent finds its products in demand. Telecom system providers need to be able to provide a robust, high-speed Internet experience to their customers and increasingly Starent is being selected as the preferred solution.

The stock has nearly doubled so far this year and technically speaking, it is in a clear up-trend with all moving averages looking very positive.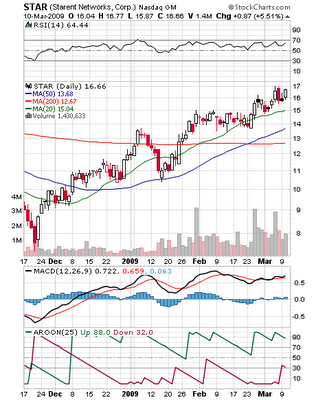 Financials

Starent has a market cap over $1B. Net income grew 42% over both the last two quarters. The company has no long term debt. According to Reuters, the company has a 5-year sales growth rate of 325%. Gross margin is higher than the industry average. The PEG ratio is a mere 0.66 and return on assets is significantly better than the industry and sector average. This explains why the stock has been performing so well.

Unfortunately, the stock cannot be considered to be a bargain any more. With a PE of 20, Price-to-Sales of 4.37 and a Price-to-Cash Flow ratio way above industry average, the stock is getting a little expensive when compared to the beaten down numbers associated with most of the other companies in the sector.

Still, growth stories are seldom cheap for long and it appears Starent is currently in a serious growth phase. This looks to me like one of those situations where buying the dips is the right strategy.

Disclosure: none