On March 6, QR Energy (NYSE:QRE) reported its Q4 and full-year 2012 earnings. For FY 2012, Vanguard reported record daily production of 16,653 BOE/d and distributable cash flow of $152.4M. The distribution coverage ratio for FY 2012 was 1.6X, down from 2.40X in 2011. QR Energy stock did not seem react positively to these results, falling 4.63%. QR Energy currently offers a $0.4875 distribution per unit, and at current prices, yields nearly 12%.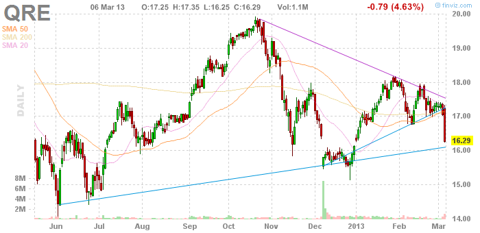 During 2012, QR Energy has been expanding and purchasing long-life, low-decline assets. The company held assets in the Permian Basin, Mid-Continent, Ark-La-Tex, Michigan, and the Gulf Coast. As of Q4 2012, QR Energy had production of 17,033 BOE/d, with proved reserves of 99.1MMBOE. About 75% of reserves are proved, with an asset mix of 68% liquids and 32% natural gas.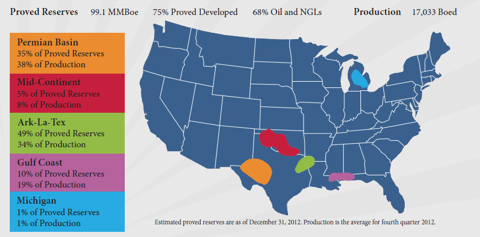 During Q4 2012, QR Energy was heavily reliant on oil, with oil making up over 88% of revenue including hedges, yet only 55% of production. Natural gas was only 12% of revenue, and yet over 33% of production. Natural gas liquids "NGLs" made up 12% production, and about 8% of revenue. Due to hedges, the price QR Energy received for oil and natural gas was higher than the realized price by 9% and 80%, respectively. QR Energy did not hedge any NGLs production in 2012, and therefore, did not receive a benefit or discount to the realized price.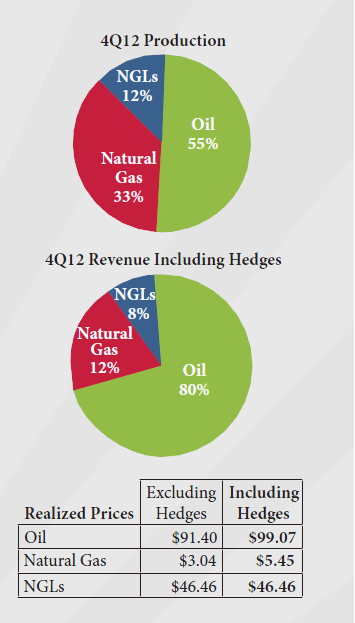 Like with all other upstream MLPs, hedging is a very important consideration for QR Energy. As of Q4 2012, QR Energy had about 80% of its oil and natural gas hedged through 2016. Through 2017, this figure drops to 65%. This does not mean that QR Energy has not tried to increase its hedges, however, the market for hedges past 2014 is "very thin," according to CFO Cedric Burgher: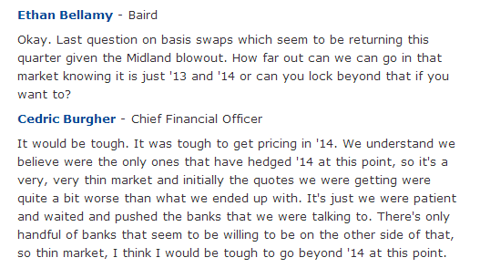 When considering investments, a record of distribution growth is always welcomed. In its short history, QR Energy has already raised its quarterly distribution three times, or 18%, since its IPO in late 2010.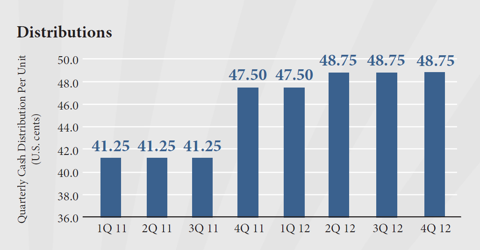 Included in this release was the 2013 guidance for QR Energy. The company expects FY 2013 production to range from 17800-18200 BOE/d. Lease operating expenses are expected to range from $20-22 per BOE. Capital expenditures are expected to be $90M to 2013, with $68M of this being maintenance capex. G&A expenses are expected to be $32M-$35M.


Note that in the above guidance, QR Energy did not include the projected distributable cash flow figures for 2013. The coverage ratio in Q4 2012 was 1.2X. Given that most of the expected production (88% of oil and 100% of nat gas) for QR Energy is hedged, I assume that QR Energy will have a similar coverage ratio in Q1 2013 as it did in Q4 2012.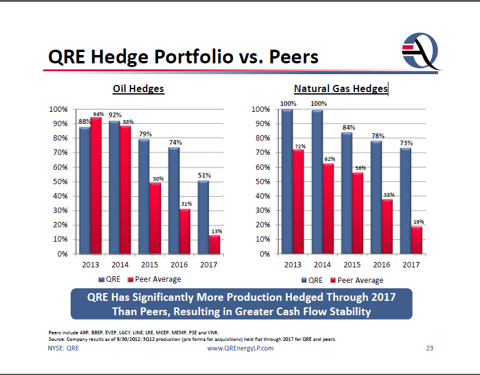 Conclusion
I consider upstream MLPs like QR Energy to be one of the better sources of income out there. However, due to the frequent equity offerings, capital appreciation is limited. Due to the healthy DCF coverage ratio of 1.2X as of Q4 2012, I suspect that QR Energy may increase its distribution modestly at some point in 2013. For those looking for income, QR Energy is a buy at current prices.
Disclosure: I am long QRE, VNR. I wrote this article myself, and it expresses my own opinions. I am not receiving compensation for it (other than from Seeking Alpha). I have no business relationship with any company whose stock is mentioned in this article.