Solar City (NASDAQ:SCTY) is a solar panel installer who is acquiring customers at an alarming pace. The most recent numbers in the earnings report out March 6th 2013 show that customers increased 243% from the prior year. Solar City announced working with Wal-Mart (NYSE:WMT) to add solar panels to some of its Ohio stores, which will account for over 10% of all solar panels installations in that state. These installations will also make Wal-Mart Ohio's largest solar power user. Solar City is currently in 14 states and more deals like this with Wal-Mart could help fuel expansion to the whole United States and potentially worldwide.
Wal-Mart currently has 4,005 Wal-Mart stores and 620 Sam's Club stores in the United States, with a total of 10,773 stores worldwide. Wal-Mart has a goal of being supplied 100% by renewable energy. With the sheer amount of stores the company has that can use solar panels, it will help to drive the cost of installations down even further. Solar City also partnered with Google (NASDAQ:GOOG) in June of 2011 to receive its largest investment in renewable energy at $280 Million. Google has a lot of influence on trends among technology companies and is paving the way for businesses to use more renewable energy.
Back in 2011, Ford Motor Company (NYSE:F) partnered with SunPower (NASDAQ:SPWR) to combine sales of the Focus Electric with solar panels so the consumer would really be generating zero emissions. Ford found that people who choose to buy EVs also consider purchasing solar power for their homes. Fast forward a couple of years later and Honda (NYSE:HMC) jumped in by setting up a $65 Million fund to help Honda purchasers go solar. According to Honda, it will offer a $400 discount to have solar panels installed through Solar City. This is a great move for both Honda and Solar City. The current referral bonus for having a friend sign up with Solar City is $400. Solar City will get exposure to the entire customer base of Honda and Acura owners. The exact details of the partnership are not disclosed, but I would not be surprised if Solar City offered Honda more than that $400 discount to help promote a solar panel installation. Even if Solar City is only paying Honda $400 per referral, both companies will receive some positive press for working to reduce CO2 emissions.
Solar City installs solar panels on residential, commercial, and government buildings within the United States. They have several different financing options available to make the switch to solar as easy as possible.
1. Pay per Kilowatt-hour: Solar City can install the solar panels on the roof of a qualified building and charge the customer for the amount of energy that they consume. Solar City will install, maintain, and repair these units. It will even remove the installation for free at the end of the contract. The customer just locks in a multi-year contract price for the energy that is consumed and that per month price is generally 10-20% lower than current utility rates. The rate lock in will also prevent customers from rate spikes. Which can be seen by the chart below.
2. Leasing the system: Solar City offers another type of financing where the consumer leases the system from Solar City. This allows the consumer to pay a flat rate every month for the use of the solar panels just like they would for a cable bill. The months where a household does not use much energy the lease contract might breakeven. But during the summer months, a household can drastically reduce electricity costs. Some states offer the selling of electricity back to the utility companies, which is another advantage of this route of financing.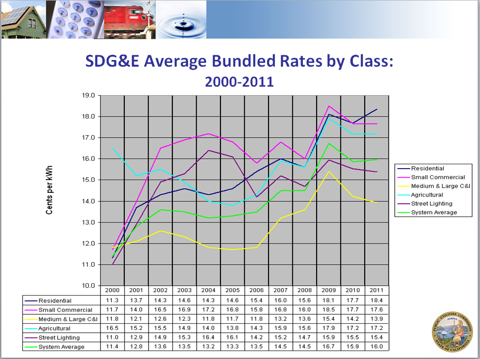 Following the release of earnings Wednesday afternoon, SCTY dropped down to $17 per share, which is $3 short of its all-time high. Solar City is still a newly-traded company but has been on a tear from the IPO price of $8 just a few months ago.
The company is grouped in with other solar names, but there is a big difference between Solar City and other solar companies. Solar City is a solar panel installer which sells energy and is not a manufacturer. This means Solar City will benefit from lower solar panel costs, whereas the manufacturers won't. In Q4 2012, Solar City's gross margins were 55.3%, which is up from 40% the prior year and over double what the solar panel manufacturers get.
I usually do not touch stocks that are only a few months out from their IPO but I might make an exception for Solar City. Shares are benefiting from what appears to be a bottoming in the solar market. Guggenheim Solar ETF (NYSEARCA:TAN) is up about 50% from its November 2012 lows. A quote from SCTY Chairman Elon Musk during December: "$13 to $15 is actually a deal -- we actually think it's worth more than that." The market agrees with Elon and I will initiate a position if SCTY ever goes back to $15.
The initial IPO price of $13 to $15 was based on fundamentals, and the acquisition price of $17.22 in early 2012 by The Firsthand Technology Value Fund (NASDAQ:SVVC) shows me that there is limited downside. SCTY dropped as low as $16.67 in after-hours trading but recovered to $17.00 after the conference call. I will be watching Solar City and may initiate a position or pick up some options in the near term.
Disclosure: I have no positions in any stocks mentioned, and no plans to initiate any positions within the next 72 hours. I wrote this article myself, and it expresses my own opinions. I am not receiving compensation for it (other than from Seeking Alpha). I have no business relationship with any company whose stock is mentioned in this article.