When it comes to restaurant operators, McDonald's (NYSE:MCD) is second to none. Globally, MCD has more than 33,500 locations. MCD targets the low end restaurant, non-full service market known as the fast food market. Darden Restaurants Inc (NYSE:DRI), owner of brands such as LongHorn Steakhouse, The Capital Grill, Olive Garden, Red Lobster, and Seasons 52 is a significantly smaller company. However, like MCD, DRI is the market leader in its category, full service restaurants. In total, DRI operates more than 2,000 full service restaurants. There are three reasons why DRI is a better buy than MCD.
Valuation
Currently, as shown by the chart below, based on at least three key metrics, DRI is trading at a cheaper valuation than MCD.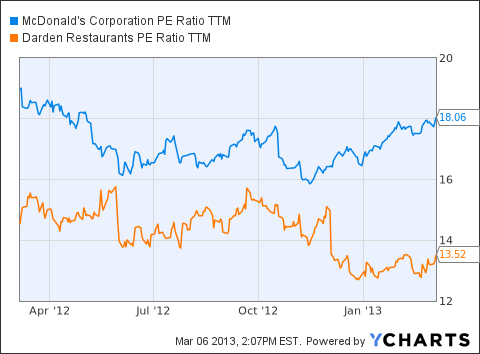 MCD PE Ratio TTM data by YCharts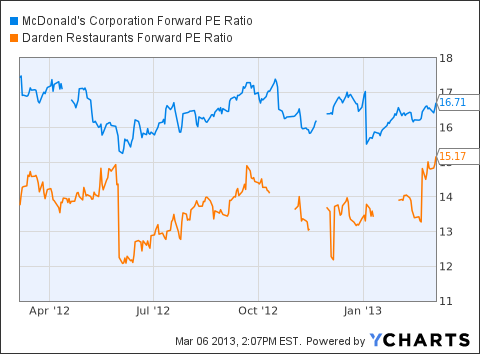 MCD Forward PE Ratio data by YCharts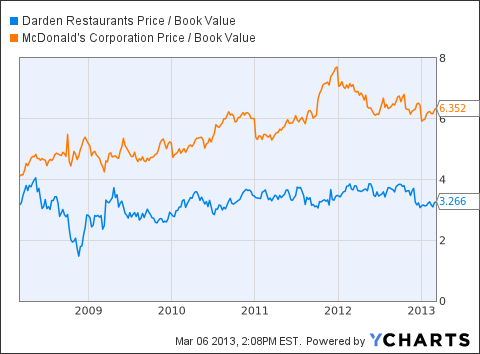 DRI Price / Book Value data by YCharts
Perhaps, it makes sense that MCD trades at a premium. For one, MCD has a much stronger and more entrenched brand than DRI, that is not to say that DRI does not have strong brands, they do but not on the same level as the golden arches. Also, MCD is a better managed company than DRI. Recently, DRI has reported some surprisingly negative results which have kept the stock from rising. However, there are reasons why I believe buying DRI at a discounted valuation relative to MCD makes sense. Firstly, compared to MCD, DRI is a relatively small company with more growth opportunities. While MCD has done a tremendous job growing earnings in recent years, the size of the company makes growing quickly more difficult for MCD compared to the smaller DRI.
Another reason why I prefer DRI and its lower valuation has to do with the risk reward equation. If DRI is able to turn around its business, then I expect its multiple to expand significantly. Comparable full service restaurant stocks such as The Cheesecake Factory (NASDAQ:CAKE), Bob Evans (NASDAQ:BOBE), and Ruby Tuesday (NYSE:RT) all trade at close to 20 times earnings where as DRI is trading at 13 times earnings. For MCD, because the company is so well run now, the surprise would be if management is unable to report terrific results going forward. If this happens, because of the high valuation, I would expect MCD to have significant downside.
Dividend
Currently, as shown by the chart below, DRI yields 1% more than MCD. While it may not seem like a big difference, given the low interest rate environment, it is. The difference in yield between DRI and MCD is about the same as the difference in yield between the U.S. 5 Year Treasury and the U.S. 10 Year Treasury. In addition to giving off more income, I also see DRI's yield as proving something of a safety net because if the stock falls much from here income investors would likely support the stock. To me, MCD's 3.17% yield is not big enough to attract as many income oriented investors as DRI.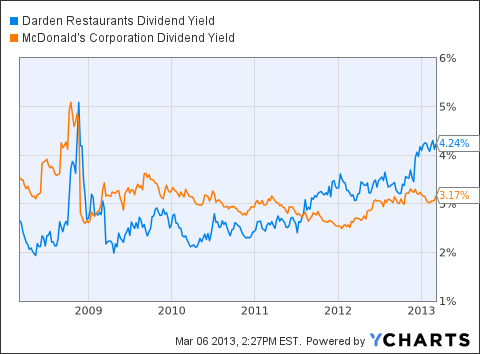 DRI Dividend Yield data by YCharts
Improving Economy
Finally, and possibly most importantly, another reason why I prefer DRI to MCD is the improving economy. DRI operates higher quality and more expensive restaurants than MCD. With the stock market hitting all time highs, and gasoline prices remaining stable, it is likely that consumers will be more willing to spend money on better meals. This is a key development as it has the potential to help DRI at the direct expense of MCD as customers choose to eat at LongHorn, Olive Garden, or Red Lobster instead of McDonald's.
Conclusion
Despite the recent struggles of DRI, in my opinion, it is a better buy than MCD. The improving economy, higher dividend, and cheaper valuation are all reasons why I prefer DRI to MCD. The primary risks to my thesis are two fold, an economic slowdown or sharp increase in gas prices. However, I am optimistic that neither of these will happen any time soon. That being said, if the economy shows signs of weakness or gasoline prices start rising this thesis must be re-evaluated.
Disclosure: I have no positions in any stocks mentioned, and no plans to initiate any positions within the next 72 hours. I wrote this article myself, and it expresses my own opinions. I am not receiving compensation for it (other than from Seeking Alpha). I have no business relationship with any company whose stock is mentioned in this article.