Below is a look at the most and least heavily shorted sectors in the market. As shown, the Telecom sector is the most heavily shorted with the average stock having 8.72% of its float sold short. Consumer Discretionary ranks second with a SIPF (short interest as a % of float) of 7.46%. Materials, Consumer Staples, Technology and Energy are all bunched up with SIPFs between 4.8% and 5.1%, while the average SIPF for all stocks in the Russell 1,000 is 4.80%. Utilities is the least shorted sector, and it may surprise some to see the Financial sector as the second least shorted.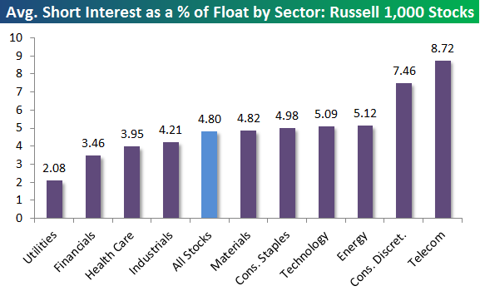 Below is a list of the 40 stocks in the Russell 1,000 with the highest short interest as a percentage of float. As shown, Tesla Motors (NASDAQ:TSLA) is the most shorted Russell 1,000 stock with a SIPF of 45.12%, followed by Deckers Outdoors (NASDAQ:DECK), JC Penney (NYSE:JCP) and Herbalife (NYSE:HLF). Some other notables on the list include Pandora (NYSE:P), US Steel (NYSE:X), Green Mountain (NASDAQ:GMCR), Hasbro (NASDAQ:HAS) and Sears (NASDAQ:SHLD).
We also highlight each stock's year-to-date percentage change, and there are a lot of big winners and big losers on the list. Stocks like Safeway (NYSE:SWY), Freescale Semi (NYSE:FSL), Pandora (P) and HomeAway (NASDAQ:AWAY) have crushed the shorts so far in 2013 by posting big gains. Stocks like JC Penney (JCP), ITT Educational (NYSE:ESI), Fusion-io (NYSE:FIO) and NII Holdings (NASDAQ:NIHD) have rewarded the shorts by posting big declines.