Sirius XM (NASDAQ:SIRI) has seen an exceptional rate of return through 2012 and into 2013. From $1.80 to recent highs of $3.25, the equity has appreciated a whopping 80 percent in just over 1 year. If you remove the volatility from earlier in the year, those same gains have been made since just last July.
Why? Demand. Plain and simple. The market is an ever changing tide of supply and demand and Sirius XM has seen demand both for its product and for its stock.
Demand for the product.
Despite the company's first price increase instituted earlier in 2012, the year saw impressive net subscriber additions of 2 million subscribers. Clearly, Sirius XM has a product, which a good number of people enjoy, and it boasts a conversion rate which has floated around 45% for quite some time. That's impressive, and in my opinion for nearly half of individuals exposed to the product to choose to pay for the service speaks volumes about the demand. Couple this with a stable and low 1.9% rate of churn (a portion of which are owners who sell their cars) and it seems Sirius XM not only wins the hearts of many, but keeps them for a considerable amount of time as well.
Demand for the stock.
2012 saw extensive buying of Sirius XM stock by Liberty Media (NASDAQ:LMCA) in its pursuit of control of the company. Now in control of over 50%, Liberty poured over $1.5 billion into stock purchases at various points across the latter half of 2012 and into January of 2013, culminating in a 50 million share buy to complete its goal.
Now with Liberty likely being "done" with its purchases, the buying pressure doesn't end there. Sirius XM has approved a $2 billion stock repurchase program which could have already begun.
Simply stated, 2013 should not be all that different from 2012 in terms of share price appreciation. With 2013 auto sales already making new multi year highs, Sirius XM can be expected to continue to perform well on the backs of an increased trial subscriber pool to pull from. Couple this with the $2 billion buyback and you have all the makings of another significant run.
So why is $3.25 so critical?
This is where things get "technical." It's very important for investors to understand that no equity exists in a bubble. It's equally important to understand that no matter what the general consensus is for valuation of any company, that most stocks trade above and below those valuations. I can tell you my end of year price target is $4.25, and I will also tell you I don't expect Sirius XM to get there in a straight line.
Let's take a look at a few issues that make $3.25 such a critical point.
Double Top
$3.25 presents not only a multi year high for Sirius XM, but also a recent double top. The equity hit $3.25 on February 1st briefly and since then retreated and climbed its way back up to $3.25 as of March 6th. You can read about double tops here. Consider the 30 day chart below, and notice the double top at $3.25.

Bearish? That depends, and in my opinion requires consideration of one very important fundamental fact. Sirius XM's $2 billion share buyback plan. If Sirius XM breaks $3.25 to the upside I expect the equity to make a considerable run higher, and if Sirius XM finds resistance and starts to falter, I expect Sirius XM's buyback plan to counter any significant moves lower.
That's bad news for Sirius XM's over 400 million short holders, the vast majority of which seem to be short from much lower prices.
As I have said repeatedly I expect the long-term trend of support at the 50 day moving average to be defended by Sirius XM's buyback. This gives a rough potential downside for a correction at $3.11. But keep in mind this is a "moving" average, and is currently increasing by about a penny every two days. Looking to buy? Buying at the 50 day moving average has presented the best prices relative to time. The red line in the chart below is a Sirius XM long's best friend, and dips under it can present prices that are short lived and should be looked at as a steal.

Point and Figure
There's another type of chart investors should consider, and that is a point and figure chart. These charts remove "time" from the equation and simply look at price activity. You can read more about point and figure charting here.
With a March 6th closing price of $3.24, Sirius XM actually had a double top "break" and now has a price objective of $3.67, because it exceeded the previous closing high price of $3.23. That should be music to the ears of many Sirius XM longs.
Money Flow
Cash flow into Sirius XM has been overwhelmingly positive day after day and week after week for a considerable length of time. By looking at a bought / sold ratio chart for the stock it can clearly be seen that the stock has been, and continues to be, under accumulation.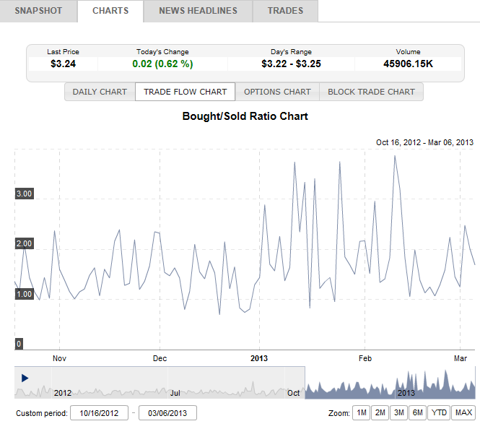 Anything over 1.00 here is a cash flow positive day. Notice the extensive peaks since the beginning of 2013 and the fact that only two trading days have been cash flow negative. Generally, the higher the ratio coupled with volume, the greater the eventual share price appreciation later on.
The Overall Market
It's a toss up of personal opinions right now depending on who you ask, but the overall market has arguably been bullish since the middle of November last year. Taking a look here at a chart of the S&P shows that clearly.

Opinions abound about whether or not the market itself is overbought or not, but one thing is certain. Sirius XM does not exist in a bubble, and the overall market can and will weigh on the company's stock one way or the other. With many believing the overall markets are overextended as they touch upon new highs, investors may be increasingly waiting on the sidelines or even beginning to short in expectations of a decrease.
Because of this, expect that if the market corrects, then so does Sirius XM. But it should be considered that like last year when Liberty was buying, Sirius XM has the support to carry it through normal and reasonable market corrections with its $2 billion share buyback plan in place.
Summary
With Sirius XM at a current point of resistance, and with technical indicators that are just on the edge of possible bullish or bearish breaks, investors should understand that the stock can make a move either way from here and do so in rapid fashion. Price targets? Roughly 15 cents either way, in my opinion. $3.40 to the upside in short order, and $3.10 to the downside. Longs should continue to keep in mind Sirius XM's $2 billion share buyback and the strength of the company itself, and look to add to positions on any retrace near the 50 day moving average.
The next few days will be quite telling for the overall market, and for Sirius XM. By keeping a close eye on both, and understanding that there are more than fundamental forces at play here, investors can hopefully make level headed decisions versus knee jerk emotional reactions to what may be some very rapid moves in share price.
Disclosure: I am long SIRI. I wrote this article myself, and it expresses my own opinions. I am not receiving compensation for it (other than from Seeking Alpha). I have no business relationship with any company whose stock is mentioned in this article.
Additional disclosure: I am long January 2014 $2 SIRI calls.