Exxon Mobil (NYSE:XOM) held its 2013 analyst meeting on Wednesday, March 6, 2013. You can view the presentation and listen to the webcast here. The conference call was approximately 3 hrs long and was led by CEO Rex Tillerson. The presentation was a detailed overview of the company's operations and its plans going forward. All current or prospective Exxon investors should listen to the webcast or at a minimum view the slide presentation.
In particular, XOM investors should take note of one particular slide (#13) summarizing shareholder returns: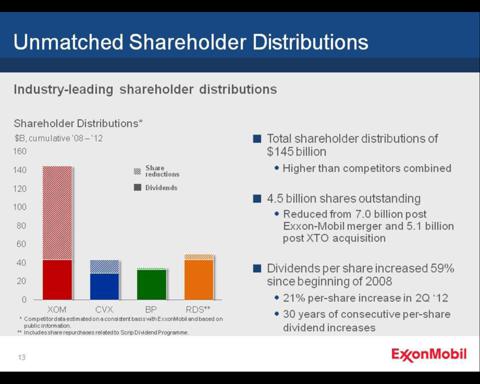 This slide shows quite dramatically how XOM, in strong contrast to its peer group, chooses to put a much bigger emphasis on share buybacks over dividends paid directly to its shareholders. In 2012 alone, XOM returned a total of $30.1 billion to shareholders. Ordinarily that would be considered awesome and one would think shareholders would be ecstatic. But the truth is, $20 billion of the total shareholder returns went toward share buybacks and only $10 billion to direct shareholder dividends. That is a 2:1 ratio in favor of buybacks over dividends.
XOM likes to talk about how this strategy has enhanced the per share interest in XOM production. Me - I don't care. What I do care about is that the stock has gone nowhere in 5 years and I have been paid the lowest dividend rate in the peer group to wait for the company to grow.
I recently wrote an article on why Chevron (NYSE:CVX) was the best integrated oil company on the planet. For full-year 2012, CVX returned roughly $7 billion in dividends directly to shareholders and spent $5 billion on share buybacks. This is a ratio 2:1.4 in favor of dividends over buybacks, almost the complete opposite of XOM's method of rewarding shareholders.
Share buybacks, dividends and yields for the "Big 3" American oil companies are summarized in the following chart: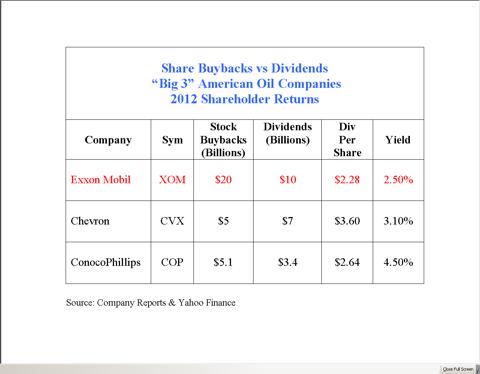 XOM clearly pays the lowest dividend in this group. Some may say it can do so because its stock price appreciation is superior. But the data over the past 5 years does not back up this assertion: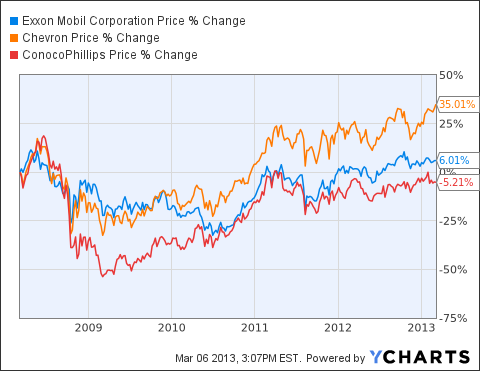 While the chart shows XOM's 6.01% price change ahead of ConocoPhillips (NYSE:COP), we all know this is not the full story due to COP's wildly successful spin-off of its refining, midstream, and chemicals business into Phillips 66 (NYSE:PSX). Bottom line is this: XOM not only has paid the lowest dividend of the group, over the past five years, its stock price has also lagged.
Summary
Low dividend yields in the energy space are usually an attribute of a company that is growing production. However, Exxon Mobil is not growing production - it has been shrinking. Yet XOM's dividend is considerably lower than its peer group. Even Occidental Petroleum (NYSE:OXY) now has a higher yield (3.10%) than does XOM, and OXY has been steadily growing production for years now.
Considering XOM's financial strength, shareholders should not be satisfied with the paltry 2.5% dividend. Until XOM begins to grow production again, the company needs to shift its shareholder returns back toward direct dividends to its shareholders.
The 2:1 ratio in favor of buybacks need to change to at least a 1:1 ratio. At year-end 2012, XOM had 4.734 billion total shares outstanding. If the company had a 1:1 ratio between stock buybacks and dividends in 2012, it would have resulted in $15 billion spent on each, or roughly another $1/share in dividends for shareholders ($3.28/share) for a yield of ~3.7%. As a result, the total share count at year end would have been higher by approximately 60 million shares. I think this is a tradeoff most shareholders would gladly embrace.
Disclosure: I am long COP, CVX, XOM. I wrote this article myself, and it expresses my own opinions. I am not receiving compensation for it (other than from Seeking Alpha). I have no business relationship with any company whose stock is mentioned in this article.
Additional disclosure: I am an engineer, not a CFA. Please do your own research and contact your investment adviser. I am not responsible for investment decisions you make. Thanks for reading and good luck!