Back in December 18 2011, I wrote an article named "3 Dividend Yields That Won't Last". In it, I explained that 3 different, high-yielding, stocks -- Frontier Communications Corporation (NYSE:FTR), CenturyLink (NYSE:CTL) and Windstream Corporation (NASDAQ:WIN)-- had their dividends at risk, and were thus risky to be bought on their yields alone.
At the time, Frontier Communications Corporation was paying $0.188 per quarter, CenturyLink was paying $0.725 per quarter and Windstream Corporation was paying $0.25 per quarter. A year and a couple of months have passed, and how are these dividends now?
Right now Frontier Communications Corporation is paying $0.10 per quarter, down 46.8% from that time. CenturyLink is paying $0.54 per quarter, down 25.5% from that time and Windstream Corporation is still paying $0.25 per quarter. In short, 2 of these 3 these companies cut their dividends, much like I had expected. Windstream was the sole exception.
Also important
All of the stocks ended up massively underperforming the S&P500 since that date, including Windstream even though it did not cut its dividend. Indeed, only CenturyLink provided a positive return when we include dividends paid since that date. The table below shows how the stocks performed.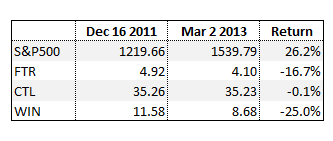 Little doubt remained that selecting stocks just based on their high yields can lead to substantial problems. It can lead to underperformance, and most likely also to seeing those same dividends cut. In this case, the sorry state of fixed-line telecom as well as the substantial debt loads obviously contributed strongly to the outcome.
How can we know?
At the very least, one ought to compare the amount being paid in dividends with how much the company paying them is producing in profits. This is the so-called payout ratio.
If one wants to go further, one can compare what's being paid in dividends with how much free cash flow it's producing, and how the dividends compete with other usages of free cash flow, such as paying interest on debt. Here a few caveats apply. The cash flow needs to be sustainable. And there can't be other huge claims on it, such as the large debt loads all these companies had. This becomes even more important if some of that debt is about to mature. Upon refinancing, it's quite likely that the new creditors might demand covenants limiting how much the company can pay in dividends.
Where do these same 3 stocks stand right now?
The table below sums up how these 3 equities compare right now, using the earnings reports from 2012.

Click to enlarge
All of the equities still seem to have their dividends at risk, including Windstream. Still, at this point the safest dividend of the bunch would seem to be CenturyLink's. Its preemptive dividend cut now means that free cash flow is enough to pay interest, the dividend, and still have some cash left over. Its debt load, however, can lead to the effect I described earlier.
Conclusion
These equities show the risk of seeking yield blindly. There remains risk of further dividend cuts in this group. Out of the 3 equities analyzed, the risk now seems smaller in CenturyLink.
Disclosure: I have no positions in any stocks mentioned, and no plans to initiate any positions within the next 72 hours. I wrote this article myself, and it expresses my own opinions. I am not receiving compensation for it (other than from Seeking Alpha). I have no business relationship with any company whose stock is mentioned in this article.