What do beverage companies hold in store for us from February to April option expiration? Using historical analysis of stocks can often show seasonal patterns that can be used to understand market trends. The following article will examine if there are any significant historical trends to pay attention to in tech stocks that would be key to traders and investors, while understanding how these trends can play a part in a fundamental landscape. At the end of the article, I will try to gather the information into some trades.
For our investigation, we looked at the average gain, the maximum gain vs. maximum loss, and the percentage of times different stocks have increased or decreased during the February to April option expiration time frame for the past 10 years. The equities covered were Ambev (ABV), Anheuser-Busch InBev (NYSE:BUD), Boston Beer Co. Inc. (NYSE:SAM), The Coca-Cola Company (NYSE:KO), Constellation Brands Inc. (NYSE:STZ), Compania Cervecerias Unidas S.A. (NYSE:CCU), Cott Corporation (NYSE:COT), Dr Pepper Snapple Group, Inc. (NYSE:DPS), Monster Beverage Corporation (NASDAQ:MNST), and Pepsico, Inc. (NYSE:PEP).
Below you can find the average gains for the past 10 years provided the company has been around for those 10 years.
Note: BUD has price data for only 3 years, while DPS only has 4 years of price data.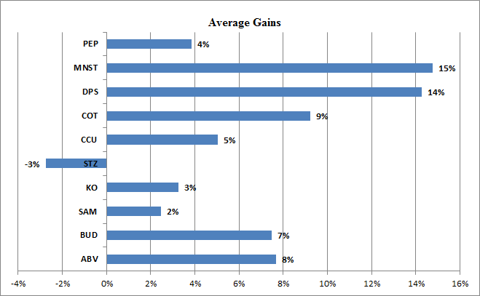 From the chart above we can see that from February to April option expiration, the returns for all the stocks except STZ are positive. The obvious outliers are MNST and DPS, with average returns of 15% & 14%. The average returns for MNST are high because as we'll see later in the article, the stock has only posted one year of negative returns during this period of -19.2%. I'm less inclined to take the DPS returns seriously since the price information only dates back 4 years. Taking the attention off MNST and DPS, we see other good average returns in COT, BUD, and ABV, while STZ is the outstanding under performer.
With the data presented above we move on to the next important chart, the maximum gains vs. maximum losses, to give us more information on how to trade the stocks have traded in this time frame.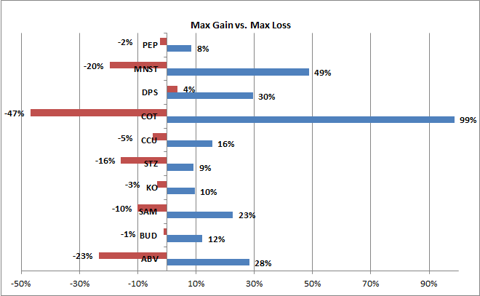 From this chart we can see that the maximum gain for all 10 of the stocks presented have been larger than the maximum loss. This is an important observation since it gives possible justification why we saw so many positive average gains in the previous chart, though we'll need to see the percentage of times the stocks increased for a full conclusion. Again we see COT has the obvious outlier. The large -47% return was during 2008, while the large 99% gain was in 2009. For the most part, we see across the board low max losses with high max gains. It is always these stocks that show low max losses that are most attractive, such as: PEP, DPS, CCU, KO, BUD.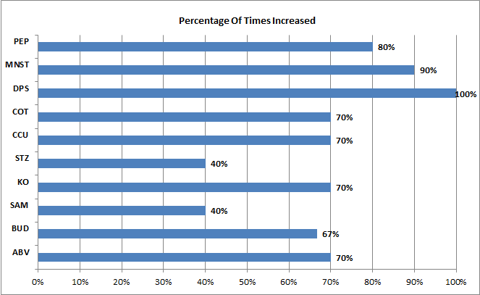 From this final chart we can see that many of the beverage companies presented posted positive returns at least 70% of the time during the Feb-Apr option expiration period. However, while DPS seems to have risen 100% of the time, the price data is only for 4 years. Stocks like PEP, MNST, COT, CCU, KO, and ABV are favored since their price info dates back for the full 10 years.
PEP is technically breaking out right now. While the trend is your friend, the stock seems a bit over extended since the historical max gain of 8% implies a max price of $79.87 on April 19 from February 15 option expiration.
CCU is interesting as the stock remains in positive upward channel between $32.50 and $34.50. In addition, the stock is trading above all important simple moving averages (20/50/200). Fundamentally, there isn't anything exciting about the stock, for most part estimate 1 year/5 year growth rates seem normal at 12.35%/10.90%. However, the P/E ratio is a bit rich at 18.51. A stop loss on a long position should be around the 20 SMA at $32.
I am intrigued by the price action of MNST as the stock has increased in price 9 out of the 10 past years during the February to April option expiry period. I'm further interested in the stock because MSNT hasn't moved up since its Feb'15th closing price of $51.08. (Friday, March 1st closing price is $50.66). However, both technically and fundamentally there is not much to like about the company. MNST has been trending sideways since November. Recently, the stock has been trading in a tighter range, implying a breakout is pending. Earnings were just reported on February 27th where the stock missed analyst estimates. Past earnings have been troublesome, as the company has only beat EPS estimates once in the past 6 quarters. We may enter a long position in MNST but we will use a tight stop and justification for the position will mostly be based on the historical percentage of times the stock has increased in value.
While STZ is the underperformer during this time frame, technically it is by no means, a stock to be shorted. The stock recently gapped up and broke out roughly $32 in February to $43.84 on March1st (a 37% increase!). Fundamentally, STZ has beat EPS estimates for 14 of the past 15 quarters, thus, it's difficult to bet against a growing company, even if it has underperformed during February to April's option expiry so many times before.
The data above must of course be combined with all the chart values presented, so as not to cloud our judgement. By simultaneously looking at all 3 charts and analyzing overall bullish bearish sentiment, I suggest the following trade.
Trade #1: Long CCU
Trade #2: Long MNST on a close above $52.64
Sources: Charts and fundamental data come from Finviz.com and Tradingeconomics.com, News from: www.theflyonthewall.com.

Disclosure: I do not own any investments in ABV, BUD, SAM, KO, STZ, CCU, COT, DPS, MNST, or PEP. I'm long AAPL, short SRS, UVXY, and VXX. I may insert footnotes to show my references for certain information.
Business relationship disclosure:
The Oxen Group is a team of analysts. This article was written by David Ristau, one of our writers. We did not receive compensation for this article (other than from Seeking Alpha), and we have no business relationship with any company whose stock is mentioned in this article.