This article focuses on Triangle Capital (NYSE:TCAP) and compares it to the 15 BDCs covered in my previous articles.
Updates
March 5 - MCGC reported financial results with EPS higher than expected, so I adjusted the profit category higher.
March 5 - Medallion Financial (TAXI) reported EPS higher than expected.
March 6 - MAIN announced monthly dividends of $0.155 per share for each of April, May and June 2013 representing an 11% increase from the dividends declared for the second quarter of 2012.
Business Development Companies (NYSEARCA:BDCS) lend to small and mid-sized businesses, with limited financial leverage, paying out most of its income to investors and paying little to no corporate tax.
These are the five general criteria I use to evaluate BDCs:
Profitability (EPS to cover dividends, growth)
Risk (diversification, volatility, leverage)
Payout (sustainable, consistent, growing)
Analyst Opinions
Valuation (P/E, PEG, NAV)
For more information about BDCs, how I evaluate them, and my BDC investment philosophy, please see this article.
Below is an oversimplified table evaluating the companies I have reviewed among a universe of 30 BDCs giving them a relative score between 0 and 10 (10 being the best). In reality I use different weightings for almost 100 data points on each company and my personal rankings (based on my risk/return comfort) are close to these but far from exact. In future articles I will add the new companies to this table as well as update info.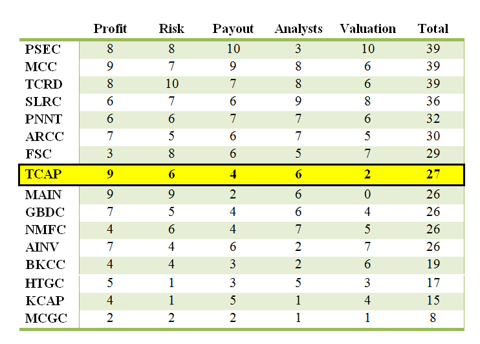 Triangle Capital
Market Cap: $830 million
Div Yield: 7.3%
Div/EPS: 93%
Div/Proj. EPS: 96%
P/E: 14.0
Price/NAV: 1.97
Debt/Equity: 0.87
Recent Developments
February 27, 2012 - announced a cash dividend of $0.54 per share. This is Triangle's twenty-fifth consecutive quarterly dividend since its initial public offering in February, 2007, and represents a 15% increase over dividends paid during the first quarter of 2012.
March 2013 - voluntarily prepaid $21 million in SBA-guaranteed debentures that had a weighted average interest rate of 6.4%.
March 6, 2013 - reported financial results beating EPS by $0.02.
Profit
Triangle Capital has a history of covering its dividends with net investment income over the last two years while growing EPS 33% from $1.62 in 2010 to $2.16 in 2012. The company has been growing the portfolio since its IPO through debt and equity offerings (see chart below). However, TCAP currently has one of the higher debt to equity ratios but also $72 million in cash for future investments. Analysts are projecting modest EPS growth of around 6% annually.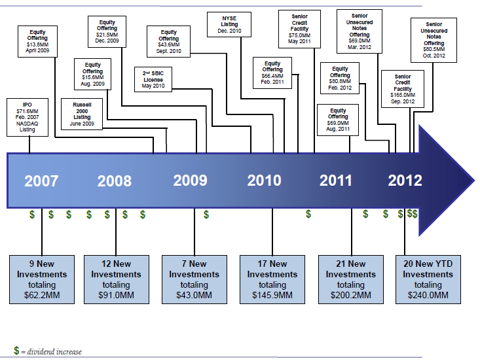 Risk
As of December 31, 2012 TCAP had a portfolio of 82 companies with a fair value of $707 million, up 39% from the previous year, and has better than average industry diversification (see chart below).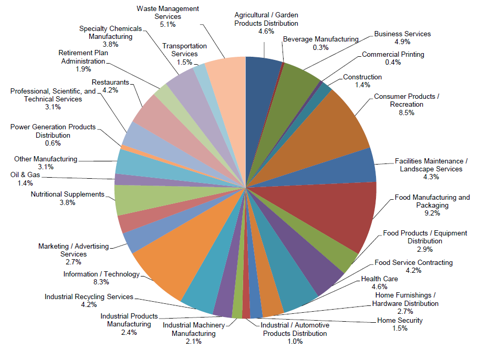 The portfolio is heavily weighted toward subordinated debt and 2nd lien notes at 79% of fair value vs. senior debt and 1st lien notes of 7%, and equity of 14%. Non-accruals accounted for 2% of the portfolio on a cost basis. When interest and/or principal payments on a loan become past due, or if the borrower is not expected to be able to service its debt and other obligations, loans are placed on non-accrual status. As discussed in previous articles some BDCs have higher non-accruals like Gladstone Capital (NASDAQ:GLAD), Gladstone Investment (NASDAQ:GAIN), American Capital (NASDAQ:ACAS), Prospect Capital (NASDAQ:PSEC), KCAP Financial (NASDAQ:KCAP), and MCG Capital (NASDAQ:MCGC). Below is a chart from the TCAP November 2012 investor presentation showing non-accruals as a percent of portfolio for TCAP and other BDCs as of November 2012.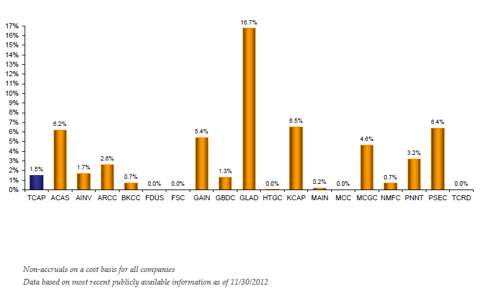 TCAP has better than average volatility ratios but the debt to equity ratio increased to 0.87 due to borrowings under SBA-guaranteed debentures of $30 million, $150 million from 2019 and 2022 senior notes and borrowings under our credit facility of $26 million. Recently the company prepaid $21 million in SBA-guaranteed debentures but still have leverage ratios higher than average.
Payout
Currently the dividend yield is 7.3%, lower than the average of 8.9%, but TCAP has a history of regularly increasing dividends including the recent announcement of $0.54 for Q1 2013. Below is a chart provided by the company showing dividends since its IPO and during the recession when it was one of the few BDCs to sustain distributions.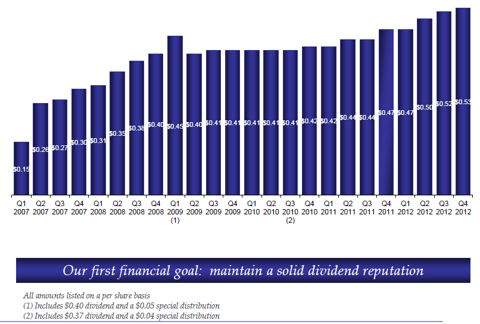 Analysts
Most analysts rate TCAP between a 'Hold' and a 'Buy' with a target price between $28 and $33.
Valuation
Over the past 12 months TCAP has risen almost 60% in price compared to 13% for the S & P 500. Overall, BDCs have outperformed the market as investors seek higher yields but some (like MAIN) have appreciated more than others, driving multiples up and yields down. Currently TCAP is trading 97% over NAV which is among the highest and a P/E of 14.
Summary
The current portfolio has adequate industry diversification but a riskier asset class with higher leverage than average. TCAP can afford to pay its current dividend and has a history of growth. Because of the recent stock performance the valuation seems high, bringing the dividend yield lower, putting TCAP in the 'Maybe' category of BDCs along with MAIN, ARCC, FSC, GBDC, NMFC and AINV.
This article was submitted before the Q4 earnings call where I will be looking for target debt to equity ratios, potential credit quality issues with existing investments, dividend growth potential, and overall competitive landscape.
Disclosure: I am long MCC, MAIN, ARCC, SLRC, PSEC, PNNT, TCRD, TCAP. I wrote this article myself, and it expresses my own opinions. I am not receiving compensation for it (other than from Seeking Alpha). I have no business relationship with any company whose stock is mentioned in this article.