Abstract: For the past 12 weeks, two types of dividend stocks tracked by Thomson Reuters are beating the market. One of these includes companies that pay out relatively low dividends but that fundamental analysis suggests have appealing characteristics, including higher forecast growth compared to the S&P 500.
In the closing months of 2012, talk of the prospect of having to pay higher tax rates on their investments and specifically on any dividend income they earn scared some investors into selling some of the higher-yielding stocks that were subject to taxation. In that kind of environment, it was tough to remember that total return - stock price change plus dividend yield - matters. Studies published by Credit Suisse, for instance, have shown that dividend-paying stocks with yields and payout ratios that are lower than the average have outperformed the S&P 500 index since 1990.
Why is that the case? Paying a dividend means management is confident enough in the company's ability to generate future profits to return some of the current gains to shareholders, while paying out less than half of those current profits means that a hefty proportion can still be invested in the business to produce growth. Investors may find such companies appealing in an environment characterized by rising tax rates, especially since they can use screening tools such as StarMine models to winnow out those companies whose fundamental characteristics suggest that there is more downside risk than average.
Late last year, in the midst of this tax-related anxiety, we undertook just such a study, using StarMine models to identify dividend-paying companies that may be more appealing as tax rates climb. The 151 companies that made the cut when we compiled this list last December today generate a dividend yield of 0.8% (below the current average yield on S&P 500 stocks as a whole of about 1.9%). This list of low yield and low payout stocks has produced a total return of 11.8% since we introduced the latest list in mid-December 2012, compared to 8.3% for the S&P 500. As the chart below shows, the outperformance has increased as the market has rallied.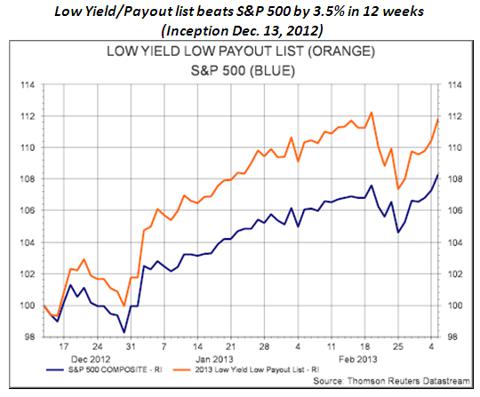 Click to enlarge
The list of low dividend and low payout stocks has three other significant characteristics:
Higher forecast growth: the StarMine Smart Estimate projects that this group will see earnings growth of 13.1% over the next 12 months, compared to 9% for earnings for S&P 500 companies as a group.
Lower valuations: the low-yield, low-payout group of companies trades at about 12.7 times their earnings for the coming 12-month period, compared to 13 times for the broader market.
Diversification: These companies represent a larger pool of available companies than those offering higher yields and low payout ratios.
The list we produced includes such large market cap names as Citigroup (NYSE:C), Disney (NYSE:DIS), Tyson Foods (NYSE:TSN) and CVS Caremark (NYSE:CVS), many names are less well known.
Three Stronger (and Lesser Known) StarMine Model Names
Of the 151 companies on the December list, 42 came from the Thomson Reuters Industrials Sector. Among them is Chicago Bridge and Iron (NYSE:CBI), a construction and engineering company with a market capitalization of $5.6 billion and a forward five-year earnings compound annual growth rate [CAGR] of 14.4% (once StarMine adjusts for analyst bias), compared to 7.4% for the S&P 500. At the same time, Chicago Bridge's earnings growth can be acquired by paying a forward SmartEstimate P/E ratio of 13.1, almost identical to the S&P 500 valuation of 13, thus offering what analysts suggest may be superior earnings growth at a market price. The company earns strong StarMine scores for its earnings quality (the potential of past earnings to persist into the future), while it also ranks high according to the StarMine Analyst Revisions Model [ARM].
Technology stocks have lagged the market so far this year. Convergys Group (NYSE:CVG), an IT services and small cap consulting firm, is no exception to that rule, trading almost unchanged as of the end of the first two months of 2013. The company recently increased its quarterly dividend to 6 cents a share from 1 cent a share previously, boosting its yield to 1.5%. Meanwhile, Convergys also is increasing its stock buyback program to $250 million, while its margins have inched up 40 basis points from the prior quarter to 12.2%. The company's forward five-year estimated compound annual growth rate in earnings per share is currently pegged at 10.6%, according to analysts whose estimates StarMine tracks; that compares to 7.4% projected growth for the S&P 500. Convergys can also boast solid earnings quality, scoring 87 out a possible 100 on the StarMine Earnings Quality model, and 71 and 90, respectively, on the model's cash flow and operating efficiency components.
Financial stocks are well-represented in our list, making up 28 of the 151 companies. These include RenaissanceRe Holdings (NYSE:RNR), a reinsurance company with a market capitalization of $3.8 billion. Although the company has only a mediocre StarMine ARM score of 37, the company boasts scores of between 74 and 90 out of a possible 100 on the seven other non-credit StarMine models. Meanwhile, RenaissanceRe's scores on StarMine's three credit default models range between 63 and 92. On balance, RenaissanceRe ranks well in StarMine model scores alongside all publicly-traded companies in the U.S. today. The company's forward SmartEstimate P/E of 9.5 falls below the StarMine Peer Averages figure of 10.7, while its StarMine five-year forward compound annual earnings growth estimate of 8.9% is in the vicinity of the peer average of 9.3%.
The Bottom Line: Picking the Right Dividend-Paying Stocks
It is possible that higher tax rates on dividend income may continue to cause investors to abandon or avoid higher-yielding, low-payout dividend stocks that have outperformed of late, and perhaps shift their attention to lower yielding and low payout names. Both groups have outperformed the S&P 500 since 1990, according to Credit Suisse. Moreover, it isn't simply a matter of owning a portfolio of companies that fit those broad criteria. Rather, it is important to conduct a thoughtful assessment of each company's prospects based on an analysis of historic fundamentals and accurate forward-looking information. When evaluating the relative merits of dividend-paying stocks, having access to more than two decades of performance data to guide an investor's decision can prove very helpful.
Disclosure: I have no positions in any stocks mentioned, and no plans to initiate any positions within the next 72 hours. I wrote this article myself, and it expresses my own opinions. I am not receiving compensation for it. I have no business relationship with any company whose stock is mentioned in this article.