With China's equity markets showing signs of a good long-term bottom being put in place, what is the best vehicle to play this? While I have long considered the FXI to be the best way to play China, it is now obvious that NYSE listed CAF (Morgan Stanley China Share A share Fund) is the better play.
CAF is a non-diversified, closed-end management investment company. The fund is required to invest at least 80% of its assets in A-shares of Chinese companies listed on the Shanghai and Shenzhen Stock Exchange. Because of this, CAF is the better pure play on a new bull market in China than FXI, an ETF with a focus on China securities listed in Hong Kong.
When comparing the action in the respective charts CAF is very close to putting in a nice bottom. Tuesday was the first close above the 200 day average since last May. While stocks and indices coming out of downtrends will typically fail on the first foray above the 200 day average, it is encouraging to see CAF make this initial push through this important technical level.
FXI meanwhile remains 22% below its descending 200 day average. Also the 20 day average is still trading below the 50 day average on the FXI.
A look at the chart on CAF shows some important details (click to enlarge):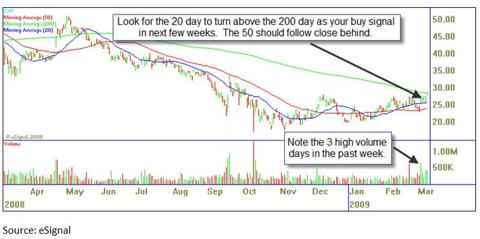 Conclusion: While CAF has not hit a true inflection point just yet, it seems as though a good buy point will be coming in the next month or two. Also, it sure seems to be the stronger play on a long-term bottom in China than the FXI, based mainly on the stronger technical signals it has recently flashed.
Look for the 20 day average to move above the 200 day average on CAF as your buy signal in the next few weeks or month or two.
Disclosure: I am not long either FXI or CAF, but plan to be when this technical buy signal takes place.