With the markets reaching (NYSEARCA:DIA) or getting very close (NYSEARCA:SPY) to the 2007 highs, I've decided to shift stances.
Surely, it's hard to fight the Fed and with ever-lasting QE, only the almighty knows where we may end up. However, when I'm looking at the markets there are so many signs that we have run well and beyond what seems reasonable and justified.
Where to start? Italy (Elections/Deadlock), Spain (Demonstrations/Corruption), China (Growth/Housing), Japan (Currency/Inflation), Cyprus (Bailout), Egypt (instability/new elections on the horizon), Syria (instability x 800), Iran (Israel/possible attack), Insiders selling (at record highs), Investors sentiment (Bearish>Bullish), Sequester (small though important), US lower growth estimations (after the sequester got into effect) Fiscal Cliff (still looming), Debt Ceiling (ahead of us), Corporate Earnings (declining), Forward PE (climbing), and I can probably go on for a couple of extra rows…
Consequently, I've decided to take a step backwards, to lighten up long positions and to get into more short positions.
A step backwards doesn't necessarily mean that I'm selling all my long positions but instead of being net long - as I've been for quite some time - I'm now more or less neutral, i.e. holding longs and shorts in roughly equal weightings.
During the last month or so I took profits from more than a few long positions and entered into a couple of new short positions. Furthermore, the last week of market action - in which all main indices (SPY, DIA, QQQ) broke through resistance levels - hasn't only put me in a neutral stance but also tuned me to be extra sensitive to valuations.
Naturally, we are all sensitive to valuations when we buy or sell stocks. Yet, I believe that when the markets are moving as high and especially AS FAST as they did - valuations take an even more crucial role when it comes to stock picking.
If the markets are about to go through a correction, as I expect they should and will, stocks that are overvalued would be the first ones to go down and go down hard. Similarly, stocks that are undervalued would be more resilient for any market correction, ready to move much higher as soon as the downside move is done.
In this article, I wish to share with you the "Top-10 Undervalued Stocks" as well as the "Top-10 Overvalued Stocks" on my screen.
Obviously, these are stocks that I believe worthwhile buying or selling, as applicable, but they aren't necessarily the best picks in terms of risk/reward. In a previous article I touched upon 4 high yielding stocks that are attractive from a risk/reward point of view. In this article the selection process is different. It is not about attractive risk/reward profile; instead it's about over/under valuation and the potential to see an extreme move, i.e. a gain or loss of more than 20% over the course of the next 12 months.
In other words, this article is all about the stocks that can go up or down 20% in one year's time, especially if and when we see a correction (5%+ from the 1531 level).
With no further delays, here is the full list of my top picks for over/under-valued stocks:
(*) The data was taken from Google Finance, based on the closing prices of March 5th 2013.
Category
Name
Symbol
Last price
Mkt cap
Avg vol
52wk high
Price/52wkh
52wk low
Price/52wl
EPS
P/E
Beta
Div Yld
UNDERVALUED
Apple Inc.
AAPL
431.14
404.87B
20.28M
705.07
(38.85%)
419.00
2.90%
44.10
9.78
1.04
2.46
Apache Corporation
APA
72.85
28.56B
3.81M
109.50
(33.47%)
72.20
0.90%
4.87
14.97
1.36
1.10
Cirrus Logic, Inc.
CRUS
23.02
1.48B
3.12M
45.49
(49.40%)
20.28
13.51%
2.35
9.81
0.65
Freeport-McMoRan Copper...
FCX
31.54
31.70B
14.28M
43.65
(27.74%)
30.54
3.27%
3.19
9.89
1.97
3.96
Intel Corporation
INTC
21.51
106.39B
49.36M
29.27
(26.51%)
19.23
11.86%
2.13
10.10
1.00
4.18
National-Oilwell Varco, Inc.
NOV
67.03
28.60B
4.62M
89.95
(25.48%)
59.07
13.48%
5.83
11.49
1.71
0.78
Pershing Gold Corp
PGLC
0.44
112.91M
1.05M
0.97
(54.64%)
0.25
74.60%
1.15
0.38
3.32
SandRidge Energy Inc.
SD
5.48
2.69B
12.61M
8.57
(36.06%)
4.81
13.83%
0.18
31.18
2.17
Seadrill Ltd
SDRL
37.58
17.63B
2.23M
41.95
(10.42%)
31.37
19.80%
2.23
16.84
2.00
9.05
Weatherford Intl. Ltd
WFT
11.60
8.87B
9.46M
17.75
(34.65%)
8.84
31.22%
(0.74)
1.87
OVERVALUED
Amazon.com, Inc.
AMZN
275.59
125.27B
4.18M
284.72
(3.21%)
178.04
54.79%
(0.09)
0.84
Angie's List Inc
ANGI
17.93
1.04B
926,476.00
19.82
(9.54%)
8.94
100.56%
(0.92)
ARM Holdings plc (ADR)
ARMH
44.21
20.35B
2.08M
44.47
(0.58%)
21.64
104.30%
0.52
84.61
0.88
0.49
Cree, Inc.
CREE
51.16
5.97B
2.49M
52.35
(2.27%)
22.25
129.93%
0.48
106.07
1.05
salesforce.com, inc.
CRM
185.77
27.21B
1.72M
186.63
(0.46%)
120.18
54.58%
(1.90)
1.40
Five Below Inc
FIVE
41.36
2.23B
716,603.00
41.66
(0.72%)
25.00
65.44%
0.87
47.42
LinkedIn Corp
LNKD
175.99
18.91B
2.89M
179.35
(1.87%)
84.10
109.26%
0.19
921.56
ServiceNow Inc
NOW
36.57
4.51B
1.99M
41.77
(12.45%)
22.62
61.67%
(0.31)
Rackspace Hosting, Inc.
RAX
57.15
7.82B
2.73M
81.36
(29.76%)
40.57
40.87%
0.75
76.59
1.45
Workday Inc
WDAY
63.93
10.61B
439,759.00
64.08
(0.23%)
45.05
41.91%
(2.79)
Looking at this list brings up few immediate observations:
All of the Undervalued stocks are quite far away, i.e. double-digit % wise, from their 52-week high.
All but two of the Overvalued stocks are within 10% of their 52-week high.
All but two of the Undervalued stocks are within 20% of their 52-week low.
All of the Overvalued stocks are 40% or more above their 52-week low.
All but two of the Undervalued stocks have PE < 17.
Half the Overvalued have PE > 47 and the other half have no PE at all.
Most of the Undervalued stocks pay dividend.
Only one of the Overvalued stocks pay dividend.
Most of the Undervalued stocks have Beta > 1.5.
Most of the Overvalued stocks have Beta < 1.5.
I'd like to emphasize the fact that the Overvalued stocks are NOT necessarily "bad" companies but mostly offer bad valuations.
Some of those companies are good companies that run a profitable business but when it comes to the stock market it's not only the business that counts but mostly the perceptions, expectations and valuations.
As a matter of fact, among the "Top-10 Overvalued" you may find great business models that don't make money, e.g AMZN, alongside (what I consider to be) lousy business models that "can't" - and won't - make money, e.g. ANGI.
The Undervalued Stocks List (sorted by ticker)
(*) All companies description are from Google (NASDAQ:GOOG) Finance. All stock charts are from Seeking Alpha)
Apple
Apple Inc. (Apple) designs, manufactures and markets mobile communication and media devices, personal computers, and portable digital music players, and a variety of related software, services, peripherals, networking solutions, and third-party digital content and applications. The Company's products and services include iPhone, iPad, Mac, iPod, Apple TV, a portfolio of consumer and professional software applications, the iOS and OS X operating systems, iCloud, and a variety of accessory, service and support offerings. The Company also delivers digital content and applications through the iTunes Store, App StoreSM, iBookstoreSM, and Mac App Store.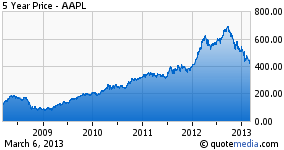 In one sentence: ~140BN cash, PE < 10, FPE < 9, Revenues > $46BN, Net profit > $13BN. Say no more.
In 2-3 sentences: According to my book, Apple is an amazing company according to any standards and based on any metrics. Whoever thinks that Apple is done being creative or is not going to invest new "cool" devices is either a fool or simply fooling himself. Whatever "i" we'll get - iPhone5S, iTV, new iOS, etc - this has already caught my eye.
Apache
Apache Corporation (Apache) is an independent energy company, which explores for, develops, and produces natural gas, crude oil, and natural gas liquids. Apache had exploration and production interests in six countries: the United States, Canada, Egypt, Australia, offshore the United Kingdom in the North Sea, and Argentina.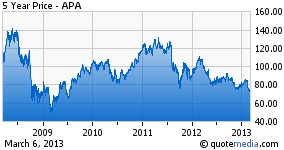 In one sentence: Once things in Egypt calm down, APA's Egyptian property issue will be a no-issue.
In 2-3 sentences: Like ENI in Libya at the time, APA is currently suffering from exposure to the "Arab spring" as well as to low natural gas prices. Nevertheless, at 94% of book value, x7 2014's projected earnings and analysts' median price target of $100, APA is cheap.
Cirrus Logic
Cirrus Logic, Inc. is a United States-based company, which supplies high-precision analog and digital signal processing components for audio and energy markets. The Companys products include analog-to-digital converters (ADCs), digital-to-analog converters (DACs), codecs that integrate ADCs and DACs into a single integrated circuit (IC), digital interface ICs, Class D digital amplifier controllers and power stages and audio DSPs. Its products are used in consumer applications, including smartphones, tablet personal computers (PCS), audio/video receivers, portable media players, soundbars, complete home theater systems, set-top boxes, gaming devices, sound cards and digital televisions (TVs).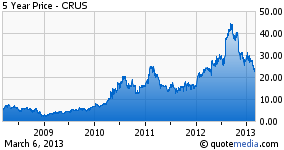 In one sentence: Many people look at it as a call option on Apple; I don't see anything wrong with that…
In 2-3 sentences: CRUS isn't only AAPL! Indeed it's very much dependent on Apple but this may lead for a takeover at some point. The company also announced a $200 million share repurchase program.
Freeport-McMoRan
Freeport-McMoRan Copper & Gold Inc. is an international mining company. FCX is one of the copper, gold and molybdenum mining companies in terms of reserves and production. Its portfolio of assets includes the Grasberg minerals district in Indonesia, mining operations in North and South America, and the Tenke Fungurume (Tenke) minerals district in the Democratic Republic of Congo (DRC). The Grasberg minerals district contains the recoverable copper reserve and the gold reserve. It also operates Atlantic Copper, its wholly owned copper smelting and refining unit in Spain. FCX has its operations into five primary divisions: North America copper mines, South America mining, Indonesia mining, Africa mining and Molybdenum operations.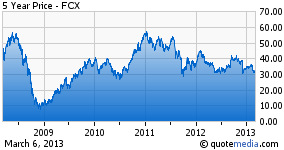 In one sentence: Getting hammered for months after acquiring Plains Exploration (NYSE:PXP) and McMoRan Exploration (NYSE:MMR), FCX has reached a strong support level around the $30 area.
In 2-3 sentences: Trading at x7 2014's projected earnings, x8 operating cash flow with >4% dividend yield. Analysts' median target price is $40 a share. Earnings are expected to move sharply higher in both 2013 and 2014.
Intel
Intel Corporation designs and manufactures integrated digital technology platforms. A platform consists of a microprocessor and chipset. The Company sells these platforms primarily to original equipment manufacturers (OEMs), original design manufacturers (ODMs), and industrial and communications equipment manufacturers in the computing and communications industries. The Company's platforms are used in a range of applications, such as personal computers (including Ultrabook systems), data centers, tablets, smartphones, automobiles, automated factory systems and medical devices.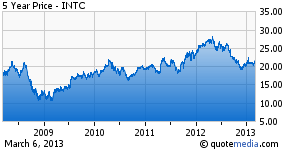 In one sentence: a DOW component with over 4% dividend yield and FPE < 10 is a bargain!
In 2-3 sentences: Beaten heavily over the last year - on justified ground - Intel is slowly but surely making its way back. Better late than never, Intel is finally getting into the mobile arena and fighting back its fierce rival ARMH (which, not surprisingly, appears in my overvalued stocks). Adding to that a significant share repurchase program and you have a winner.
National Oilwell Varco
National Oilwell Varco, Inc. is a provider of equipment and components used in oil and gas drilling and production operations, oilfield services, and supply chain integration services to the upstream oil and gas industry. The Company operates through three segments. Its Rig Technology segment designs, manufactures, sells and services complete systems for the drilling, completion, and servicing of oil and gas wells. Its Petroleum Services & Supplies segment provides a variety of consumable goods and services used to drill, complete, remediate and workover oil and gas wells and service drill pipe, tubing, casing, flowlines and other oilfield tubular goods. Its Distribution & Transmission segment provides maintenance, repair and operating supplies and spare parts to drill site and production locations worldwide.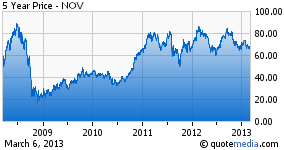 In one sentence: This rig manufacturer is well positioned to take advantage of the robust demand in deep water rigs and a growing backlog.
In 2-3 sentences: The company has a history of beating estimations even as earnings and revenues are expected to move up in the solid double digits. Analysts' median target price is $95. Even Warren Buffett likes it, as Berkshire Hathaway's (NYSE:BRK.A) raised its stake in the company
Pershing Gold
Pershing Gold Corporation, formerly Sagebrush Gold Ltd., is an exploration-stage gold and minerals exploration company focused on searching for gold and other mineral resources and seeking out exploration and development targets. Through its wholly owned subsidiary Arttor Gold LLC, the Company has the rights to explore on two Carlin-type gold properties located in Lander County, Nevada, North Battle Mountain Mineral Prospect and the Red Rock Mineral Prospect. On August 30, 2011, the Company acquired gold exploration claims in Pershing County.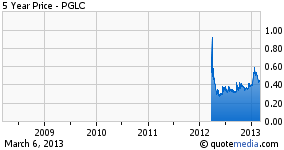 In one sentence: Production may start as early as 2013 (the company needs to raise capital beforehand to make it happen)
In 2-3 sentences: While this is, without a doubt, the most speculative pick in my undervalued stocks list, it's also the most promising. Trading volume is increasing all the time expressing the higher interest of investors in this company. A new listing (AMEX or NASDAQ) could come as early as the second quarter of 2013.
SandRidge Energy
SandRidge Energy, Inc. (SandRidge) is an independent oil and natural gas company. It is engaged in development and production activities related to the exploitation of its holdings in West Texas and the Mid-Continent area of Oklahoma and Kansas. Its areas of focus in West Texas are the Permian Basin and the West Texas Overthrust (the WTO).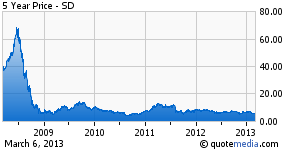 In one sentence: If Tom Ward and his gang are out - the sky is the limit!
In 2-3 sentences: With some valuations pointing at doubling and tripling the market cap, this stock is all about mismanagement and nepotism. If TPG-Axon wins its consent solicitation, i.e. both the board and management will be replaced, the stock is surely going up. Both Lee Cooperman and TPG-Axon keep on raising their stakes; wouldn't you?
Seadrill
Seadrill Limited (Seadrill) an offshore drilling contractor providing worldwide offshore drilling services to the oil and gas industry. Its primary business is the ownership and operation of jack-up rigs, tender rigs, semi-submersible rigs and drillships for operations in shallow, mid and deepwater areas, and in benign and harsh environments. It operates in three segments: floaters (world-wide), jack-up rigs (world-wide) and tender rigs (mainly in south-east Asia and Africa).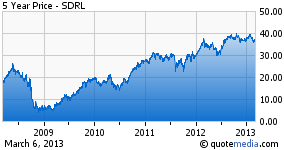 In one sentence: Very high dividend yield that is sustainable, especially in light of the very solid financial results for 2012.
In 2-3 sentences: FPE ~12 much lower than PE ~17 and its PEG ratio is also very low at 0.77. Both sales and earnings growth were over 30% (!) annualized over the past 5 years. With a massive contract backlog ($2.3BN increase over the last quarter) this growth rate is expected to be maintained over the next five years.
Weatherford International
Weatherford International Ltd. (Weatherford) is a provider of equipment and services used in the drilling, evaluation, completion, production and intervention of oil and natural gas wells. The Company operates four segments: North America, Latin America, Europe/West Africa/the former Soviet Union (FSU) and Middle East/North Africa/Asia. It operates in over 100 countries and have manufacturing facilities and sales, service and distribution locations in approximately all of the oil and natural gas producing regions in the world. The Company operates in ten service lines: artificial lift systems; stimulation and chemicals; drilling services; well construction; integrated drilling; completion systems; drilling tools; wireline and evaluation services; re-entry and fishing and pipeline and specialty services.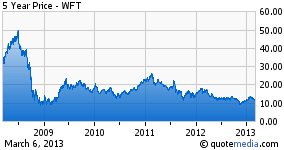 In one sentence: Despite and probably because of Weatherford's accounting problems and general management/operational missteps in recent years - this is an opportunity to buy a strong name at a "weak" price
In 2-3 sentences: What really matters is what is going to happen, not what already happened. Weatherford is at the end of the bumpy road or very close to it. With a reasonable x7 to the 2013 expected EBITDA the company's valuable international operations and expertise (artificial lift, etc.) will become a bigger factor in valuation, making Weatherford one of the cheapest names in energy services.
-------------------------------------------------------------
Those were my ten undervalued stocks, stocks that have great potential and that I therefore recommend to BUY at or around current levels. Buying these stocks together with shorting my ten overvalue stocks is an even better play because it provides both potential and better safety.
In the second part of this article I'll take care of the ten overvalued stocks basket and provide more details about these stocks.
I intend to follow up on these two baskets, comprised of ten stocks each, and to check how this strategy is evolving and performing. Even more interesting would be to check how many stocks eventually fit the "fly high" or "di(v)e hard" definitions.
To be continued... Stay tuned!
Disclosure: I am long AAPL, CRUS, INTC, PGLC, SD, SDRL, WFT. I wrote this article myself, and it expresses my own opinions. I am not receiving compensation for it (other than from Seeking Alpha). I have no business relationship with any company whose stock is mentioned in this article.
Additional disclosure: I'm SHORT AMZN, ANGI, ARMH, CRM, FIVE, LNKD, NOW, RAX, WDAY