"I am doing just what Christopher Robin said I should do. I am going to look my fear of heights right in the face and conquer it!" - Piglet
With the DOW Industrial Average closing at a new record high yesterday we thought it a good time to share a few observations. At the risk of being nostalgic, it was October 2007 when the index last recorded the previous high of 14,164.53. It took four and half years to get back to that level, closing yesterday at 14,253.77. If you bought in October of 2007 and held on, your annual return was $0.15% per year. Ironically it's about the same return you currently receive in interest in your money market or savings account today. If you bought the index at the lows in December of 2008, your return is more than 120% over the nearly four and a half year period.
Of course when it comes to investing it does not pay to be too sentimental. Where we go from here is far more important than where we have been, and the question we are increasingly asked as we hit new highs is where do we go from here? At the beginning of the year, in our quarterly update we wrote that stocks looked inexpensive and that we were concerned that bonds would weaken. We increased our bias towards stocks and reduced our fixed income exposure. Not much has changed fundamentally in the last two months. Fourth quarter operating earnings came in largely as expected, resulting in $96.99 in operating earnings for the S&P 500 in 2012. Those results, in turn, drove the forward earnings expectations for 2013, which were revised down ever so slightly from $111.90 when we last wrote our January 2nd paper to the current forecast of $111.20. Yesterday both the DOW and the S&P 500 were up about 8% and the 2013 price-to-earnings ratio has increased from 13.1x to 13.8x. As the media fixates on the latest news, or lack thereof, from Washington, the equity markets will focus on earnings.
A colleague shared an interesting email with us comparing several metrics from the last time the DOW was over 14,000 comparing them to the same metrics today. Implicit in the comparison is that many of these metrics look far worse than they did back in 2007 and thereby it questions the sanity of the current equity valuations. For example the average gasoline price was $2.75 then versus $3.73 today, or GDP growth of 2.5% versus 1.6% today. Americans on food stamps totaled 26.9 million then and 47.7 million today. The U.S. deficit over the last twelve months back then totaled $97 billion. It's now $975 billion. Total U.S. debt outstanding has increased by 82% to $16.43 trillion. The list goes on. While we find these data points particularly interesting, many are trailing indicators, meaning that they look their worst long after a recovery is underway. There are plenty of things to be concerned about but we ultimately believe that equity valuations will be driven by earnings. Consider that for the full year 2008 the combined operating earnings of the S&P 500 was $49.51. Since then earnings have nearly doubled. Not coincidentally, the S&P has doubled as well. If the current forecast of $111.20 can hold up, then earnings from 2012 to 2013 will have increased 14.7%. In our experience this growth in earnings would justify the current price-to-earnings multiple and could still take the market higher. Of course this also means that anything that might cause these expectations to be revised lower would take the market lower as well.
We are convinced that the market looks at everything through the lens of the potential effect on future earnings. For example, if the Federal Reserve tightens monetary policy, the cost of capital will increase reducing borrowing and slowing earnings. The Federal Reserve doesn't drive equity prices directly but Wall Street hangs on Bernanke's every word because the Fed's actions will ultimately affect the prospects for economic growth. In the same vein, the media and many in Washington seemed surprised that the markets shrugged off the forecasts of doom surrounding the specter of sequestration and forced budget cuts. The reality is, from Wall Street's perspective, $85 billion in a federal budget of $xx trillion is inconsequential and while the news is negative if you happen to work for the TSA you were counting on overtime to pay your mortgage, it's not enough to affect earnings growth. Most on Wall Street agree that anything done in Washington to reduce the budget deficit will be a long-term positive benefit.
Earnings since a low in 2008 have made a strong recovery. Companies are lean, profit margins are high and corporate America appears healthy. We worry about lackluster revenue growth and consumer demand. We worry about increased costs hurting earnings. We pay attention to growth in household income and the strength of the recovery in the housing market. If earnings can hold up then this rally has further to go. We certainly will see some pauses as some of the impressive gains of the last two months are digested, but corporate earnings will be our focus.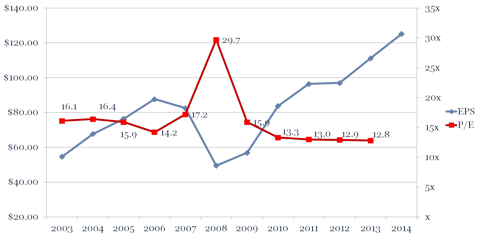 Click to enlarge
There is one metric from that email comparing 2007 to today that did get our attention. While equities are ultimately driven by earnings and perceived risk to earnings expectations, bonds are valued based on interest rates and credit worthiness. The 10 Year Treasury yield in 2007 was 4.64%. Today it is 1.89%. The bond market has had impressive gains over the last decade, but without the tailwind of declining rates, we thing the easy money in fixed income has been made.
Disclosure: I have no positions in any stocks mentioned, and no plans to initiate any positions within the next 72 hours. I wrote this article myself, and it expresses my own opinions. I am not receiving compensation for it. I have no business relationship with any company whose stock is mentioned in this article.