With the S&P 500 hitting a new bull market high this week, below is an updated look at underlying breadth as measured by the percentage of stocks in the index that are trading above their 50-day moving averages. As shown below, 80% of S&P 500 stocks are currently above their 50-days. While this is a strong reading, it's not nearly as high as it was in January. This means less stocks have participated in this most recent run higher, which is not a great sign.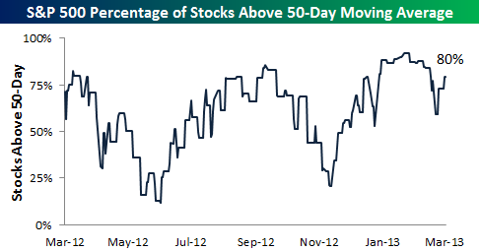 Click to enlarge
The weakness (if you want to call it that) in breadth is coming mostly from the Materials and Energy sectors. The Energy sector has 65% of its stocks above their 50-days, while the Materials sector has just 60%. These are both solidly above the 50/50 mark, but for overall market breadth to get back up to the level it was at earlier this year, it needs cyclical sectors like Materials and Energy to participate more.
Areas of strength are in sectors like Financials, Utilities, Health Care, Consumer Staples and Industrials. The Utilities sector has the strongest breadth reading with 94% of its stocks above their 50-days. Bulls never want to see Utilities leading the way in any category, but that's the case with breadth right now.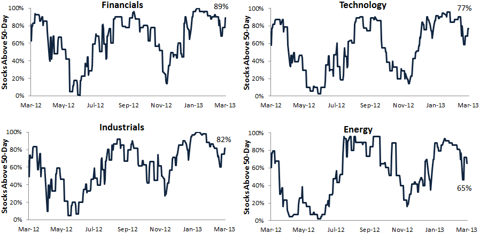 Click to enlarge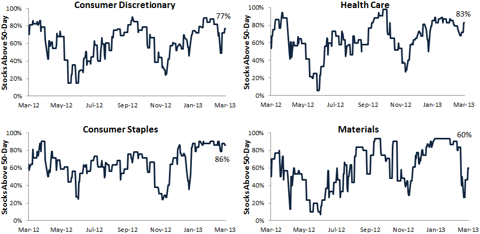 Click to enlarge

Click to enlarge