Shares of ARM Holdings (NASDAQ:ARMH) rallied hard as a result of a short squeeze triggered back in October 2012. As I pointed out in a previous article, the shorts got zealous when it came to the stock, driving it down to $22 before being squeezed out by a solid quarter and a lot of hype at . The shorts made the mistake of interpreting CEO Warren East's comments in a TV interview as an "earnings warning".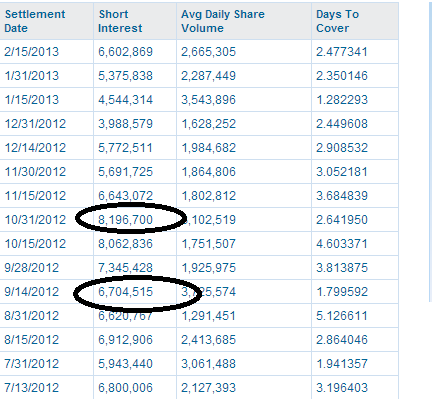 Since then, the stock has gotten out of control, as it has nearly doubled since the October earnings report. Sales didn't double. Earnings didn't double. But the short squeeze caused an overreaction to the upside that now represents a compelling short opportunity.
The thesis is simple: this stock is completely and utterly overpriced. We're looking at sub-20% Y/Y projected earnings and revenue growth and yet the stock commands a forward multiple of >50x? Doesn't this raise any red flags for anybody?
However, for a bubble to pop, we need some catalysts. I believe that Wall Street is starting to see that ARM may not have a clear monopoly in the smartphone/tablet space going forward as Intel's (NASDAQ:INTC) chips come out in full force. Some developments of note:
Intel entered into a multi-year partnership with ZTE, the number 4 player in the smartphone market.
Intel is currently in a multi-year, multi-device partnership with Motorola Mobility, which is currently owned by Google (NASDAQ:GOOG).
Intel is working with Lenovo (OTCPK:LNVGY), one of the fastest growing device names in China, to bring Intel-based phones to market.
Intel is currently working with all of the major tablet ODMs (ECS, Pegatron, Compal, Quanta, and Wistron) to bring 22nm "Bay Trail" based tablets to market by "Holiday 2013". These tablets will run both Android and Windows 8.
Intel will take market share from the ARM ecosystem where it really hurts. While ARM's volume comes from IP that goes into $0.50 microcontrollers, ARM's net income has been significantly juiced by the high royalty rates it commands from much higher ASP smartphone/tablet products. Smartphones took ARM to the moon, but ARM's net income line is very sensitive to revenue loss in this space.
For every Intel-based phone sold, ARM gets next to nothing (some very low cost ARM cores are present in the Infineon modems). The risk profiles in the smartphone space are quite asymmetric.
Internet of Things
The "internet of things" may help stem market share loss in smartphones and tablets, but it is unclear just what kind of dollar content goes into those products. If ARM's partners can push Cortex A9/A15 products into this space, coupled with some Mali graphics, then this could present a risk to the short thesis in the near-term. However it seems that these sorts of devices are characterized by "good enough", especially as the device vendors in this space aren't in a "mine's bigger than yours" race as we are seeing in the smartphone/tablet spaces. A very low priced Cortex A5 or even M0 may be perfectly fine for these products, with perhaps some low end graphics. Time will tell.
Another risk here is that the players that actually win these designs may be the folks like Qualcomm (NASDAQ:QCOM) or Nvidia (NASDAQ:NVDA) that use their own graphics IP, or perhaps SoC vendors that prefer IP from ARM's competitor, Imagination Technologies.
IoT will prove to be a growth driver for ARM, but it's unclear if it will add enough growth to justify the nosebleed multiple.
Servers
Assume Intel goes bankrupt, Oracle (NASDAQ:ORCL) loses its SPARC, and IBM (NYSE:IBM) cuts the POWER, leaving only ARM. Say ARM gets 3% (much higher than phones) royalties off of every single darn server chip sold ever, and say the server chip market comes out to roughly $30B in sales by 2016. That gives us a super, ultra, amazingly optimistic addition of $900M to the top line, and at a corporate operating margin of ~35%, let's say this buys us $315M in net income.
Now, let's put down the hopium pipe and do more realistic estimates. ARM is not likely to get into the big iron enterprise IT space, as the ARM products are better suited for the new, low power workloads. So let's say that this new 'cloud' server market is a $2B opportunity by 2016, and let's say Intel is incompetent and can't grab any of that market. At a very generous 3% royalty, we're looking at $60M in incremental royalties. At 40% operating margin (higher than the corporate average of ~36%), this brings shareholders $24M on the bottom line.
Note that ARM has gained $10B in market capitalization following the presentations at ARM Tech Con regarding the server opportunity.
Conclusion
It is my belief that the short squeeze is over. I further believe that the fundamental drivers (no competition in phones/tablets, server opportunity, etc.) will prove to be more of a mirage than anything of substance longer term. Only time will tell, but I have a feeling that this stock goes back to $30 (where it was before the squeeze) sooner rather than later.
Disclosure: I am long INTC, NVDA. I wrote this article myself, and it expresses my own opinions. I am not receiving compensation for it (other than from Seeking Alpha). I have no business relationship with any company whose stock is mentioned in this article.
Additional disclosure: I am short ARMH