Following the $2.6 billion divestiture of the Permian assets in November, SandRidge Energy's (NYSE:SD) operating story has become simpler and more focused - the company is now essentially a Mississippian Lime pure play (while the Gulf of Mexico assets represent about a quarter of the company's asset value, the overwhelming majority of capital expenditures will be directed to the "Miss"). The Permian divestiture has resolved what just several months ago looked like an unsolvable 2013 funding gap and provided proceeds to repay $1.1 billion of nearest bond maturities.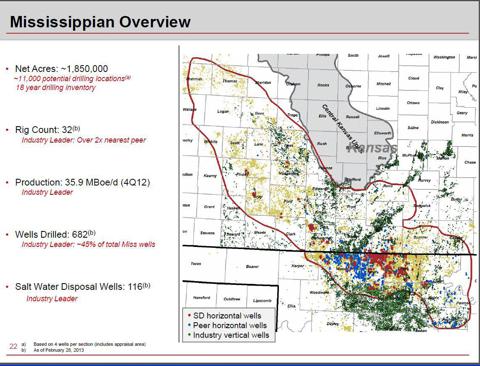 (Click to enlarge) (Source: SandRidge March 5, 2013 Analyst Day Presentation)
A few days ago, in its Annual Investor/Analyst Meeting, SandRidge presented its operating budget for the next year and disclosed year-end information on reserve value. What do the company's financial and valuation metrics tell?
Funding Challenges May Re-emerge In A Year; Leverage Remains Uncomfortably High
SandRidge has repeatedly emphasized strong improvement in its credit profile as a result of the Permian sale, based on pro forma net debt metrics.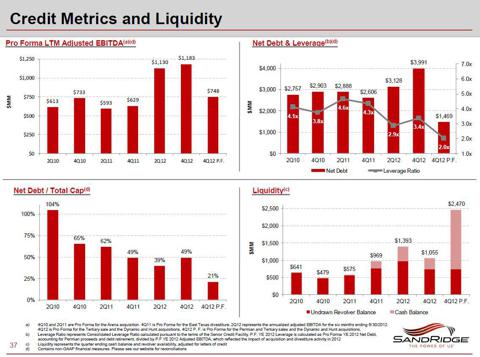 (Click to enlarge) (Source: SandRidge Energy March 5, 2013 Analyst Day Presentation)
However, a closer look at the company's pro forma financials indicates that funding and credit quality issues may re-surface in a not-so-distant future given the pace of spending SandRidge is targeting. The review also reveals the severity of the funding problem the company had faced prior to the Permian sale.
During its Investor/Analyst Day presentation, SandRidge discussed details of its 2013 budget and funding plan. The company intends to spend a total of $2.3 billion during the year, of which ~$550 million will be funded with drilling carries from its two Miss Lime joint ventures, with Repsol (OTCQX:REPYF) and Atinum. The net $1.75 billion budget still looks very ambitious for a company with just $5.2 billion enterprise value.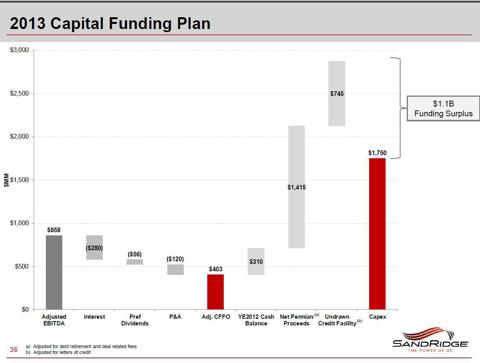 (Click to enlarge) (Source: SandRidge Energy March 5, 2013 Analyst Day Presentation)
Two elements of the 2013 spending plan strike me as worrisome.
First, the spending level exceeds Adjusted Cash Flow From Operations for the year, which is projected to be ~$400 million, by a 4.4x multiple. The low level of cash flow available for re-investment is explained by the heavy interest burden and plugging and abandonment obligations in the Gulf of Mexico. These expenses are recurring (SandRidge commented that only ~$60 million of P&A obligations are a "one-time" item in 2013).
Second, under the indicated spending plan for the year, SandRidge will burn through the larger part of its $1.4 billion cash balance and drilling carries and will exit the year with ~$378 million in cash and ~$100 million of remaining carries. In combination with the undrawn revolver, these amounts would seem to provide a reasonable liquidity cushion, if not for the uncomfortably high debt level. Even after the pay-down of the $1.1 billion of notes, SandRidge still has $3.2 billion of bonds outstanding.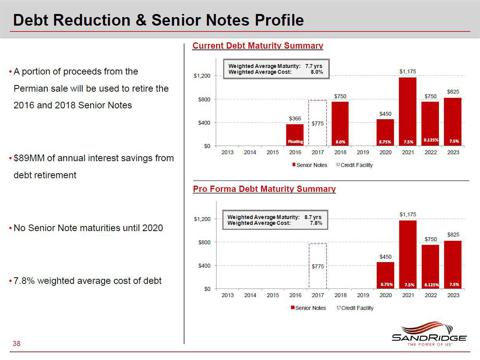 (Click to enlarge) (Source: SandRidge Energy March 5, 2013 Analyst Day Presentation)
While SandRidge's credit ratios indeed look much improved on a Net Debt/Adjusted EBITDA basis, the picture is not nearly as rosy if one were to look at Total Debt in the context of projected CFFO.
Value Of Existing Production Estimated at $2.7 Billion vs. $5.2 Billion Firm Value
Clearly, current cash flow is just one input into the analysis of SandRidge's valuation and credit situation. Given that the Mississippian Lime is an early life emerging resource play, it would be incorrect to overlook the value of its highly concentrated strategic position and infrastructure in the play. However, even with that aspect taken into account, the company's credit profile seems stretched, and valuation gap does not appear nearly as obvious as claimed by some activist shareholders (e.g., TPG-Axon).
SandRidge has disclosed the PV-10 value of its reserves as of year-end 2012. Using the SEC Nymex pricing ($91.21/bbl for crude oil and $2.757/MMBtu for natural gas), the value of the company's proved developed reserves net of offshore abandonment liability was ~$2.7 billion (of that amount, ~$0.7 billion was attributable to proved non-producing and behind pipe reserves).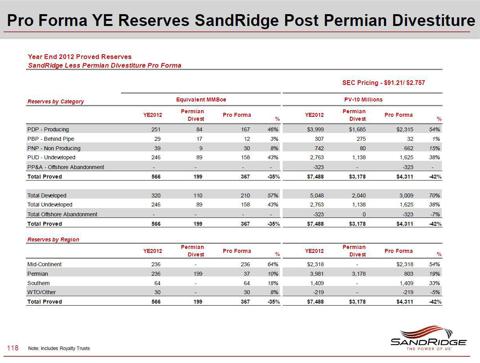 (Click to enlarge) (Source: SandRidge Eenrgy March 5, 2013 Analyst Day Presentation)
Clearly, the low natural gas price used in the SEC-10 case and the infamous type curve revision in the Mississippian Lime have impacted the valuation. If one were to use a higher price assumption for natural gas and a more optimistic type curve assumption (for example, the one SandRidge used in its guidance after the November revision), the PV-10 value would be higher, possibly by as much as $0.8 billion, based on my preliminary analysis (using flat $4/MMBtu Nymex assumption for natural gas price). This would lead to the total estimated value of proved developed reserves as high as $3.5 billion.
This value consolidates third-party ownership in SandRidge-sponsored royalty trusts (PER, SDT and SDR). Based on the SEC-10 price case, the value of proved developed reserves attributable to third-party interests in the trusts at year-end 2012 was $0.6 billion.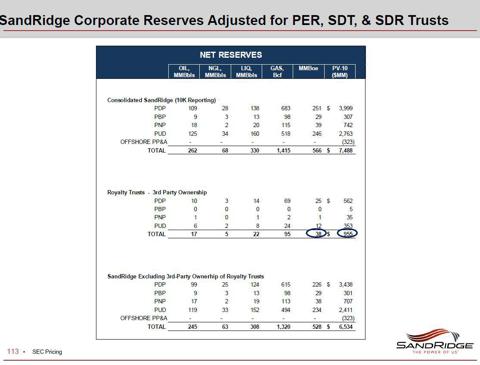 (Click to enlarge) (Source: SandRidge Energy March 5, 2013 Analyst Day Presentation)
Again, using a flat $4/MMBtu natural gas price assumption and assuming a more optimistic type curve for Mississippian Lime wells, the third-party value of proved developed reserves in the trusts would be ~$0.8 billion, based on my preliminary analysis.
As a result, value of SandRidge's proved developed reserves net of third-party ownership in the trusts is ~$2.7 billion.
SandRidge has guided to a $30 million in EBITDA from its infrastructure and oilfield service assets in 2013 (this economic benefit is not being captured in the calculation of the proved developed reserves value). Using a 10x multiple, these assets may provide as much as $300 million in incremental value at year end 2012, on top of the $2.7 billion for proved developed reserves.
What Does Current Stock Price Imply For The Value Of Miss Lime Position?
SandRidge's current firm value is ~$5.2 billion (based on the stock price of $5.74 per share as of March 6; 588 million fully diluted shares; and $1.8 billion net debt pro forma for announced debt repayments). Subtracting $3.0 billion estimated value of proved developed reserves and infrastructure assets, the value of undeveloped reserves and resources has an implied value of ~$2.2 billion. Of that, I allocate approximately $2 billion to Mississippian Lime (excluding existing production).
Is $2 Billion Valuation For SD's 1.85 Million Acres In Miss Lime High or Low?
Obviously, the M&A price point established in the recent Chesapeake Energy (CHK)/Sinopec (NYSE:SHI) JV transaction is a direct and very fresh comparable. On February 25, Chesapeake announced that it has agreed to sell to Sinopec a 50% interest in its 850,000 net acres in northern Oklahoma, including existing production, for $1.02 billion in cash (no drilling carries). Existing production averaged ~34,000 Boe/d in the 2012 fourth quarter and associated net proved reserves were ~140 MMBoe.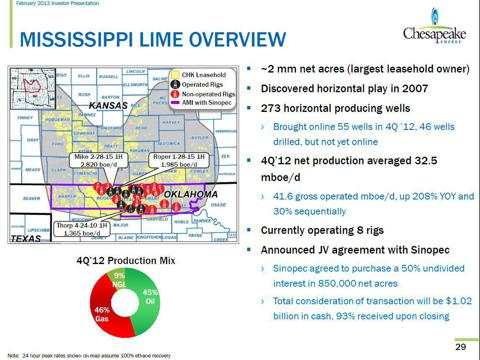 (Click to enlarge) (Source: Chesapeake Energy February 2012 Investor Presentation)
In my analysis, the implied valuation per undeveloped acre in this transaction was approximately $800-$1,400. (I assume that approximately half of the proved reserves being sold are PDPs and estimate the PV-10 value of existing production being purchased by Sinopec in the $490-$700 million range, or $7-$10/Boe, based on my decline curve analysis and certain assumptions.)
Chesapeake contributed to the Joint Venture its acreage in the core of the play in Oklahoma, which is similar in size to SandRidge's acreage in the play's "core." Using the Chesapeake/Sinopec JV as a reference point, the value of SandRidge's undeveloped acreage in the core of the play would be $0.6-$1.0 billion (excluding existing production). The implied value of the ~1 million acres that SandRidge has under lease on the Kansas side of the play should be lower. In this context, SandRidge's current stock price would appear to reflect a substantial premium to what current M&A market suggests and a ten-fold multiple to the original cost SandRidge paid for its acreage ($200/acre).
Clearly, per-acre valuation metrics make very little sense in the case of the Miss Lime. There is no true scarcity of acreage in this 17 million-acre play, particularly in the extension area. SandRidge itself readily admits that it is not their plan to try to hold the entire leased position (and it makes full sense). Ultimately, SandRidge's capital commitment to the play and ability to drive drilling economic metrics higher will define the value of their asset. From that perspective, $2 billion valuation may ultimately prove low. However, to realize that or higher value, one would need to see significant further progress along the operating learning curve in the play and probably more than one year of operating results.
In any event, in the Mississippian Lime, SandRidge is a good company. Several other highly regarded operators have recently been expanding their participation in the play. Devon Energy (NYSE:DVN) has recently announced plan to increase its active rig count in the play from 15 rigs currently to 20 by mid-year. Apache Corp. (NYSE:APA) announced last summer a massive ~600,000 acre position in Kansas extension area. Midstates Petroleum (NYSE:MPO), an E&P operator backed by the energy private equity heavyweight First Reserve, paid a high price (estimated $4,000+ per undeveloped acre) for Miss Lime properties in August last year. Royal Dutch Shell (NYSE:RDS.A) and Range Resources (NYSE:RRC) continue with active drilling programs.
Judging by the slide below, SandRidge itself appears to be a strong believer in the value upside in its acreage.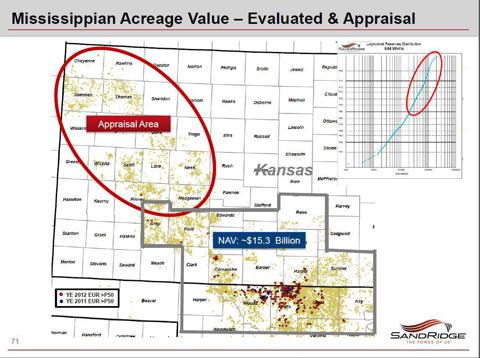 (Click to enlarge) (Source: SandRidge Energy March 5, 2013 Analyst Day Presentation)
Did Activist Investors Get Their Valuation Numbers Right?
One thing that comes out clear from studying TPG-Axon's letters and the sequence of SandRidge's operating results and transaction announcements in the course of the past several months: there is hardly arbitrage that one can rely upon in following the activists in their SandRidge investment strategy. If, for example, one were to try to sell the company's assets today on a piece-by-piece basis, there is no assurance that a premium to the company's current stock price can be realized. In a market flooded with multiple JV and asset package offerings in a variety of "hot" plays (many being on the market for many months without success), older transaction metrics - such as SandRidge/Repsol JV's $2,500/acre used as valuation reference point by TPG-Axon - may prove not very reliable, particularly when interpreted in a mechanical fashion.
Importantly, in pursuing control of the company, activist shareholders are in fact making an operating bet. It may very well be a good, or even excellent bet, given the enormous amount of oil in place and the stacked pay potential the play offers. However, from a return on investment perspective, there seems to be a lot less certainly in the outcome of this undertaking than might appear from the many letters to SandRidge's Board and shareholders sent by the activists. As I wrote before and as comes vividly obvious from SandRidge's very informative Analyst Day presentation, the geology of the Miss Lime play is far more complex and diverse than is often perceived, and learning curve challenges are quite formidable despite the relatively low drill and complete cost per well.
Even if control of the Board changed, the new management would still face tough dilemmas: to slow capital spending at the price of stretching out the learning curve, giving up exploration on potentially attractive acreage, and losing growth momentum that the stock market craves, or to continue moving ahead at a break-neck pace, stretching the balance sheet and risking suboptimal execution to pursue exploration on the vast acreage position or limit the scope to development within the infrastructure.
Most Importantly ...
It appears the stock price is currently supported by the proxy contest process and, occasionally, by bids from activist shareholders increasing their holdings. However, the big question remains, what is going to happen to the stock price the day after proxy votes are in, whatever the verdict? And what is going to happen a month thereafter?
Disclaimer: This article is not an investment recommendation. Any analysis presented in this article is illustrative in nature, is based on an incomplete set of information and has limitations to its accuracy, and is not meant to be relied upon for investment decisions. Please consult a qualified investment advisor. The information upon which this material is based was obtained from sources believed to be reliable, but has not been independently verified. Therefore, the author cannot guarantee its accuracy. Any opinions or estimates constitute the author's best judgment as of the date of publication, and are subject to change without notice.
Disclosure: I have no positions in any stocks mentioned, and no plans to initiate any positions within the next 72 hours. I wrote this article myself, and it expresses my own opinions. I am not receiving compensation for it (other than from Seeking Alpha). I have no business relationship with any company whose stock is mentioned in this article.