Pipelines and commodity transportation infrastructures are the key to North America's prosperity in the oil and gas sector. It is great to find oil reserves and extract them but if we can't get this precious dark commodity to its refineries or exported out to consumers its value is deeply discounted.
Media has sparked interest recently noting the immense differential between WTI and Brent prices and the fact that Canadian Western crude prices are even further in disconnect. As of March 6th the Western Canada Select price per barrel closed at $68.77 in comparison to a WTI price of $90.44 per barrel (April 13th contract) and $110.93 for BRENT (April 13th contract).
In a recent investment conference Cenovus (NYSE:CVE) CEO, Brian Ferguson cited a CIBC report that was conducted last year stating that
Discounts on Canadian blends of crude are costing oil producers $18-billion annually, or $50-million every day.
This differential has gotten even worse, which is why so many Canadian oil producers are in favor of projects such as the Keystone XL pipeline, which would tremendously ease transportation between Canada and the United States, thus helping Canadian oil companies achieve much better oil price differentials than the current price obtained.
Besides such controversial projects as TransCanada's (NYSE:TRP) Keystone XL pipeline, which spans well across Canadian borders, there remains a lack of infrastructure within Canada to support the growing oil sand production in the Western Canada.
As seen below in projections from the Canadian Association of Petroleum, oil sands production is expected to more than triple from 2011 levels by 2030.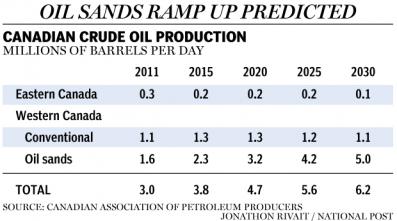 This evident need for transportation infrastructure for oil and natural gas is one of the major reasons why Canadian utility companies will benefit in the decade to come. Among the many, a strong and low risk company that is sure to be taking advantage of this movement is Pembina (NYSE:PBA).
Pembina Pipeline Corporation
Pembina has become quite a substantial entity in the Canadian utility sector after acquiring Provident Energy in April of 2012. As per its year-end press release, the integration of Provident's assets, business processes and procedures is substantially complete and the company is now operating on a single enterprise-wide financial system.
Pembina recently announced it was undertaking a $1B expansion in its infrastructure.
This expansion is expected to add $135-165M in EBITDA annually once in service. The revenue expected from this expansion is backed by long-term fee-for-service agreements which is practically risk free and uncorrelated to commodity market prices.
On top of this expansion, Pembina expressed that it will be conducting an "open season" for additional crude oil, condensate and NGL pipeline expansions from Taylor, BC to Edmonton/Fort Saskatchewan, Alberta which sets a foundation for future growth through pipeline expansions and potentially new pipeline projects.
Following the announcement of this major capital spending plan, a spur of analyst increased their targets on Pembina (As seen in the table below from MSN Money)
| | | |
| --- | --- | --- |
| Company | Past Target Price | Current Price |
| CIBC World Markets | $30.50 | $30.75 |
| Canaccord Adams | $32.00 | $35.00 |
| RBC Capital | $31.00 | $35.00 |
| TD Securities | $31.00 | $32.00 |
| Haywood Securities | $33.00 | $34.00 |
Among the 5 companies who increased their target price on March 6th, the average price target is of $33.35, which would represent an annual return of 7.58% of capital appreciation from the March 6th close of $31.00 along with a dividend return of approximately 5.40%. This would equate to a total annual return of 12.98%.
These returns are not far fetched as Pembina remains fundamentally strong as an entity.
Since the completion of the acquisition, Pembina was able to increase its credit facility from $800M to $1.5B, along with issuing $450M of 10 year unsecured notes at 3.77%. Which has given it plenty of working capital for its upcoming projects.
The year-end results also showed considerable growth and synergies created by the Provident Energy acquisition as Pembina demonstrated its strongest year operationally.
Conventional Pipelines transported an average of 456.3 mbpd in 2012, 10 percent more than 2011 when average volumes were 413.9 mbpd. Notably, fourth quarter 2012 volumes in this business averaged 480.2 mbpd, an increase of almost 14 percent over the fourth quarter of 2011.
Furthermore, full year adjusted cash flow from operating activities was the highest in the Company's history at $493.8 million ($1.91 per share) in 2012 compared to $305.8 million ($1.83 per share) in 2011. The adjusted cash flow measures modified the actual cash flow per share to add back acquisition related expenses to reflect the long-term sustainable cash flow measures. The $1.91 adjusted cash flow per share was well over analyst expectations of $1.71 demonstrating a clear outperformance by Pembina's management team.
Pembina should remain as a key holding in most North American income portfolios as its low risk high growth model is quite appealing to investors that have experienced quite the headwinds for the past years in the markets. Its expansion is firing on all cylinders as it takes advantage of its size and integration from the provident acquisition which appears to have been quite the success.
Although the Keystone XL pipeline would have the most dramatic impact on oil differentials, at times investors need to turn their heads and look at other pipelines that may have gone unnoticed by most media reports but that have an undiscovered low risk upside potential which is openly welcoming in western Canada with no legal and political battles to worry about!
Disclosure: I am long PBA. I wrote this article myself, and it expresses my own opinions. I am not receiving compensation for it (other than from Seeking Alpha). I have no business relationship with any company whose stock is mentioned in this article.