Things do not seem to be working well for Apple (AAPL) in Brazil. The country's National Institute for Industrial Property has recently rejected Apple's claim to take up the iPhone name and register it. The country is looking to become the third-biggest smartphone market in the near future while Apple is one of the biggest players there. In this article, I examine Apple's case, the growing importance of Brazil's smartphone market and discuss the company's current stock, which has recently touched its 52-week lows.
Apple Vs. Gradiente
Apple lost the law suit to a Brazilian electronic maker IGB Eletrônica S.A, otherwise known as Gradiente, which has owned the right to the name "iPhone" since 2000, about seven years before Apple launched its iconic phone. Gradiente was awarded the trademark back in the beginning of 2008 and has the exclusive right to use it for a decade (till 2018), as long as it is able to create a product under the name within five years. Gradiente applied for the trademark in 2000 but received the necessary approval in 2008. The first product under the name was launched just weeks before the end of the deadline, by the name of "iPhone Neo One." This phone is currently available for sale on the company website and in one shopping center located in Sao Paulo. The phone runs Google's (NASDAQ:GOOG) Android operating system. In price comparison this, phone costs the customers a mere $304 as compared to Apple's iPhone 5, which begins at $1,220 in Brazil.
Apple has challenged the decision, giving Gradiente a 60-day window to prove that it has made use of the branding between, January 2008 to January 2013. Apple launched the iPhone in Brazil in 2007, one year before Gradiente received the approval. Apple on the other hand has won the "iPhone" trademark in four other categories which include advertising, software and clothing.
If the challenges that Apple has made are rejected by the INPI within 60 days, then Apple could be looking at a lengthy and expensive legal battle over intellectual property; although it can still continue selling phones - at least for the short term.
In its annual reports, Apple has highlighted that it may face a lot of intellectual property right claims, which may increase in number in the future. However, if Apple does lose this battle, then it could end up paying damages or royalties, or worst-case scenario, Apple could be asked to stop selling its iPhones in the country altogether.
This is not the first time that Apple has faced disputes. A few months ago, Apple had to pay $60 million to register the iPad name in mainland China, after a prolonged legal battle with Shenzhen Proview Technology that had registered the trademark for the name earlier. Also, in Mexico a telecommunications equipment company registered the name iFone in 2003, whereas Apple registered the iPhone trademark in 2007. The efforts to win the trademark has till now ended in failure.
Meanwhile, in Brazil, Apple could be facing another law suit for unfair business tactics. The Brazilian Institute of Politics and Law Software claims that the tactics used by Apple when it launched the 4th generation iPad model, just five months after launching the 3rd generation model in Brazil, were unfair. The law suit wants Apple to replace the third-generation devices that have been sold with the latest version or pay back buyers half of what they have paid.
With regards to the case with Gradiente, Apple has the right to settle the dispute outside the court. If Apple decides to do this, then it will not be the first time. Apple cut a deal with Cisco Systems in 2007 when it got the trademark for the iPhone name. This name was originally registered by Cisco. It also settled another lawsuit with a Chinese company Proview for the use of the iPad trademark.
Brazil's Smartphone Market
Apple does not report Brazilian sales figures, but the growing importance of the country is often highlighted by both IDC and Gartner, two of the leading technology research firms. Brazil is looking to become the fourth-largest smartphone market in terms of shipment by 2016 according to IDC. Gartner's research regarding Brazilian smartphone market revealed that the two South Korean consumer electronics behemoths Samsung (OTC:SSNLF) and LG (OTC:LGEAF) have more than half of Brazil's smartphone market share while Apple holds the third position.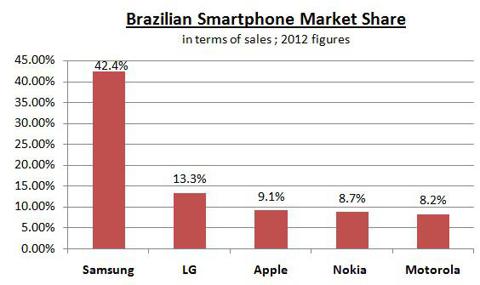 Brazil's smartphone market is growing rapidly and Apple will have a larger role to play in it in the future (since the worst-case scenario mentioned above is highly unlikely). According to Huawei Broadband Balance, the people who have subscribed for mobile broadband connections in Brazil have gone up to 63.5 million by the end of Q3-2012; while almost 80% of these connections were 3G. Mary Meeker believes that 55 million smartphone devices are currently present in Brazil, which is already the fourth-biggest market, behind China, the U.S and Japan; and could become the third-biggest market in the current year with 75 million smartphone users, ahead of Japan. Therefore despite the current law suits, Apple will continue to push for a greater footprint in Brazil.
Apple currently does not have any retail stores in Brazil and uses authorized resellers, mobile operators and its own website as a sales point. However, it is planning to set up its first retail store in Brazil in Rio de Janeiro, although no time period has been specified.
Apple's Stock
Meanwhile, Apple's stock has fallen by almost 37% in the last six months to $425.66 but is now $6.35 up from its 52-week low of $419.306, which it touched on Monday. Its P/E has now reached 9.65. Out of the 54 analysts' recommendations collected by MarketWatch, 40 have given the stock a buy rating. In other words, if you don't already own AAPL, then now is a good time to invest. I recommend reading this excellent article on Apple's current stock price, which is based on enterprise value to earnings analysis.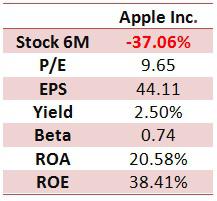 Several catalysts are at work, which could give the shares the required boost. Bloomberg is expecting an iWatch later this year, rumors are abound about a possible stock split or a dividend increase in the coming months; a 5th generation iPad could arrive as early as next month while iMore believes that iPhone 5S could hit the market in August.
However, while some are taking a more cautious approach by giving the stock a downgrade and reducing the price target, others have decided to sell. More recently, Citi has cut Apple's price target by 4% to $480. It now expects the company to report iPhone sales of 34 million (Q2-2013) and 25 million (Q3-2013), both of which are below consensus estimates of 37 million (Q2-2013) and 32 million (Q3-2013). On the other hand, Adnaan Ahmad of Berenberg Bank has cut the rating from Buy to Sell and reduced the price target to $360. Ahmad has predicted iPhone's gross margin shrinking to 35% from ~50% as future growth will be driven by the emerging economies.
Disclosure: I have no positions in any stocks mentioned, and no plans to initiate any positions within the next 72 hours.
Business relationship disclosure: I would like to thank my colleague Mr. Safiuddin Razi, staff writer at Half Bridge Business Review for his support in writing this article. I am not receiving compensation for it (other than from Seeking Alpha). I have no business relationship with any company whose stock is mentioned in this article.