Marlin Business Services's (NASDAQ:MRLN) net income for the fourth quarter of 2008 was a loss of $7.3 million, year ending loss of $5.2 million compared to a year-end profit of 2007 of $18.2 million (SEC 8-K filing Fourth Quarter/Year-end). The stock has seen a decline. The natural reaction is it is happening to everyone in the leasing and finance industry, even GE and CIT. There is more to the story than this easy excuse.
First, by net worth and programs available, Marlin Business Service is neither GE nor CIT, and should not be compared as the stock brokerage firms do. Marlin did not have any subprime mortgages or student loans or credit cards. More to the point, year-end personnel is 286, nowhere near to the thousands at CIT, GE, and even LEAF or Key Finance. Today it has less employees. Its niche was to operate as a boutique leasing company making personal relationships and friends through a broker network and select vendors as the company the founders came from Advanta, who ironically stayed in the credit card business.
While a company is really its "employees" and to those in the financial community, rate of return per employee, before reading further, please look at the numbers from CEO Dan Dyer, and former accountant, SEC's filing of March 9, 2009
(he should be more a numbers man than anyone else):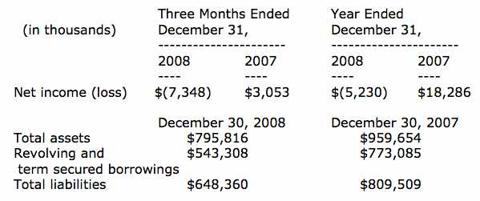 Click to enlarge
Click to enlarge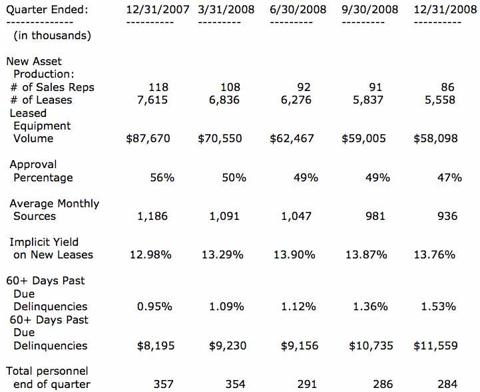 Click to enlarge
What a year it has been for Dan Dyer, CEO of Marlin! A broker department that is no longer functional, 68 workers shown the door (73 including those who left on their own accord), branch offices closing, and the latest card to drop? 7.7 million dollars gambled away in risky interest rate hedging activities. (Leasing News is told Dan Dyer's brother Joe is responsible for the 12.8MM charge for the swap loss. He is the head of their treasury group.) A 66 cent per share loss in the fourth quarter is certainly not shocking, considering we are in an environment where leasing companies like CIT and MFI trade for less than 3 bucks a share, but still, it is disturbing.
Yes, yields are up because they are not doing any broker business, not because they are doing anything "better". The broker business had a lower yield, and it altered its mix of business. Executive Vice-President, Corporate Secretary, Chief Legal Officer George Perose stated on one of its earnings calls last year that this was its "best management team ever", yet the Marlin Business Service portfolio and volume numbers crumble each quarter.
How did we get here? Perhaps the biggest problem is that CEO Dan Dyer has still not admitted to making a single mistake. At the telephone conferences, he blames the losses on anything from Hurricane Katrina to, more recently, the slow footedness of the FDIC. Marlin has reportedly spent hundreds of hours on legal cases against ex-employees. He certainly doesn't want them talking, especially to Leasing News. Perhaps they are to blame for this mess? It appears he thinks so in the legal filings. Are they the reason Marlin has to hold funding to less than 10 million dollars per month? I don't think so.
I think it's time for upper management to look into the mirror. So far it has been the opposite; in fact, key officers recently gave themselves a raise. This is really a slap in the face to the families of the ex-employees currently looking for work. We have other companies, including city and county employees forgoing a pay raise, even some cutting their salaries ten percent so they don't have to let employees go.
It is the employees trained by the older management of two years ago that are mostly keeping things going. Exiting the broker business, which was admitted to be one of the reasons for the drop in sales and income, may have been a poor move on their part. As Direct Capital, Financial Pacific, LEAF, Key Finance, Pawnee, PredictiFund, TimePayment, US Bancorp Manifest to name a few, pick up business left on the table by Marlin, it seems the best that can happen is that one of these may companies purchase Marlin's operation before nothing much is left except upper management talking to each other. Oops, they may be doing that already…