Introduction
In this article I'm going to write about how Apple's (NASDAQ:AAPL) brand and product quality make it likely that increased competition from Google (NASDAQ:GOOG) and Samsung (OTC:SSNLF) can only hurt its profits and growth up to a point. Previously I wrote about how the stock was a buy based on valuation, sentiment and technicals.
I frequently read about how Apple's stock decline is completely justified and how the company will go through a depression style margin compression and will need cash to battle it.
I'm going to show in this article what a lot of that analysis misses, why Apple is likely to be able to count on its brand loyalty to deal with competition and why the company is likely to withstand even much cheaper product alternatives.
Thesis
Steve Jobs' vision for Apple was one of creating great products and prioritizing customer satisfaction. I'm going to present a series of surveys, some research and reports showing that Apple delivers more in that area than any other company in the electronics world. Let's start with cell phones, this is a survey conducted by PC World: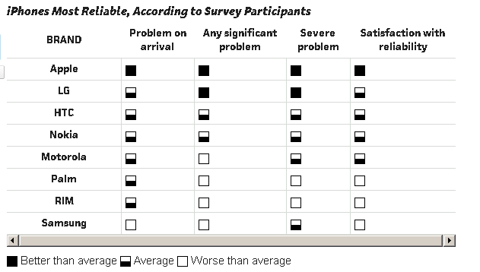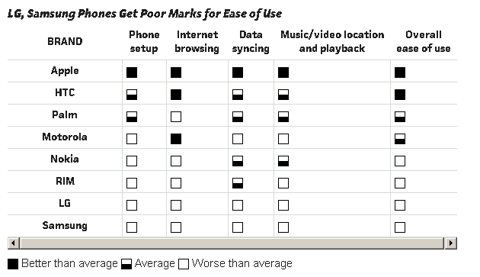 This is from theacsi.org: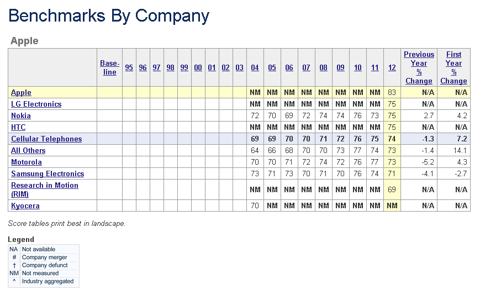 Repurchase intentions:
Source: Bernstein Research
Remember that term "recurring profit." Notice how Samsung consistently came in either on the middle of the pack or in last position. That is the difference between a company that has ingrained in its culture to make great products even if it's more expensive (Apple) instead of cheaper ones with the idea of taking market share by sacrificing quality (Samsung). Both are valid business models but there is a big difference in terms of resilience of the companies, a point in which I will return later on. Here are the results for tablets, laptops, desktops and tech support: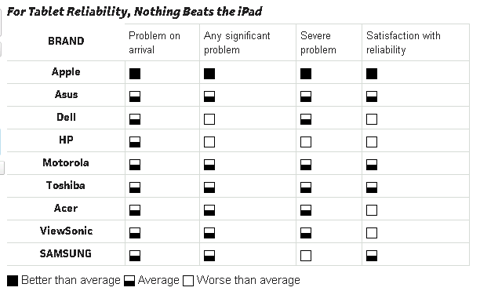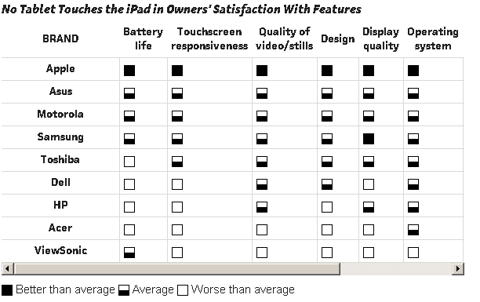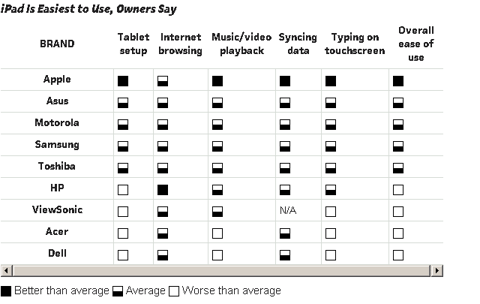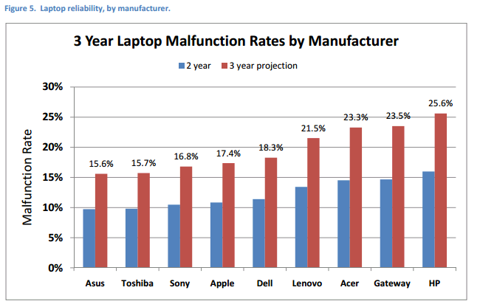 Source: Squaretrade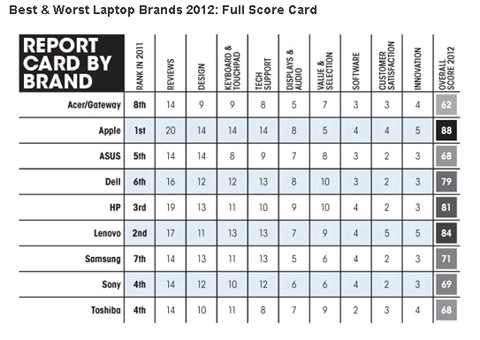 Source: Laptopmag.com
Consumer Satisfaction Index: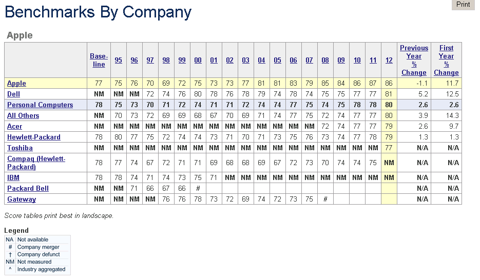 Source: theacsi.org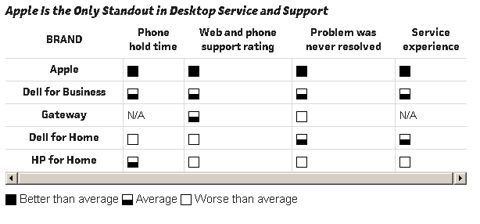 The evidence is clear that Apple has the highest quality products in the electronics world, the company consistently beat all the competition in virtually every category. The consequence of that is to start to stick in people's mind as the "brand to go" when you want something that won't break easily, has great features and is easy to use. The current generation of electronics users are consistently being reminded that Apple products are superior to all the other ones and this is what the bears miss in terms of Apple's moat.
You can't compete with Apple just by creating a similar product and having a cheaper price, if you do that you will only take away the market share of people who are looking for lower priced products (which is not the bread and butter of Apple). Now, this could be a lot of people depending on which country you are in but there is another market share that Apple has in which it holds a virtually monopoly and that is the "clients looking for quality" market share.
When Steve Jobs came back, he focused in creating a culture that would support these clients to their maximum satisfaction through things like the Apple Store (with the Genius Bar), products that won't break easily (the statistical evidence is strong that its products are superior in durability), great features, etc.
Yes, these products are more expensive but that is not a big deal for these clients, they want quality and they will pay premium for that. We all know Apple fanatics that simply refuse to buy products from other brands, according to the surveys there is a lot more logic in their decisions than it seems initially (I used to think of them as a cult but after looking at the data I no longer scorn their preferences). Because Apple is still putting out high quality products year after year. It's going to get more of these "cult" followers every year.
This is what the market share statistics miss. Yes Android use is increasing and Samsung products are doing well but a lot of that is simply because its products cost less and clients that are price sensitive are responding, among the "quality sensitive" clients Apple holds a virtual monopoly and it will be extremely difficult to "convert" these clients into buying something else because essentially they would have to be mislead through aggressive marketing and not notice the quality drop (unlikely).
It's important to realize that it takes a long-time to build a strong brand and have clients associate your products with quality. Steve Jobs went back to Apple in 1998 and only in recent years that Apple was able to become such a powerhouse in terms of consumer preference.
Even if other companies like Samsung were to try to beat Apple in the high end market it wouldn't take just creating high quality products (and the statistical evidence is overwhelming that Samsung produce lower quality products even if some bears claim otherwise), it would also take a lot of marketing and pleasing customers for years, only then high end consumers would begin to realize that Apple products might have been surpassed.
Imagine someone trying to beat Duracell in the battery market. It is not enough to have better batteries, you have to convince the client and "unwire" their programming that the Duracell brand is the best, it won't happen overnight and it is not an easy task. This is a major reason why I don't worry about products like the Samsung Galaxy S4.
Consequences For Growth
The brand loyalty moat is a big reason why I believe the growth concerns that people are using as an excuse to sell the stock are unfounded. It is very likely that Apple won't be able to compete in the price sensitive client category but that part of the market was never its strength anyway. The truth is that Apple has tons of clients that believe they are getting great value out of its products and will switch as soon as a new device comes out, this creates a great deal of "recurring profit" as product lines are upgraded. It's also finding more clients looking for quality every year.
Tim Cook does have to be careful not to alienate Apple clients by making inferior products just to capture these profits because at some point they will revolt and the company would drop in those surveys. Since he was chosen by Steve Jobs himself I find that unlikely that he doesn't know the importance of putting customer satisfaction first.
Conclusion:
Competition is a reality for Apple. It will affect its rate of growth and free cash flow but only so much. The company has a virtual monopoly in the high end "looking for quality and satisfaction" client market share. Every year that passes Apple creates more and more loyalists dominating that segment, anyone trying to compete with them will have not just to create a high quality product but also have better marketing and do a good job for years till it's able to convince people it has a better alternative. Market shares that are based on quality and brand are a lot more "sticky" than the ones that are based on price and are a lot harder to compete against given that you must fight against the "repurchase intentions" of the client (the Bernstein Research graph shown earlier quantifies that point).
Most analysts, pundits and bears are finding reasons to justify the momentum selling and are missing a key factor about Apple that make its profits more resilient than a lot of other companies in the tech space. For that reason I believe the stock is a buy and negative sentiment around the company just make it an even better buy.
Disclosure: I am long AAPL. I wrote this article myself, and it expresses my own opinions. I am not receiving compensation for it (other than from Seeking Alpha). I have no business relationship with any company whose stock is mentioned in this article.