Excerpts from Gilford Securities analyst Casey Alexander's recent note to clients on Callaway Golf (NYSE:ELY):
• • •
1. Key Currency Conversion Rates Worsen
Ever since Callaway Golf discussed the potential negative impact of foreign exchange rates on their 2009 results, we have tried to keep an eye on the key conversion rates that have the greatest impact on Callaway's EPS.
As you can see from the charts below, the Euro (Chart labeled FXE) has declined another 5% versus the US$ during the last month and a half.
Not all the news from Europe is quite as bad, but it is not good either. As you can see from the chart below, the British Pound (Chart labeled FXB) has only declined about 2.4% during that time, and a large portion of Callaway's European sales come from Great Britain.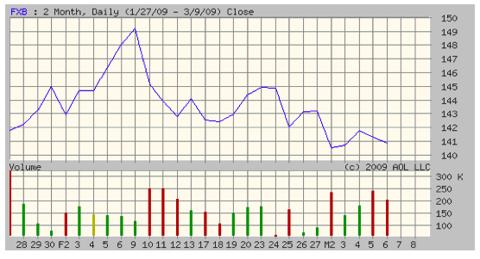 But here is where things get very problematic. The Japanese Yen (Chart labeled FXY) has declined 11% during that time.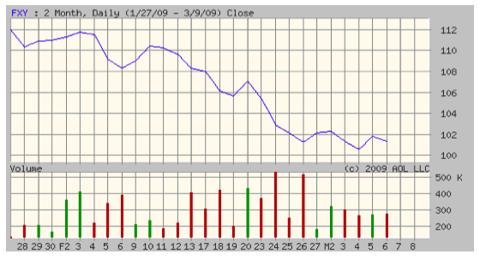 With 3 weeks left in the quarter it seems unlikely that the foreign exchange impact is going to be anything but greater than the company had first envisioned, at least for the first quarter.
2. With Negative Forex, Everyone Gets Hurt But Management
Callaway just filed an 8-K that outlines the management bonus structure for 2009. The relevant passage in the 8-k speaks for itself:
"On March 4, 2009, the Committees determined that each of the Company's executive officers would be eligible to participate in the 2009 Program. On March 4, 2009, the Committees also set the financial performance goals and other program terms for the 2009 Program. These terms include a target award for each of the executive officers, which is set forth as a percentage of base salary. The target award as a percentage of base salary for each of the executive officers for 2009 is as follows: 100% for Mr. Fellows and 55% for each of Messrs. McCracken, Holiday, Laverty, and Yang. Payment of the target award is determined by the Committees based on the Company's achievement of targeted corporate net income goals calculated on a currency neutral basis as compared to 2008 and provided that the officer also achieves his individual objectives for 2009 as approved by the Committees. Subject to certain threshold and maximum performance limits, performance above or below the targeted levels generally results in an award above or below the targeted award. At threshold and maximum performance, respectively, each executive officer could earn a percentage of the target awards as follows: 50% and 150% of base salary for Mr. Fellows and 27.5% and 82.5% of base salary for Messrs. McCracken, Holiday, Laverty and Yang. Performance below threshold would result in no payouts and performance above the maximum would result in no additional payout."
Obviously this "currency neutral basis" was not present in the 2008 bonus award. So why should management be saddled with the decline in currencies that affect corporate profitability? Maybe they should, maybe they should't. But they darn sure shouldn't get a bonus that is favorably impacted by positive currency adjustments one year, then not get penalized by negative currency adjustments the next year. But of course we forgot. Management got a portion of their bonus last year even though they failed to hit the targets. Don't let Barney Frank see this.
3. Same-Store-Sales (SSS) at Retail Down Double Digits (Say it 3 times fast)
Despite our tongue twisting headlines, the reality is that Golfsmith (GOLF-OLD) estimates Q1 same-store-sales down mid to high teens. Callaway had estimated that 2009 would be down less, so we must factor in this disparity as well. Dick's Sporting Goods (symbol DKS, Not Rated) reported Q4 SSS down 20% at Golf Galaxy, and suggested that Q1 could follow the same sales trajectory.
4. Cutting EPS Estimate for Q1 and Full Year
The continued negative foreign exchange trends and the tough Q1 SSS suggest that we cut our EPS estimates even further. Pretty soon we expect to hit the EPS bone. We will take $8 million off Q1 revenues and $3 million off our local selling costs. This reduces Q1 EPS from a Street low $0.37 to a Street lower $0.33. This also reduces our FY2009 EPS estimate from a Street low $0.50 per share to a Street lower $0.46 per share.
5. Reiterate Buy Rating
We have the lowest EPS estimates on the Street. Still with Callaway shares trading at tangible book value, we just find it reckless and shortsighted to become a seller now. This economic environment will remove some competition from the landscape forever. Callaway will still be there. We just think the shares are too cheap to give away at this level. When shares are trading for tangible book value, no price target is necessary. So none will be given.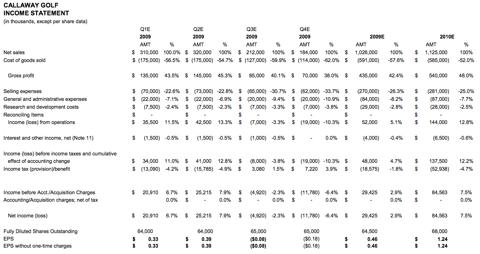 ANALYST CERTIFICATION
I, Casey Alexander, certify that all the views expressed in this research report accurately reflect my personal views of the subject company (ies). I also certify that I have not and will not receive compensation with respect to the issuance of this report.