Seabridge Gold, Inc. (NYSEMKT:SA) released an updated NI 43-101 resource estimate for the Mitchell Deposit at its KSM project located in northwest British Columbia. The new estimate upgraded a portion of the resource to the Measured category from the Indicated category, nearly doubling the Measured and Indicated gold and copper resource in 2009 over the 2008 resource estimate. Clearly, the resource growth at the Mitchell deposit has moved the KSM project into the ranks of the world's largest gold-copper porphyry deposits. We believe that precious metals companies with good projects with expansion and development potential may provide an above average investment opportunity in 2009.
click to enlarge


Click to enlarge

Source: Seabridge

The updated resource estimate included drill results from an additional 34 core holes totaling 15,416 meters drilled by Seabridge during 2008. The total drilling completed by Seabridge from 2006 to 2008 now includes 102 core holes totaling 40,060 meters of drilling (recoverable gold equivalent grades were calculated using a $650 gold price with a 70% recovery rate and a $2.00 copper price with an 85% recovery rate).
Mitchell Deposit (looking west)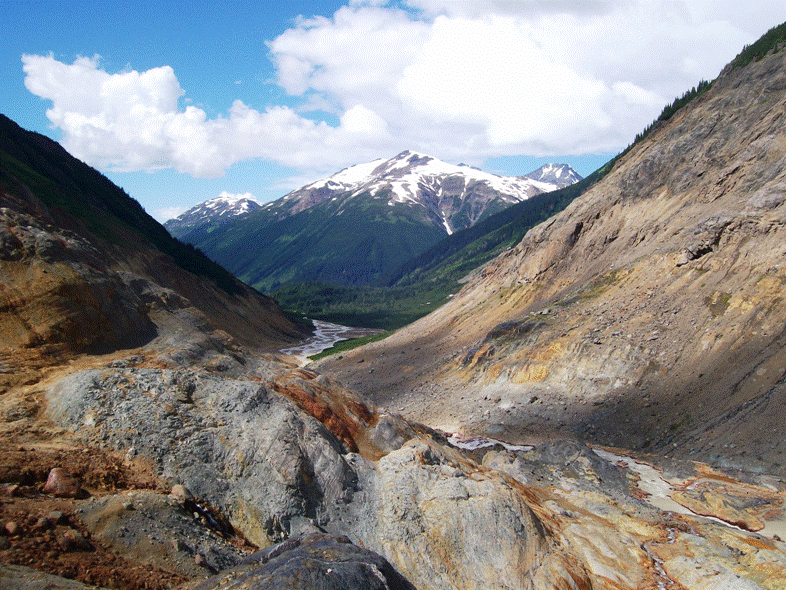 Source: Analyst

In-fill drilling has confirmed management's understanding that the mineralization of the deposit is consistent between wider spaced drill holes with higher grades of gold increasing at depth. In addition, the upper benches contain lower grades of gold-copper with potential to convert from waste to ore. This resulted in moving resources to Measured from Indicated, as well as adding new Inferred resources.

The updated resource estimate confirms our investment thesis (.pdf) that the project economics should be improving with the increase in size and the conversion of waste to ore. The resource update should allow Seabridge to complete an updated preliminary economic analysis, which is scheduled for the second quarter of 2009. In addition, the updated resource estimate for the Mitchell deposit does not include the Kerr and Sulphurets deposits, which are also scheduled to be updated in the near future.

KSM Project (looking east)
(Mitchell Deposit on left of center)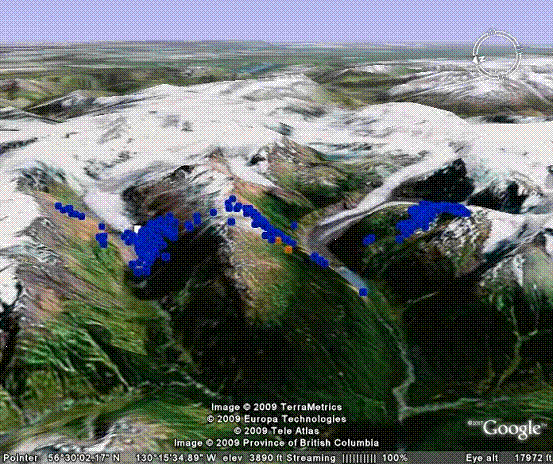 Source: Google Earth/Corebox
A good comparable for the Mitchell deposit or the KSM project, prior to the downturn, would be the acquisition of 51% of the Cerro Casale project in northern Chile by Barrick (NYSE:ABX) for $800 million. Cerro Casale has a gold resource of about 25 million ounces, is in a mining friendly political jurisdiction similar to the KSM project, and has significant construction challenges. In addition, the KSM project appears to compare favorably to the average grade of the resource at Cerro Casale, which is about 0.69 g/t gold and 0.25% copper. Excluding copper, this may suggest an acquisition price of the gold component on a per ounce basis of 51% of Cerro Casale of about $63 per ounce.

Seabridge's KSM Project is shaping up to be one of the world's largest gold-copper porphyry deposits. As the project is advanced with additional studies and development work it should stand out among other projects attractive for construction and operation by a major mining company. Prior to the recent resource upgrade at Mitchell, Seabridge reported a total gold resource of about 49.0 million ounces and 8.2 billion pounds of copper. We are bullish on both gold and copper prices for the timing of the project and consider shares of Seabridge, which includes other assets, to be significantly undervalued.
Disclosure: The author is long SA. An affiliate of the author's employer provides corporate advisory services to SA.