Whenever discussion turns to what Apple (NASDAQ:AAPL) should do with its ever-growing cash pile, acquisitions tend to be mentioned, but largely dismissed in terms of impact. The argument seems to go as follows:
Small acquisitions such as Siri or the Polar Rose (facial recognition) can be useful, and do happen regularly, but neither make a material dent in Apple's cash reserves nor represent game-changing moves. They simply represent ways for Apple to fast-track useful technologies. Apple has been picking those up at the rate of one every quarter or so. Even something as notable as high-end German TV maker Loewe AG (OTC:LOEEF) (market cap, $55 million, rumored last month) essentially falls into this category.
BlackBerry (NASDAQ:BBRY), however, now seems to me to be a strong, logical candidate.
It is far from massive. Current market cap is $6.9 billion, and there is close to $2 billion in cash, so it could probably be acquired for $7-8 billion net.
Apple under Steve Jobs famously shunned the corporate market, where BlackBerry still retains substantial market share because of its reliability and robust security.
Many corporate users carry a BlackBerry for business, but an iPhone or Android phone for private use, for fun, and for access to the wide range of apps that the BlackBerry store is never going to match. Most would rather carry only one phone, and a unit that combined BlackBerry security, email access, and messaging (not to mention the little red light) with Apple's design, and iPhone Apps would have a huge attraction.
BlackBerry's tight integration of hardware, software, and back-end has close similarities with Apple, as does the quality over rush-to-market approach.
Would Apple shareholders be sellers?
Beleaguered Apple shareholders have recently received some relief from the better-than-feared response to the BlackBerry 10 range, but with analysts looking at losses in each of the next two years upside must now be limited. Had Windows 8 phones been a total flop BlackBerry would have had more room to maneuver, but that escape route is closed, at least for the time being.
The chart below tells the story. Two years ago there were four viable operating systems in the market: Android, iOS, Symbian (included in "Others" in the chart) and BlackBerry each had more than 10%. Now Android and iOS have over 90% of the market between them. Microsoft (NASDAQ:MSFT) is putting its non-inconsiderable resources behind Windows 8, leaving very little space for BlackBerry.
A move on BlackBerry would signal that Apple really is embracing the corporate market, and combined with a deal with China Mobile (NYSE:CHL), very likely for reasons I discussed here, could be a major catalyst in turning around the share price.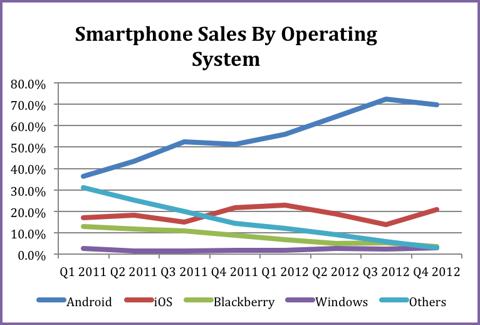 Disclosure: I am long AAPL, CHL. I wrote this article myself, and it expresses my own opinions. I am not receiving compensation for it (other than from Seeking Alpha). I have no business relationship with any company whose stock is mentioned in this article.