Whole Foods Markets (NASDAQ:WFM) reported another solid quarter of earnings, however lofty valuations have continued to keep this stock from breaking out of its current trading range. While I am a believer in the long-term growth story of Whole Foods, and a frequent shopper, becoming an investor at current price levels does not appear attractive. While I would like to be a long-term shareholder of this company given its above-average margins, robust same-store sales, and growing free cash flow generation, I still believe patience is the best approach for this stock.
In my last article from November of 2012 I cautioned investors to wait for a more favorable entry point before initiating a position. Thus far my thoughts have proven correct and given management's guidance for fiscal-year 2013, it appears further selling pressure will need to develop before this company looks attractive again.
Whole Foods management provided a great deal of guidance for the current year during the latest earnings announcement. Throughout this article I will reflect on what management estimates in the coming year and provide my thoughts on the fair valuation of this company's shares.
Current Valuation
Depending on which valuation metric you use shares of Whole Foods still trade at or near historic levels. While one could certainly argue that the company's unique brand image and ability to open stores both domestically and internationally should warrant high price multiples, the company is beginning to face competition and growing pains. How it handles these challenges will determine whether or not the market continues to award shares with lofty price multiples. The charts below depict quarterly trailing twelve month price-to-sales ratio (currently 1.32x), quarterly trailing twelve month price-to-earnings ratio (currently 32x), quarterly trailing twelve month price-to-book value ratio (currently 1.1x), and quarterly trailing twelve month price-to-operating cash flow and price-to-free cash flow ratios (currently 16.6x and 36.4x respectively).
*Note: Whole Foods considers Free Cash Flow to be calculated as Operating Cash Flow minus "Development costs of new locations" and "Property and equipment expenditures." My calculation takes the above equation and also subtracts "Payment for purchase of acquired entities" and "Acquisition of intangible assets." While some may argue my adjusted numbers, in my opinion both are necessary expenditures for growth and should be properly accounted for.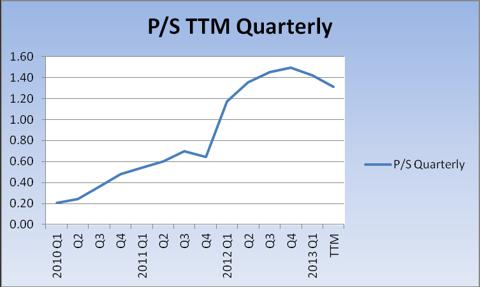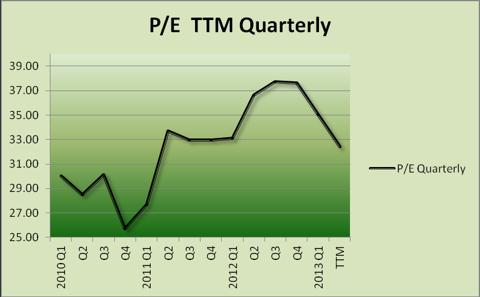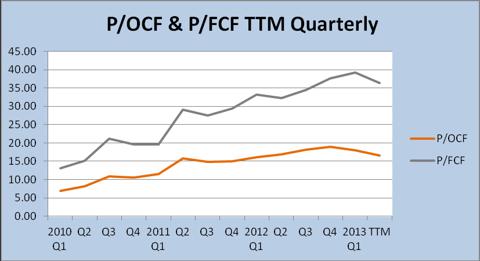 Source: Whole Foods SEC Filings
How does Whole Foods stack up when compared with competitors? Although it is difficult to find a similar competitor, the closest would be The Fresh Market (NASDAQ:TFM), which trades at a slightly richer earnings multiple of 35x. Other grocery store chains like Kroger (NYSE:KR) and Safeway (NYSE:SWY) trade at 21x and 10x trailing twelve month earnings. While I agree that neither of the later companies mentioned are appropriate comparables to Whole Foods, it provides an idea of where the market is pricing mature grocery store operators.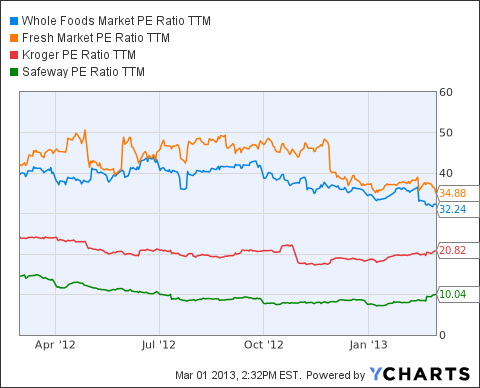 WFM PE Ratio TTM data by YCharts
My Thoughts on the Future
Management provided further clarity on the current year during the recent earnings call. Below are some relevant points I factor into my estimates:
Management is now projecting full-year revenue of 10% - 11% in fiscal year 2013. Keep in mind that FY12 was 53 weeks and FY13 is only 52 weeks. My estimates assume 11% sales growth in FY13 and 12% sales growth in FY14 (due to increased store count and higher same store sales in newer locations).
Given management's ongoing strategy to expand "value" offerings, gross margins are expected to remain unchanged year over year. In FY14 I anticipate modest expansion (8 basis points).
Management anticipates general and administrative expenses to be 3.1% of sales.
Given what appears to be a record year of store openings, pre-opening and relocation expenses are estimated to be between $68-$73 million in FY13. My estimates are for $70 million.
Management anticipates operating income of $255-$257 million. My estimates are in the middle of this range, roughly $255.9 million.
An effective tax rate of 38%
Diluted share count of 188 million
Management is estimating diluted earnings per share of $2.83 - $2.87. My estimates are slightly lower at $2.78 per share. Although my estimates are somewhat conservative, I would like to see how the company handles this year of rapid store growth before factoring in any upside surprises in earnings.
Please note that the estimates below are not guaranteeing any of the results will be met. These estimates are strictly based upon management's guidance, the company's SEC filings, press releases, historical data, and my estimates.
| | | | | | | |
| --- | --- | --- | --- | --- | --- | --- |
| | 2013 Full Year Estimate | CS | YOY Growth | 2014 Full Year Estimate | CS | YOY Growth |
| Revenue | $12,985,699,080 | 100.00% | 11.00% | $14,543,982,970 | 100.00% | 12.00% |
| Cost of Goods Sold and Occupancy Costs | $8,373,178,767 | 64.48% | 11.01% | $9,366,325,032 | 64.40% | 11.86% |
| Gross Profit | $4,612,520,313 | 35.52% | 10.99% | $5,177,657,937 | 35.60% | 12.25% |
| Direct Store Expenses | $3,311,353,265 | 25.50% | 10.99% | $3,701,443,666 | 25.45% | 11.78% |
| General and Admin Exp | $402,556,671 | 3.10% | 8.20% | $450,863,472 | 3.10% | 12.00% |
| Pre-opening expenses | $58,000,000 | 0.45% | 23.67% | $60,000,000 | 0.41% | 3.45% |
| Relocation, store closure, lease termination costs | $12,000,000 | 0.09% | 21.40% | $14,000,000 | 0.10% | 16.67% |
| Operating Income | $828,610,376 | 6.38% | 11.45% | $951,350,799 | 6.54% | 14.81% |
| Other income/expense, net | $12,985,699 | 0.10% | 52.09% | $14,543,983 | 0.10% | 12.00% |
| Pretax Income | $841,596,075 | 6.48% | 11.91% | $965,894,782 | 6.64% | 14.77% |
| Provision for income taxes | $319,806,509 | 2.46% | 11.64% | $367,040,017 | 2.52% | 14.77% |
| Net Income | $521,789,567 | 4.02% | 12.07% | $598,854,765 | 4.12% | 14.77% |
| Preferred Stock Dividends | | | | | | |
| | | | | | | |
| Basic Shares Outstanding | 186,000,000 | | | 188,000,000 | | |
| Basic EPS | $2.81 | | | $3.19 | | |
| Diluted Shares Outstanding | 188,000,000 | | | 190,000,000 | | |
| Diluted EPS | $2.78 | | | $3.15 | | |
Source: Whole Foods SEC Filings, Whole Foods Management Guidance, and my estimates based upon historical data and future expectations. Estimates given above are no guarantee of future results, please evaluate the company in greater detail before making investment decisions.
Estimated Valuation
As mentioned earlier, shares of Whole Foods currently trade at roughly 32x trailing twelve month earnings. Assuming the company can continue to expand and deliver 7% same-store sales results, a high multiple is likely warranted. Over the long term management is projecting a capacity for 1,000 stores in the United States, currently 344 Whole Foods locations are being operated, so we are still in the early innings of this company's lifecycle. Assuming my projections above lean toward the conservative side, and the stock trades at 32x TTM earnings in FY13 and 30X TTM earnings in FY14:
End of Fiscal year 2013 value = $2.78 diluted EPS X 32x P/E ratio = $88.96 per share
End of Fiscal year 2014 value = $3.15 diluted EPS X 30x P/E ratio = $94.50 per share
Note that my assumption does not include any dividends. The company currently raised its quarterly dividend payment from $0.14 per share to $0.20 per share. Recent trends have suggested that management will likely raise the payment during the end of the current fiscal year.
Another metric to value shares is the discounted free cash flow analysis. Please review my note in the earlier section, which explained my calculation of free cash flow as it differs from Whole Foods' calculation. Management is projecting significant capital expenditures over the next few years as a result of new stores opening. FY13 CapEx is projected to fall between $565 - $615 million. Free cash flow in 2012 was $463.5 million, assuming this grows at 10% annually, the values are as follows:
| | | | | | |
| --- | --- | --- | --- | --- | --- |
| | 2012 | 2013 | 2014 | 2015 | 2016 |
| FCF | $463,466,000 | $509,812,000 | $560,793,000 | $616,873,000 | $678,560,000 |
Using a discount rate of 9% and a terminal growth rate of 5%, we arrive at a current share price of $77.21, slightly below our earnings multiple valuations.
Please note that all valuation techniques are estimates only. Changing assumptions regarding the price multiple, discount rate, or growth rate can alter your estimated share price.
Gross Margin Concern
The overwhelming concern on Whole Foods' recent earnings call was gross margin compression during the remainder of the year. Competition is certainly increasing in the health food industry and although Whole Foods has some of the most loyal customers of any grocery retailer, it is not immune to discount retailers like Wal-Mart (NYSE:WMT) pushing health food at lower costs. Although gross margins are expected to move higher following the year end, there is no guarantee we will see this trend continue up and to the right.
Given the increased expenditures over the next few years from expansion, margins could face pressure if unnecessary costs arise. Margins could also face pressure from various sources, which include adverse weather, increased competition, higher rents, or government regulation. Although these are not imminent risks, they are worth keeping in mind when you invest in a high-growth company.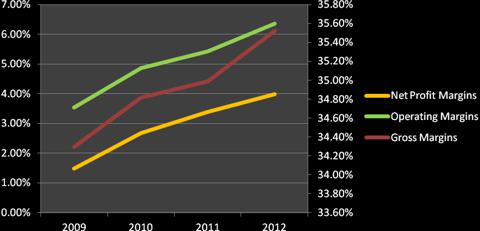 Gross Margins-right hand scale, Operating and Net margins-left hand scale
Source: Whole Foods SEC Filings
Conclusion
While I am a fan of Whole Foods and a believer in the growth potential of this company, current valuations suggest patience is the best course of action. I would need to see a pull back in the share price or some unexpected growth catalyst to change my rationale. The company appears to be making all the right decisions you would expect in a growth stock, high cash flow, rapid expansion domestically, international expansion, initiating dividends, and no debt. This is certainly a stock that would make sense for a variety of investors portfolios.
Consider your investment goals and objectives before initiating a position in Whole Foods and please remember that the value of investments in equity securities, like WFM, will fluctuate in response to general economic conditions and to changes in the prospects of particular companies and/or sectors in the economy. Since I attempt to tailor my estimates above conservatively, any upside surprises would be beneficial, however my investment position remains cautious.
Note: All data reported and graphed is pulled directly from Whole Food's SEC Filings, Press Releases, and Investor Presentations
Disclosure: I have no positions in any stocks mentioned, and no plans to initiate any positions within the next 72 hours. I wrote this article myself, and it expresses my own opinions. I am not receiving compensation for it (other than from Seeking Alpha). I have no business relationship with any company whose stock is mentioned in this article.