Morgan Stanley (NYSE:MS) had a monster day Wednesday (up 26%) and is up 8% in early action Thursday morning on a Goldman Sachs upgrade; I'm not going to get greedy here. Unfortunately It's only a 1.7% stake, but I am going to take half off in the $22.40s and book a very nice profit. I plan to trade around this position often as it's got a lot of movement to it, and for a financial at least, has some relative strength. I will need to make my position size bigger in the future so it has more affect on the overall portfolio. I agree with the Goldman view here: you do not want to have anything to do with the consumer. Period.
Goldman Sachs upgraded Morgan Stanley (MS) to a conviction buy from neutral, as it also downgraded American Express Co (NYSE:AXP) to conviction sell from neutral, describing capital market activity as "a relative bright spot" in recent conversations with U.S. firms, "while consumer credit seems to be deteriorating by the day." Goldman said that as well as its exposure to any improvement in capital markets, Morgan Stanley has a high capital position and reasonable valuations. It added that delinquencies at American Express are accelerating relative to the wider industry and it may only break even in 2009.
"Morgan Stanley is well positioned to outperform peers due to its high capital position, reasonable valuation and leverage to improvement in the capital markets," Goldman said Wednesday. The analysts

also boosted their 2009 and 2010 profit estimates for Morgan, citing expectations of higher capital markets and commission revenue.
Meanwhile, they downgraded AmEx to sell "as earnings headwinds continue to build and may force the company to be break even in 2009 excluding the Visa/MasterCard settlement programs." "The good news is that American Express has a stronger capital position than the average bank on any metric ... and it is hard to see a dilutive capital raise as a risk for now," they wrote.
If the stock breaks north of $24 it should have upside to $27ish. If we see a sustained move in the market, I'll jump right back into the name.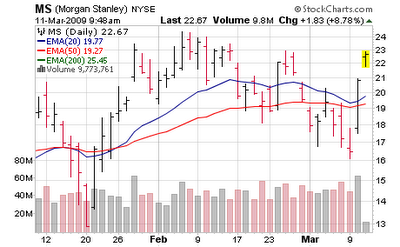 As I said Wednesday, I am looking at 2 pivot points, S&P 724 (weaker) and S&P 741 (stronger) as potential resistance points; if we break through 724 (which I'd expect) then I want to be bullish to 741. That will be a much more interesting point - price action at 741 determines what we do next. Until then, I'm firmly drinking Kool Aid.
EDIT 9:50 AM
- I also covered my
Amazon.com (NASDAQ:AMZN)
short for a 10% loss (my insurance policy) - but only small dollars as I cut it back heavy Wednesday when I logged on during the rally. Amazon finally broke through $66 which was a ceiling, if you want to get long with a stop loss below $66, that's a nice trade too.
Disclosure:Long Morgan Stanley in fund; no personal position