With the Dow Jones Industrial Average (NYSEARCA:DIA) at an all-time nominal high, it is worth examining the ratio of the DJIA to Gold (NYSEARCA:GLD), as the measure has been an interesting guide to future prices historically. We can learn much from the relationship in terms of pairs trades for the future.
The graph below is a depiction of the DJIA/Gold ratio starting in January 1970. Data was pulled from the St. Louis Federal Reserve Bank's FRED website.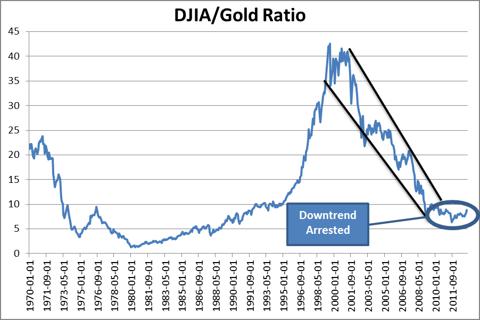 What we see on this long-term chart is a few things. First, the DJIA went parabolic versus gold in the '90s during the tech bubble before starting a nasty downtrend thereafter. After a long period of gold outperforming the DJIA, however, the ratio has been largely range bound since 2010.
Notice, however, that the ratio has begun to turn up, suggesting that the DJIA has been outperforming gold over the short term. Anyone who follows financial markets knows this has occurred in recent times, but we can see in this chart the magnitude of stocks' outperformance of gold. Since the ratio has stopped its downtrend, we can infer from this that the DJIA is likely set to outperform gold over the medium and longer terms.
We can see that the DJIA isn't necessarily going to vastly outperform gold over the medium term, if the 1980s are a guide, but the fact that the downtrend has been arrested is quite telling. Of course, there are risks. We may see gold prices run up to $2,000 or more while stocks stagnate or decline. However, given the Federal Reserve's willingness to inflate stock prices as a general policy, that shows no signs of slowing down, I find this to be a remote possibility. Since gold is simply a trading vehicle for people betting on fear and inflation, any good economic news should keep gold prices contained or declining while stocks simultaneously rise. Even if inflation does run rampant, since stocks are priced in dollars, they should appreciate as well based simply on the fact that the dollars they are priced in are worth less.
My recommendation is to enter a long stocks/short gold trade as a long-term hedge. If we get the inflation that some people are forecasting as a result of unprecedented monetary stimulus from across the globe, both stocks and gold should appreciate. If we don't, stocks should outperform gold. While buying stocks at all-time highs isn't necessarily prudent, I think gold prices will moderate further, providing relative outperformance for equities. The "fear" trade, in my opinion, is played out at this point, and $1,600+ gold isn't sustainable. Regardless of what happens, the pairs trade should mitigate risk for the long term as we can see that the DJIA is likely set for outperformance of gold over the medium term, if history is a guide. In addition, history tells us that the downside is limited for the pairs trade, as the ratio is near the historic bottom of the range for the last 40+ years.
Disclosure: I have no positions in any stocks mentioned, and no plans to initiate any positions within the next 72 hours. I wrote this article myself, and it expresses my own opinions. I am not receiving compensation for it (other than from Seeking Alpha). I have no business relationship with any company whose stock is mentioned in this article.