Is it time to get long Facebook (NASDAQ:FB) and just hold it?
Facebook stock has had a wild ride since the IPO at $38 per share. A harrowing drop to sub $20s set the stage for a sentiment and behavioral bottom. At the time, there were calls for $10 per share from the talking heads on Wall Street and many retail traders. We became interested in the stock around $22 per share and then we saw a run to $32. As we approached $31-$32 per share we saw the sentiment patterns peaking out there and grew a bit cautious.
However, what we really think may be happening under the hood is what Malcom Gladwell, Author of "The Tipping Point," would describe as a tipping point itself. Gladwell defines a tipping point as "the moment of critical mass, the threshold, the boiling point." The book seeks to explain and describe the "mysterious" sociological changes that mark everyday life. As Gladwell states, "Ideas and products and messages and behaviors spread like viruses do."
Obviously Facebook had a tipping point probably back in 2004 as the user base began to explode. What we are referring to now, though, is the tipping point of data mining and consumer analysis. For those of you who use Facebook like I do, it becomes a necessary routine to keep track of what your friends and family are up to. Prior to Facebook, you could be out of touch for months on end unless you got an E-mail, or a rare phone call. The issue is investors were concerned that with the dramatic shift in internet viewing from Desktop computers and laptops to Mobile Devices, that Facebook would not be able to benefit from that shift with advertising.
We think they are wrong, and that the stock below $28 represents great value, and we expect that the data mining they have been doing is now transforming into revenue and profit growth that Wall Street doesn't yet see. Just take a look at your news feed on Facebook and you can see all the "suggested posts"… pay attention, because we think this is the Tipping Point for Facebook investors.
There is a highly anticipated announcement due today from Facebook regarding modifications and improvements to the News Feed options. We think enhancing and enriching the user experience should lead to more traffic, better display ad use, and more data mining and future revenue potential for Facebook.
In the very short term, purely from technical analysis point of view, we may be wrong - the stock could pull back into the $25s perhaps even - but we think its worth taking a position and then looking to add on weakness. We pointed out a pivot point at 26.83 on March 2nd under our Trading Reports and Trend Reversals Section.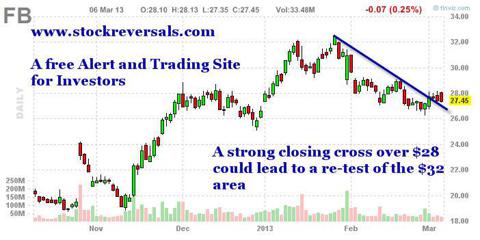 Disclosure: I have no positions in any stocks mentioned, but may initiate a long position in FB over the next 72 hours. I wrote this article myself, and it expresses my own opinions. I am not receiving compensation for it. I have no business relationship with any company whose stock is mentioned in this article.