As falling equity prices prompt an increasing number of investors to grasp at "real assets" like commodities, the PowerShares DB Agriculture fund (NYSEARCA:DBA) has gained momentum in the Sector Momentum Tracker ETF Sector Momentum Table, moving from the No. 42 spot on December 30, 2008, to the No. 26 position on March 3, 2009. While the inevitable attention to commodities has not surprised many of the analysts predicting a protracted recession, the outperformance of DBA has certainly helped to attract downtrodden investors.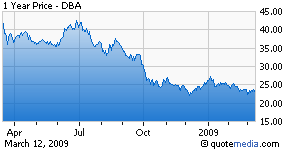 Over the past three months, DBA has outperformed the S&P 500 by nearly 30%, as investors bet that the lure of commodities will draw additional investors into the agriculture sector in 2009.
Whether the recession will be long or relatively mild, the price of commodities could experience an upswing in 2009. If the global recession is relatively short, emerging markets will have a renewed need for commodities to flourish. A renewed demand from growing economies for commodities could again boost the price of DBA. If, however, the recession is prolonged and it's difficult for farmers to obtain credit, smaller crops could result and supply could diminish. On the most basic level, a drop in supply that outpaces a drop in demand would also strengthen commodities prices and the price of DBA.
DBA's share value reflects the prices of futures contracts on corn, wheat, soybeans and sugar. Since the value of DBA is simply a reflection of the prices of futures contracts and not the agricultural industry as a whole, the ETF would benefit from an increase in commodities prices, even at the expense of supply or the agricultural industry. DBA has proved to be a relatively liquid ETF, but investors should still be mindful of the volatile nature of futures contracts and commodities as a whole.
In 2008 the prices of "soft" commodities, like those in which DBA invests, rose abruptly and then sold off just as dramatically. Doug Casey, the chairman of Casey Research LLC, recently said, "I'm bullish on agricultural commodities. They ran way up last year and then collapsed again. I think a good case can be made that most of the soft commodities are quite cheap and will go higher." If the futures contracts that underlie DBA are indeed oversold, now may be a prime moment for investors to reenter the market.
In addition to being tangible commodities, the components of the "food sector" that underlie DBA will always find some level of demand in the marketplace. Since the corn, sugar, soybeans and wheat tracked by DBA are staples of consumption, at some point prices will gain traction. On March 6 the U.S. Department of Agriculture announced that it expects a drop in average crop prices for the January-February period. If a drop in prices for DBA's components causes farmers to grow less of these products, the share price of DBA could increase as investors bet on future production levels.
International demand for commodities has also been a key factor in the prices of futures contracts and, consequently, DBA. On Monday, the prices of soybeans and corn increased on the CBOT as spot prices of these commodities rose to meet export commitments and the demand for corn in energy markets. Corn futures, which compose nearly a quarter of the underlying contracts in DBA, could see the benefits of an anticipated increase in ethanol for use in gasoline. Monday's surge was credited to Agriculture Secretary Tom Vilsack's noting that the government could move "fairly quickly" to grow the 10% ethanol-to-gasoline blend rate to 12% or 13%.
Commodities spot prices recently made headlines, as President Obama included several proposals in his budget that directly impact commodities investors. Among the five major objectives that Obama hopes to tackle are the phase-out of direct subsidies to farmers making more than $500,000, caps on direct payments and a decrease in funding for overseas agriculture programs.
Grouped together, these policies will represent a reduction in funding for farms, particularly larger farms that would be subject to the capital caps. If it becomes more difficult for farmers to borrow money, these policies could result in smaller crops and rising commodities prices. If the supply falls faster than the demand—which will presumably exist at some level, since people will continue to eat—the pressure created by this shift will boost commodities prices. While the policies could spell bad news for farmers, they could mean a positive upswing for DBA investors over the next several years.