Qihoo 360 Technology Co Ltd (NYSE:QIHU) has been a high flyer in last six months. It is up 130% since early August 2012, when it reached its all-time low price. The rise came with the announcement that the company is entering the search market to rival Baidu (NASDAQ:BIDU), which practically had a monopoly in the Chinese search engine market up to that time. Qihoo 360 released earnings this week that beat estimates, but the stock went down sharply, because the management said that the company faces margin pressure, because they will invest heavily to gain share in the Chinese search market.
Q4 2012 highlights
The year 2012 was very successful for Qihoo 360. The company introduced new performance-based advertising services and launched a search engine. At the end of 2012, they launched an internal search monetization system, and in early January 2013 the company began to cooperate with Google (NASDAQ:GOOG) in search monetization. At the same time, they are building their own search advertising network and a search traffic union.
Total monthly active users of Qihoo 360's PC-based products and services reached 456 million compared to 402 million a year ago. Total smartphone users of mobile security products reached 207 million compared to 53 million a year ago, and the management said in the conference call that they hold over 70% of the marketing share.
Revenue in the fourth quarter was $103 million, an increase of 65% over the same period last year, and well above analyst views of $93.68 million. The strong growth was driven by growth of both online advertising and internet value-added services. Adjusted EPS was $0.22, and analysts were expecting $0.17.
Revenue guidance for the next quarter was also above analyst estimates. The company expects $104.5 million to $106.5 million revenue, which is above $98.88 million analysts are currently expecting.
The main culprit for the share drop after reporting earnings was shrinking margins. The management stated that this is due to heavily increased investment in the mobile internet and search, and that they aim to reach 20% search market share this year. Adjusted net margin was 29.6% in the fourth quarter compared to 37.9% in the same period a year before. The management expects gradual margin improvement with the development of the search business. They expect to reach the long term adjusted net margin target of 40% in a few years.
Qihoo 360 currently has an 84.05 trailing PE; forward PE is 19.58 with a PEG ratio of 0.71.
Concerns
Chinese government has issued a warning letter for unfair competition in late January. The letter says that Qihoo tried to trick people into installing its software.
At the same time, Qihoo's apps were removed from the iTunes store with no explanation supplied. This is not the first time for Qihoo's apps to be removed from iTunes. They were removed last year for several days because of "unusually high numbers of positive/negative feedback by unknown sources".
Muddy Waters and Citron have attacked Qihoo's business practices. Muddy Waters accused Qihoo for diverting commissions to other accounts within its 360 browser.
Competition
Baidu Inc. is in a downtrend since its peak in mid-2011. Main cause for the drop is a deceleration of growth, as shown in the chart below. Baidu has a trailing PE of 18.99; forward PE is 13.34, with a quite low PEG ratio of 0.58. Baidu also has great potential, but it must end the downtrend it is in since mid-2011. It presents a tremendous value opportunity for long term investors. The growth levels have come down, but it is still growing at quite higher rates given the current valuation. You can read more about Baidu in my December article.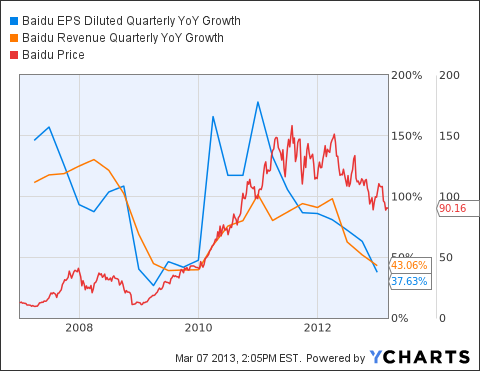 Price action
Qihoo's share price came close to its all time highs before reporting earnings. It cleared a recent consolidation at the same time, but quickly came back to the $30 to 33$ range it was in since early January. It is now for the second time in two weeks at the key support level - the 50 day moving average line. A bounce of the 50 day moving average line in above average volume would be very positive for the stock, and then it might try to reach new highs for the year and new all time highs it reached at the time of the IPO in late March 2011. At the same time, the $30 price level seems to be really significant, and it would not be good for the stock to breach that level, at least in the short term.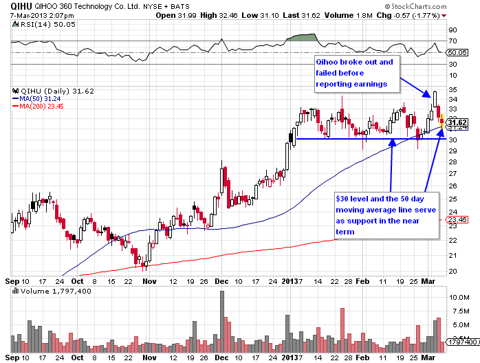 Source: Stockcharts
Conclusion
Qihoo 360 made significant progress in 2012, and continues its growth efforts in 2013. Search market penetration might prove as crucial for the company in 2013, and will determine if the company can compete with Baidu after getting the starting market share in search. It is very important to do so, in order to monetize and leverage the vast investment efforts it plans to make this year. It also must put the fairness concerns behind it in order to gain investor and user trust. On the technical side, support at the 50 day moving average line, and the $30 level might prove as key areas of support in the near term.
Disclosure: I am long QIHU. I wrote this article myself, and it expresses my own opinions. I am not receiving compensation for it (other than from Seeking Alpha). I have no business relationship with any company whose stock is mentioned in this article.
Disclaimer: This writing represents my personal opinion, and is for informational purposes only.