When it comes to the tenure of J.C. Penney's (NYSE:JCP) CEO Ron Johnson, one of the first things to keep in mind is the fact his days at the helm of the department store giant could be numbered, especially if things don't change in the very near future. According to the Wall Street Journal, "Members of J.C. Penney's board will consider selling the company or replacing the chief executive if a deep drop in sales can't be reversed this year".
Before we begin to ask ourselves what's gone wrong at J.C. Penney let's take a look at the company's initial plans to restructure. On January 24th, 2011, J.C. Penney Co. said "the company plans to close five underperforming department stores as part of a series of restructuring moves that will affect 3,900 jobs and to name William Ackman of Pershing Square Capital Management and Steven Roth of Vornado Realty Trust (NYSE:VNO) to its board". One of the first things to keep in mind is that the company's largest shareholder, activist investor William Ackman, isn't exactly happy with his decision to lobby for Johnson's appointment back in 2011 as the company's financials have been dismal at best since then.
These initial moves sounded good on paper and would lead to the subsequent closing of the department store's 19 catalog-based outlets, since sales at these locations had declined substantially over the course of the previous five years. According to the company's annual report, "For the year, J.C. Penney reported a net loss of $985 million or $4.49 per share. Excluding markdowns related to the alignment of inventory with the Company`s new strategy, restructuring and management transition charges, non-cash primary pension plan expense and the net gain on the sale or redemption of non-operating assets, the Company`s adjusted net loss for the year was $766 million or $3.49 per share". In my opinion the biggest catalyst behind the company's dismal performance has been the eradication of its discount-based marketing efforts.
When most customers walk into a department stores, whether it be Macy's (NYSE:M) or Sears (NASDAQ:SHLD) they find themselves attracted to such things as the '50% Off Rack' or 'Buy 2 Get 1 Free' offers. If a store, which has previously had a reputation for offering such discounts, stops using such marketing tactics, it tends to turn off customers and as a result, sales falter. The simple answer should never have been to fix something that wasn't broken in the first place, but to essentially cut the necessary costs associated with struggling stores rather than a company-wide marketing initiative that has worked for decades.
If something isn't done to turn the company's performance around in the near-term key shareholders may very well abandon their positions as was the case on Monday March 4th. As the combined result of both a lackluster year and sales numbers that have the potential to fall even further, Vornado Realty Trust announced it would be selling its position of roughly 10,000,000 shares at a price range of $16.40 to $16.60 a share. From a technical standpoint, J.C. Penney's current downtrend clearly supports such a transaction as its 20-Day Simple Moving Average, 50-Day Simple Moving Average and 200-Day Simple Moving Average are all down 26.11%, 25.95% and 35.13%, respectively.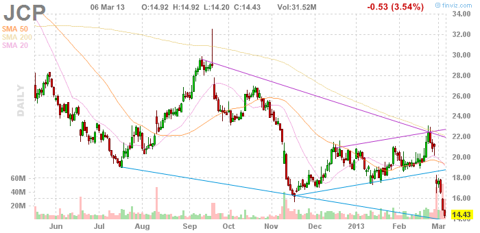 Click to enlarge
What Are Some Of The Things That Need To Happen Next For J.C. Penney? I think there are two notable actions that need to occur before shareholders can expect anything positive out of J.C. Penney. First, the company's incumbent CEO Ron Johnson needs to step down as his proposed 5-year plan for restructuring isn't working, and the patience of major investors is wearing thinner by the day. It's clearly time for a change and although Mr. Johnson was a successful executive at Apple, Inc. (NASDAQ:AAPL) prior to his tenure at J.C. Penney, his effort here just isn't making the grade.
Secondly, I think the company needs to jump back into its old business model. As a department store formally known for its ability to mark down prices and offer product at a discount to individual retail shoppers I think JCP needs to revisit such an approach and jump full force back into it. Over the last year, "store traffic plunged when shoppers balked at the end to discounts, despite the company's efforts to make clear that it was lowering the amount on the price tag". If such discounts aren't physically visible to the consumer, they become less attracted to a product or a department store's entire inventory, especially when the department store just simply says such products or inventories have already been discounted.
For potential investors looking to establish a position in J.C. Penney I'd actually look to establish a small to medium sized position at current levels (since shares are currently trading at a 65% discount to a year ago's prices) and wait until either buyout discussions heat up or the company's CEO steps down. Establishing a speculative position prior to either event being announced is key, before the post-announcement pop in share price occurs.
Disclosure: I have no positions in any stocks mentioned, and no plans to initiate any positions within the next 72 hours. I wrote this article myself, and it expresses my own opinions. I am not receiving compensation for it (other than from Seeking Alpha). I have no business relationship with any company whose stock is mentioned in this article.