While mutual funds have long dominated the retirement savings landscape, in recent years many investors have turned to ETFs (exchange- traded funds) in an effort to add diversity and transparency to their portfolios. As the ETF industry has grown, a new breed of mutual funds has emerged that incorporates the benefits of ETFs and the fundamental oversight that has made mutual funds an enduring investment approach.
The team at Fidelity Independent Adviser has long believed that ETFs and mutual funds can be combined in a successful way to create more diverse and transparent portfolios. The newly launched Sector Momentum Tracker delivers a variety of ETF and mutual fund advice to investors on a week-to-week basis, just as we endeavor to provide a variety of investment strategies and model portfolios through all our investment newsletters. So, it is with great interest that we have been following the advent of ETF-based mutual funds. For the February issue of Fidelity Independent Adviser, our team had the pleasure of interviewing Paul Frank, portfolio manager of the ETF Market Opportunity Fund (ETFOX), formerly the Navigator Fund (NAVFX), to get an inside look at one of the top-rated ETF-composed mutual funds available today.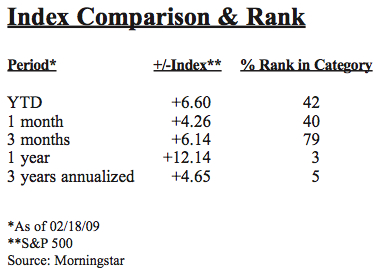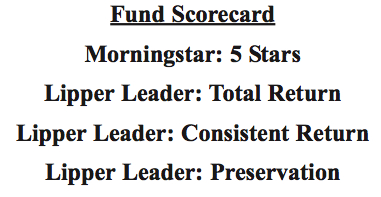 While Frank's mutual fund is not the only one to use ETFs, ETFOX has one of the most established track records in the category. For nearly five years, ETFOX has provided investors with the oversight of a mutual fund and the added transparency that has helped the ETF industry grow at such remarkable speed over the past decade. The proof for investors, however, is in the numbers: according to Morningstar, ETFOX outperformed the S&P 500 by 13.2% in 2008, helping investors minimize losses in a difficult investment environment.
ETFOX's success has not gone unnoticed among the ratings agencies, either. The fund recently garnered a five-star rating from Morningstar and the distinction of Lipper Leader for Total Return and Preservation of assets from Lipper Fund Services. In this Special Report, Fidelity Independent Adviser will examine how the unique structure of ETFOX has propelled the fund to the top of the rankings and piqued our attention during an ongoing economic downturn.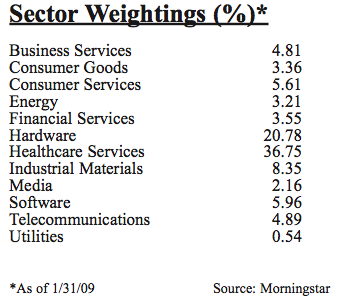 Combining the Best of Both Worlds
Fund manager Frank utilizes the transparency of ETFs along with his own "fundamental filter" to minimize security-specific and systematic risks in ETFOX. By using ETFs comprising numerous underlying components, the fund reduces the exposure that an investor has to any one particular stock. This methodology has proven especially important in current market conditions, where the demise of a single security or fund can cause the collapse of a non-diversified portfolio.
Frank also utilizes the portfolio theory of Henry Markowitz to combat market risk. Modern Portfolio Theory, which proposes how rational investors can use diversification to optimize their portfolios, serves as an additional safeguard to investors in ETFOX. Frank's use of this strategy means investors will theoretically be less likely to get over-exposed to a single sector in the economy. While the composition of the fund shifts to take advantage of changing market opportunities, Frank asserts that "investors will not find themselves 100% exposed to a single trend—like emerging markets."
While the use of diversified funds such as ETFs decreases security-specific risk, recent ETF closings have illustrated that even broad-based sector ETFs can fail to gain traction in an increasingly large ETF marketplace. In order to ensure that chosen ETFs represent the best offerings from the field, Frank also employs fundamental analysis in choosing the pool of ETFs used to compose ETFOX. Frank aims to use ETF components that will "get filled without moving the market," a strategy that weeds out illiquid funds. To further ensure liquidity, Frank does not allow his position in a given ETF to be more than 10% of that particular ETF's daily trading volume. These guidelines have led Frank to reject some ETFs that have mathematically risen to the top of his rankings on the basis of liquidity and trading volume.
click to enlarge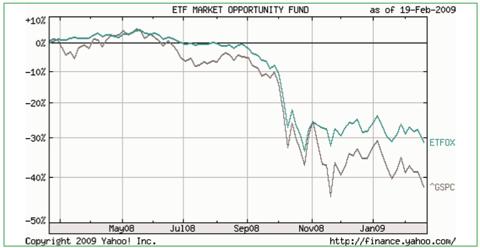 Click to enlarge
Relative Rankings
Frank, in a recent interview, gave Fidelity Independent Adviser a behind-the-scenes look at the math behind his rankings. No stranger to momentum rankings, our staff was eager to see how Frank's model helps him choose the best ETFs for ETFOX. Frank first starts with a pool of fundamentally sound, viable ETF products. ETFs in this pool are then subjected to a two-step process. First, ETFOX's model measures them by the Sharpe ratio, which breaks down the return of each ETF per unit of risk. Frank then compares ETFs over two different time frames to see which ETFs are returning more than their longer-term average. When Frank combines the mathematical model with his own fundamental methodology, he aims to reduce the overall risk to the investor while taking advantage of trends in the market.
Why ETFOX?
Even the most stellar fund managers have struggled to manage risk and produce performance in a volatile economy. While fear and poor results have driven many investors out of equities and hedge funds, the ETF industry has continued to grow despite setbacks. As investors demand more flexibility for their assets, ETFOX offers above-average performance and the liquidity that many investors have sought out in uncertain times. Frank, who describes his fund as a "plain-vanilla investment vehicle," believes that the fund's consistent, above-average returns make ETFOX stand out from the competition.
Frank also believes that reasonable management fees should be the obligation of the fund manager. Frank believes that ETFOX provides peace of mind by employing different methods of risk analysis in the fund's composition, including the costs in the 1.75% management fee. A key word in the fund's name is "opportunity." Unlike many index funds with high correlations to an increasingly difficult market, ETFOX has a beta (market correlation) of just 0.75. As for its track record, ETFOX has beaten the S&P by more than 3% per year since its inception, after management fees.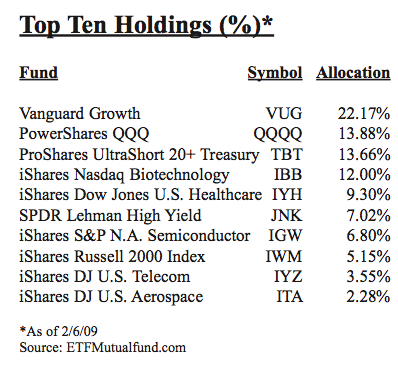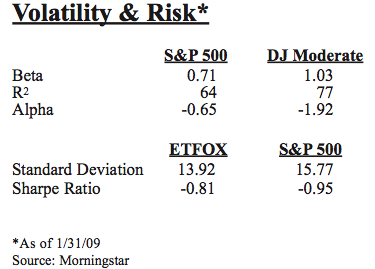 Opportunities Identified
While the fund's main objective is to utilize a large-growth theme to gain capital appreciation for investors, the fund's methodology detected and invested in several dominant market themes over the past year. In early 2008, the fund's model indicated that Brazil (NYSEARCA:EWZ) and gold (NYSEARCA:GLD) would be advantageous areas for investors. The fund's model adapted and took a more conservative bent in the second half of 2008 as market conditions deteriorated. During the second half of 2008, Frank's model identified two U.S. Treasury funds—TLT and SHY—to achieve both short- and long-term approaches.
There have not been any miracle cures for fully invested funds in the current market, however, and ETFOX took losses along with many other funds in late 2008. One theme that the fund has avoided, however, is the financial sector—the first and hardest hit by the economic crisis. Frank has avoided exposure to financials since the summer of 2007, moving away from the financials-heavy S&P 500 to overweight areas such as health care (NYSEARCA:IYH).
In 2009, new trends are already beginning to take shape in the fund. Early this year, ETFOX saw a reallocation of assets into biotechnology (NASDAQ:IBB), high-yield corporate bonds (NYSEARCA:JNK), investment-grade corporate bonds (NYSEARCA:LQD) and inverse Treasury bonds (NYSEARCA:TBT). Fundamentally, the fund has seen a shift from value toward growth, now using VUG and QQQQ, two broad growth ETFs, in the core holdings.
ETFOX Looks Forward
Rather than trying to read the future or rely on instinct, Frank will depend on his fundamental and mathematical models in 2009 to determine the fund's holdings. Frank recently noted that:
"the markets are the best discounter of all information—economic, political, social, etc. My model reads the markets through their price movements and volatility; however, I also use a fundamental filter in order to avoid walking off a cliff."
While Frank personally hopes that the bottoming-out process has begun, he believes that we could retest market lows this spring or summer. Looking forward to the long term, Frank has identified market sectors that he thinks could emerge as long-term plays. Frank has identified defense and aerospace (NYSEARCA:ITA) and U.S. telecommunications (NYSEARCA:IYZ) as potential long-term investments, and he has established small positions in these funds.