All good news coming from Ford (NYSE:F) recently but is Ford headed for another dip in the market? The Europe crisis is still happening in the automobile market. In the fourth quarter alone, Ford lost about $750 million in Europe and Ford expects to lose more this year. In Europe, Ford is expecting a loss about $2 billion this year and $3 billion in the next 2 years. The company is doing all it can but the situation is in the hands of the European economy. A rough economy means fewer sales.
The automobile market in Europe is getting even tougher with the recent results showing that auto sales dropped 8.5% in January, which is the lowest in the last 23 years.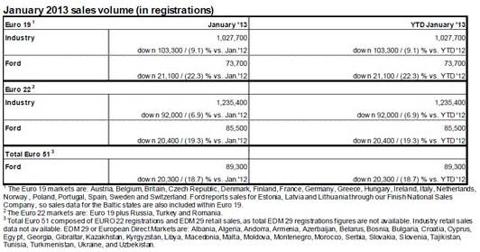 If Ford continues to lose more money in Europe, how will the Europe crises affect the market?
Last year ford's stock dipped lower than $9 per share in the summer, which upset many investors. Since then, Ford has been doing everything right and raised their stock price as high as $14.30 per share. But recently in the last month the stock has been starting to drop again and right now it is currently trading at $12 per share. This might be the result of poor sales results in Europe this January.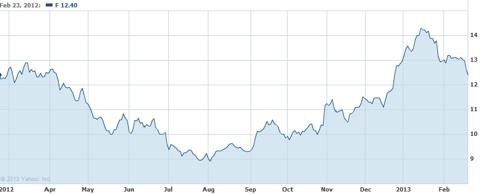 The all time low numbers in January are alarming for investors and Ford should expect worse numbers as time goes by but the Vice president of Marketing, Sales and Service of Ford Europe, Roelant de Waard, says January was just temporary.
"We are in the middle of a complete transformation and expansion of our commercial vehicle lineup and it's already starting to pay off with strong early sales of the Transit Custom and new Ranger," said Roelant de Waard, vice president, Marketing, Sales, and Service, Ford of Europe. "We expected a significant sales decline in January because we didn't have full availability yet of the new Fiesta and Kuga, plus we had production limitations of our large cars."
But analysts are saying that Ford will lose $3 billion over the next 2 years.
It hasn't been all bad in Europe for Ford. In fact Ford is the No. 2 automaker in Europe after Volkswagen (OTCPK:VLKAY). Being number 2 doesn't mean you are making money but it does mean that they will make money in the future. Ford shouldn't opt out of Europe, especially because they are ahead of their competitor GM (NYSE:GM). If things do turn around in Europe, Ford will be there to pick up the profits. When will the crises end is the question.
Ford has a strategic plan for Europe but it will take some time to solve. One of the problems that Ford has right now is they are reducing costs in Europe. Cost reduction will help them in the long run, but right now it is hurting them. Ford is also planning to have a European marketing approach that has worked in other parts of the world and plans to release new models that haven't been released in Europe. These are good ideas but right now they are suffering.
The numbers are up in North America and Asia but the numbers from Europe are hurting Ford right now. I expect Ford's stock to drop over the next several months but with Ford's new image, it looks good in the long run. We just have to wait for the automobile crises in Europe to settle down.
Disclosure: I have no positions in any stocks mentioned, and no plans to initiate any positions within the next 72 hours.
Business relationship disclosure: Capital Traders Group is a team of Proprietary Trading and Equity Research Analysts. This article was written by Mike Gankhuyag, one of our Equity Research Interns. We did not receive compensation for this article (other than from Seeking Alpha), and we have no business relationship with any company whose stock is mentioned in this article.