The Paris-based World Federation of Exchanges, an association of 58 publicly regulated stock market exchanges around the world, recently released updated data on its monthly measure of the total market capitalization of the world's major equity markets. As of the end of January 2013, the total value of world equities in those 58 major stock markets was $58.76 trillion, which was just slightly below the previous peak of $59 trillion in April 2011 (see chart below).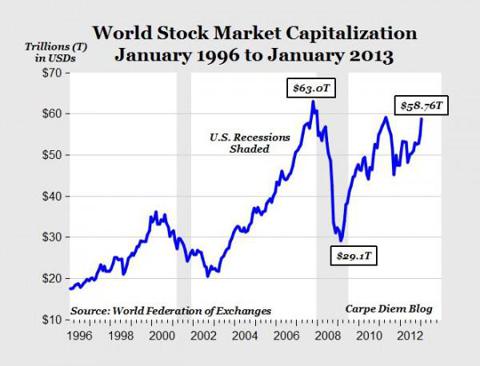 Total world stock market capitalization increased by more than $4 trillion from December to January, which is the second largest monthly gain in world equity values in history. Compared to a year earlier, January's world stock market capitalization increased by 15.4%, led by especially strong gains in Thailand (41.4%), Philippines (34.1%), the U.S. (28.1%), Japan (24.7%), Greece (23.3%), and Mexico (22.0%).
Although the current world stock market capitalization is still $4.2 trillion below the pre-recession peak of $63 trillion in October 2007, an analysis over the last decade reveals that world equity values almost tripled between January 2003 and January 2013, and increased at an average annual rate of 10% over the last 10 years. Compared to the recessionary low of $29.1 trillion in February 2009, the total world stock market capitalization has roughly doubled over the last four years to the current level of $59 trillion.
The significant recovery in world stock market value since 2009 demonstrates the incredible resiliency of economies and financial markets to recover, even following the worst financial crisis in generations. As we celebrate a new bull market in the U.S., let's not forget that it's part of widespread global stock market rally.