Background
J.C. Penney is a US retail store operator. From their website:
J.C. Penney Company, Inc. (NYSE:JCP) boldly transforms the retail experience across 1,100 stores and jcp.com to become America's favorite store. Focused on making the customer experience better every day, J.C. Penney is dreaming up new ways to make customers love shopping again. On every visit, customers will discover great prices every day in a unique Shops environment that features exceptionally curated merchandise, a dynamic presentation and unmatched customer service.
I had been calling for a short position in J.C. Penney as early as February 7th of this year, when they were trading around $19. I compared them to RadioShack in the sense that they both had large short interest for what I thought was very good reason. I noted that Penney was years past its retail prime-time and stated :
J.C. Penney was the leading affordable middle class retail clothing vendor. Its stores were fresh looking, usually packed, and the company had supplemental sales coming from catalog orders. There was consistent hustle and bustle in its department stores long before internet shopping. J.C. Penney's stores are now often understaffed, undermaintained, deserted and sometimes simply look like demilitarized zones.
I also noted that I thought Ron Johnson was failing to make "business saving" changes and was burning through way too much cash. I stated :
J.C. Penney is in a mad dash to stop its sales downtrend and it is furiously throwing cash at its in-store improvements. This can only keep up for so long with its current cash burn before the company must show a marked sales and margin improvement.

J.C. Penney's long-term hopes of success rely on Johnson's new plan to create sub-sections of the store in different departments. He's taking a huge risk in segmenting the stores by brand, giving major brands their own individual sections. Big risk sometimes pays off, and therein hangs the balance of the company's corporate strategy going forward.
Then, as the stock was around $21, I wrote another article advocating shorting both Macy's (NYSE:M) and J.C. Penney on February 26th leading up to JCP's earnings. I cited ongoing legal expenses and increased tension between the two companies as adding fuel to the fire for both companies cash burn:
How many times do you see startup or smaller companies lose their traction and burn through their capital, either going through legal battles or settling personal vendettas? The latter even holds true for one of two billionaires (billion, with a "b"), who is undoubtedly going to lose billions (billions, with a "b") playing a game of "who's got the bigger Ron Johnson" over Herbalife (NYSE:HLF). Folks, investors and hedge fund managers are guaranteed to lose billions (billions, with a "b"), over settling a personal score from many years back that's already been settled. Not exactly an efficient way to invest money and resources, right? Who could be this stupid? Macy's and J.C. Penney are heading down that same path.

These two companies are spinning their wheels here, kicking up money, time and resources like mud from underneath tires after it rains in Alabama ("Let me ask you a question: how do you get mud INTO the tires?"). What they're both failing to see is that the answer to success isn't going to lie in which of the two stores winds up with Martha Stewart -- these stores need radical rebranding and major internal changes to continue onward through 2013. The more time, money and resources these two spend battling each other, especially if this feud becomes even more personal between the two CEOs, make this a red flag for investors.
In both articles, I also cited technical indicators as a reason to short J.C. Penney. From February 26th:
J.C. Penney looks ready to make a technical pullback and faces the same long-term fate as the 50DMA and 200DMA get closer and closer to each other. We'll likely see a condensation between the averages, which will act as support and resistance, followed by a breakout to the downward side that will be substantially sustained, pending any news coming in the meantime from the company.
Where We Are Today
So, what has happened since? J.C. Penney reported earnings and has since fallen off a cliff. JCP's charts:
First article, February 7th: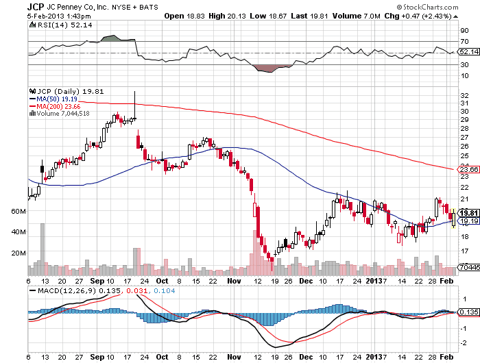 Second article, February 26th: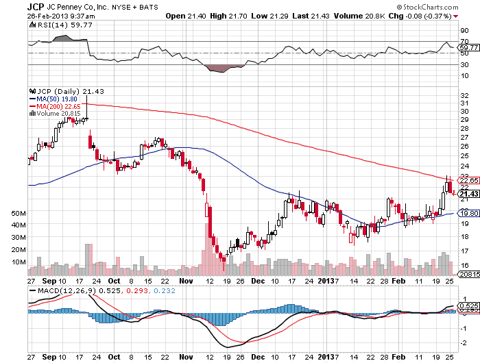 Today, March 7th: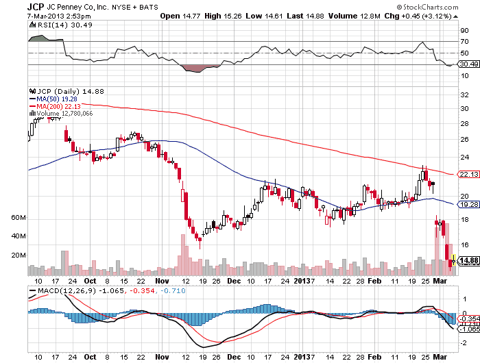 Yuck. Anybody else feel like losing their lunch after glancing at the most recent chart?
From a technical side, the short position holds a little water:
The recent sell-off was on considerable volume
The two moving averages look to be taking a parallel trip downward without getting even close to each other
The RSI, despite a monstrous drop in price, has barely touched below oversold (30)
No, the purpose of this article is not to sit here and toot my own horn (toot-toot), but rather to look on if there's value to continue shorting JCP after the crash. If the title of my last article didn't give it away (2 Stock to Short to Oblivion) - I contend that there is value in still shorting JCP.
J.C. Penney Compared to Eastman Kodak
The title to this piece is a direct jab at Forbes contributor Panos Mourdoukoutas, who recently penned an "article" about who can save J.C. Penney. The article comes off more as a one-page leaflet than a Forbes-branded analysis. I'm no Peter Lynch, but what journalistic standards does Forbes have? The article consists of these five brief paragraphs:
Let me be clear from the very beginning: I have been praising J.C. Penney's current leadership for the initiative it took to refurbish the company's stores. At the same time, I've been critical of the current leadership when it comes to eliminating certain traditional sales practices; and strategic positioning of the company in the retailing industry.

The reason I'm writing this piece is because I have an affinity for American business icons - as testaments to this country's long-standing fondness for the free enterprise system.

That's why I don't want to see another icon smashed, as Eastman Kodak was. I want to see J.C. Penney thriving, attracting crowds of consumers to its stores, and investors to its stock. In fact, I purchased shares of the company as its stock headed south following its recent disappointing earnings report.

But who can save J.C. Penney?

Here's who. A leader who is immersed in sales, who is imbued in the principles of business strategy, and who has an appreciation for Wall Street. A seasoned salesperson who can revive the buzz that would entice consumers back to the store. A seasoned business strategist, who can position the company in the proper retail market segment - one that matches its core competences with emerging industry trends.

A seasoned investment strategist, who can stop the bleeding, help the company improve its financial metrics and convey the message to this investment community: J.C. Penney is too good to fail.
This article offers up so little, aside from what the author "wants to see happen", that by these standards I should be writing speeches for the President. It's clear he's got "that special feeling" for JCP and his "long" disclosure at the end confirms this. I think I even get the point he's trying to get across: he hopes things will get better without any real analysis or reasoning behind why they would.
What this author fails to see is that "hoping" that Penney won't turn out like Kodak because they're both "iconic" brands is not going to be enough to save either company. Just ask the folks behind iconic brands Spiegel, Daffy's, Reader's Digest, Bennigan's, KB Toys or Hostess. J.C. Penney is going to be the next on the list, as much as he might not want to think about it. Hoping something will happen doesn't make things just spontaneously happen without taking action; otherwise I'd be 25 years old again with a full head of hair and minus about 40 pounds.
On to the meat and potatoes here: everyone knows that Kodak (EKDKQ.PK) failed due to its inability to recognize digital photography as a threat to business. In other words, it didn't change over with the times; it held onto its "iconic" business plan and stuck with its "iconic" products. Then, it went bankrupt.
Likewise, another (intelligent) Forbes article pointed out:
Kodak management's inability to see digital photography as a disruptive technology, even as its researchers extended the boundaries of the technology, would continue for decades. As late as 2007, a Kodak marketing video felt the need to trumpet that "Kodak is back " and that Kodak "wasn't going to play grab ass anymore" with digital.
What J.C. Penney is doing with segmenting its stores is the same thing Kodak did with Advantix. Instead of completely letting go of the old and doing something totally paradigm shifting, they're trying to weld together the old failed model with some new ideas; in essence creating a hybrid mash of ideas that won't gel well together.
From the same article:
The choice to use digital as a prop for the film business culminated in the 1996 introduction of the Advantix Preview film and camera system, which Kodak spent more than $500M to develop and launch. One of the key features of the Advantix system was that it allowed users to preview their shots and indicate how many prints they wanted. The Advantix Preview could do that because it was a digital camera. Yet it still used film and emphasized print because Kodak was in the photo film, chemical and paper business. Advantix flopped. Why buy a digital camera and still pay for film and prints? Kodak wrote off almost the entire cost of development.
J.C. Penney fails to realize that online shopping is a threat, and without creating and re-branding to tailor more towards online shopping, they're going down the same road.
Kodak was helplessly married to an out-of-date business model. J.C. Penney has the same problem. Penney needs to rethink the entire sector of retail, not how to get their stores up and running again. The stores are the problem. It may sound extreme, but I'd even consider liquidating the stores and looking at totally different formats for sales; like being a strictly online company. While that may not be the solution, those are the magnitude of ideas that I think this company needs in order to re-find long term success and shareholder value.
Two Wrongs Don't Make a Right
Here is a picture from one of the many remodels Penney has already attempted; this one from the mid 2000's.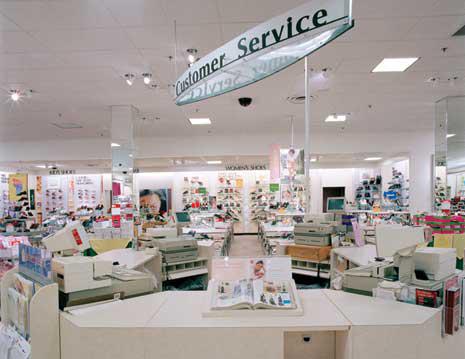 Impressive looking, right? Wrong. Like a game out of a children's magazine, "How many things can you find wrong with this picture?" I've looked at this picture for 10 seconds and can identify three things wrong with the remodel already (keep in mind this picture is from the mid-2000s):
1. The outdated cash registers and POS (point-of-sale) machines. By this time, almost everywhere that works in retail had been using computerized investor systems that were not as archaic as the ones that still plague Penney to the day. When Apple first opened, they had portable point of sale machines that could swipe your credit card right on the floor. Many other companies, at this point, use full fledged computer for their POS systems -- it provides them with substantial more ICS metrics. In these machines defense, they still can "frank a personal check".
2. Catalogues : you're doing it wrong. Since the late 90s and early 2000s companies have been going digital; now especially with touchscreen. I realize that tablets weren't a reality in the mid 2000s, but companies were at least instituting digital versions of their catalogues. This is just another nod towards how out of touch Penney has been.
3. The stores look like mental institutions. The color scheme is "straight jacket" white, and there's nothing of any personality in sight.
Like Penney, Kodak picked their CEO successor in 89' based on someone who had worked through traditional film and photography. Johnson, although extremely successful at Apple, still comes from retail; albeit not exactly traditional retail.
I do think that eventually, Penney will start to recognize some same store sales improvements by virtue of the fact that sales will have gone so low, there will be nowhere to go but up.
By then, it'll be too late.
On the Contrary
Alright, I'm not totally negative about Johnson's takeover. As a self-confessed Apple fan, it's cool to see him in there spitballing and trying to get things rolling. I think the Board will oust him by the end of the year, unfortunately.
By then, it'll be too late.
There are two things that I like regarding Penney right now, however, I don't believe they're going to be enough to stop this sinking ship.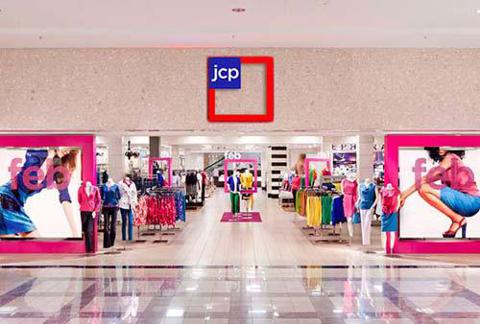 1. The Rebranding of the Logo
It's good, but it's not good enough. It's still J.C. Penney; like putting lipstick on a pig. Remember, Kodak did the same thing. It's an absolute necessity, had to be done and the choice of JCP is logical for a couple of reasons:
It creates another identity
It's simple, concise and to the point
It's a nod to their website
It's a nod to their ticker symbol
2. The Addition of Sephora
From Wikipedia:
Sephora opened its first United States store in New York City in 1998.[3][4] Its North American headquarters is located in San Francisco, with marketing offices in New York City and Montréal. Sephora is owned by the Paris-based LVMH.

Sephora launched its online store to the U.S. in 1999 and into Canada in 2003 [3] Sephora currently operates over 1,700 stores in 30 countries worldwide.[5]
It's relatively new to the U.S., but has gained popularity very quickly. Sephora is just a cool store. It's popular in both cities and suburbs and it has a cult-like following. People that buy from Sephora (like an ex-girlfriend of mine) buy only from Sephora, because they have allegiance to certain types of product that only Sephora makes.
Conclusion
Unfortunately, these two items are, in this investor's opinion, not going to be enough to offset the company's insane cash burn and bring JCP back from the dead.
When you miss your chance to be on the front of the "wave of change" (lame MBA reference, but cogent analogy for our purposes), you're under it. Penney has missed this chance several times over the same way that Kodak did before its eventual need to declare bankruptcy.
The retail sector in general is in bad shape. As I said in a previous article:
This trader is bearish on retail in general. Stores like J.C. Penney, Sears (NASDAQ:SHLD) and Macy's all seem to be losing serious traction to the big box retailers like Wal-Mart (NYSE:WMT) and Target (NYSE:TGT) (yes, even for clothing; but definitely for housewares).
When you factor in the popularity of online retail business, the long position is off the table for me when looking at a company that is bleeding money for legal fees and the wrong kind of revamping.
Disclosure: I have no positions in any stocks mentioned, but may initiate a short position in JCP over the next 72 hours. I wrote this article myself, and it expresses my own opinions. I am not receiving compensation for it (other than from Seeking Alpha). I have no business relationship with any company whose stock is mentioned in this article.