Marathon Petroleum (NYSE:MPC) is a refining, marketing and transportation company, with headquarters in Findlay, Ohio formed in 1998 from a merger of the downstream operations of Ashland, Inc., and Marathon Oil (NYSE:MRO). In 2011, Marathon Petroleum was spun off from Marathon Oil.
In December, I published an article for SA on Marathon Oil, in which I stated that I believed MRO to be the stronger of the two companies post-spinoff. My views have since evolved. I now believe that MPC's strong liquidity position, infrastructure, growing retail presence (Speedway), and residual pipeline earnings make Marathon Petroleum a natural complementary play for MRO investors.
Shareholder Return: Since 7/1/11, MPC has returned $1.7 billion to shareholders, with a cumulative TSR of 93% in 2012. The company will continue to repurchase shares going forward, with $2.65 billion in additional repurchases authorized through 2014.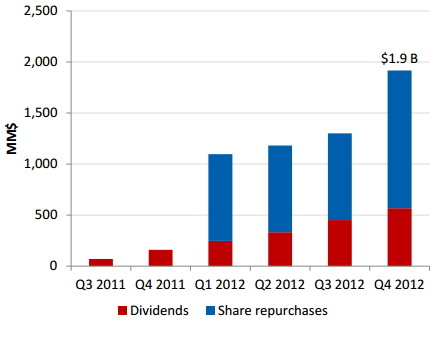 Expansion/Growth: Marathon Petroleum crude oil production is rapidly expanding, from 30 MBPD in 2010 to 196 MBPD in 2011 and 420 MDPD in 2012, a gain of over 214% in just 12 months. The company expects production to continue grow to 880 MBPD by 2015. QoQ growth is 6.4%. Adjusted earnings beat analysts' estimates in Q4 2012; previous guidance on the subject of production has been conservative.
Dividend Growth: MPC's base dividend has increased by 75% since 2011.
MCP Distribution Chain
MPC maintains refineries in Robinson, Illinois; Canton, Ohio; Detroit, Michigan; Garyville, Louisiana; Catlettsburg, Kentucky; and Texas City, Texas. It is the nation's fourth largest transportation fuels refiner and largest in the Midwest, with a capacity of 1.69 million barrels-per-calendar-day and 86 light product and asphalt terminals. MPC's marketing network currently spans over 6,100 locations.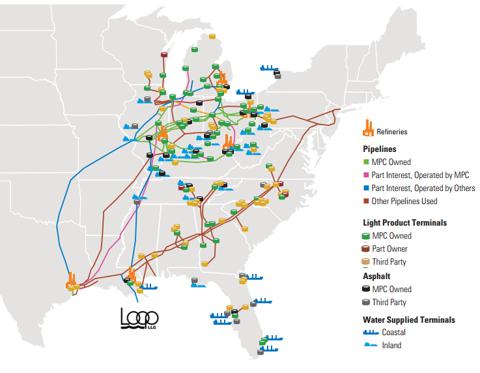 Washington
Crude oil exports are currently controlled through the Department of Commerce's Bureau of Export Administration (PDF) (officially administered by the BIS) and are only allowed through the application of a license. The export license requirements fall under "Short Supply Controls" and licenses are generally only granted for limited exports from Alaska's Cook Inlet to Canada, though licenses have occasionally been granted for oil exports from Texas to Canada.
This legal limitation means that domestic crude oil must be priced to back out imports. This fact continues to be under-appreciated by many investors. As the price of gasoline is pegged to the price of London Brent rather than WTI, the legal export of refined petroleum products effectively subsidizes the WTI/Brent crude spread, and therefore the profits of East Coast refiners like MPC and Valero. (NYSE:VLO)
Current capacity closures in the Atlantic basin (U.S. East Coast + Caribbean + Europe) and the poor reliability of Latin American refineries further re-enforces this positive trend.
Crude Distillation Unit [CDU] Capacity Closures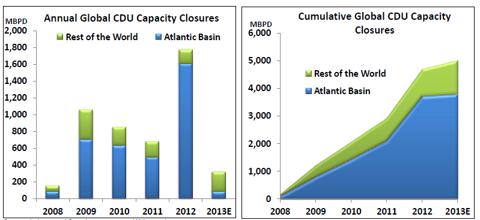 (Source: Bank of America Merrill Lynch Refining Conference)
Rising Star
Compared with Supermajors like BP (NYSE:BP) and Exxon (NYSE:XOM), MPC may seem like the uppity, pugilistic-prone kid on the block. In reality, MPC is running circles around Shell, BP, Chevron, and Citgo in terms of domestic refining capacity.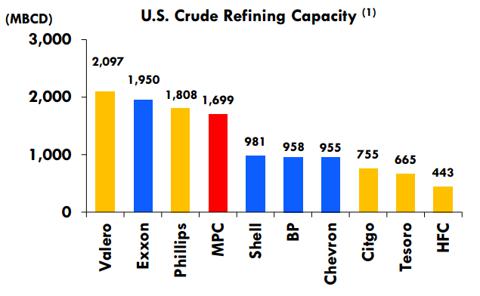 (Source: MPC Investor Relations, 2013)
To get an idea of just how quickly Marathon Petroleum is expanding its U.S. refining capacity, let's compare MPC's position in 2013 with the same chart just one year ago.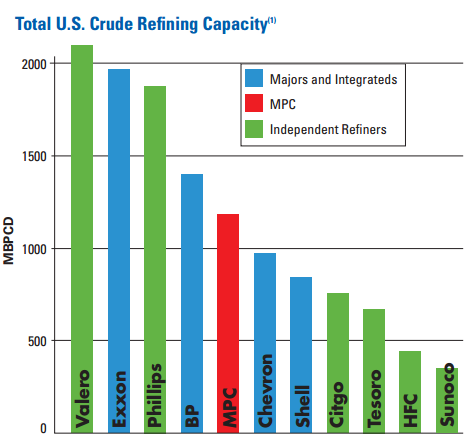 In the last 12 months alone, MPC has not only left Chevron (NYSE:CVX) in the dust, but has extended its lead over rival Shell. (NYSE:RDS.A)
MPC's extensive pipeline network gives it yet another competitive edge. Below is a breakdown of the transportation costs for oil by rail, barge, pipeline and trucking (shipping) costs: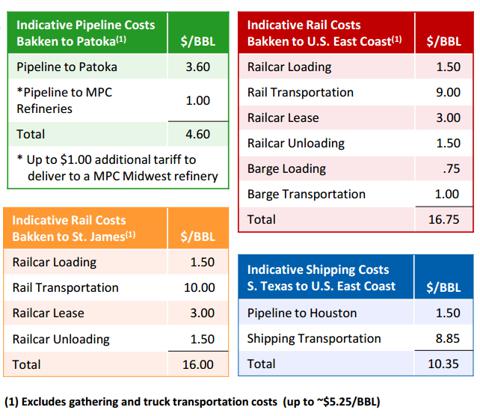 (Source: MPC IR)
Domestic oil production has increased so rapidly that the infrastructure required to transport it is struggling to catch up. As of right now, oil is still being trucked to the East Coast. MPC owns, leases or has ownership interest in 8,300 miles of pipeline, which the company has folded into a new Master Limited Partnership named MPLX. (NYSE:MPLX)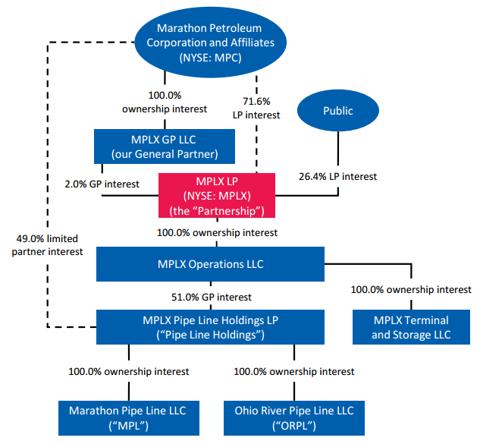 MPLX's 3.5% yield is low compared to rival MLPs, which means that MPLX is entirely dependent on "drop down" assets from MPC for growth. However, lower yields are often associated with increases in distribution growth from income accretive acquisitions, resulting a higher Total Return.
To foster organic growth MPLX retained $192 million of IPO proceeds, to pre-fund identified organic capital spending projects over the next two years. The majority of this capital will be allocated to an expansion an upgrade project at the Patoka, Illinois to Catlettsburg, Kentucky crude oil pipeline.
Bad Moon Rising
Is it better to be lucky, or smart?
Marathon Oil and Marathon Petroleum are both. MRO's Eagle Ford strike is a company maker that has paid off beyond investors wildest dreams. MPC's extensive pipeline infrastructure and East Coast refineries have positioned the company for a windfall.
Caveat
However, all is not well in paradise.
In what may be the opening shot in a full scale energy policy war in the U.S., the IEA's executive director, Maria van der Hoeven, has called for the U.S. to lift its ban on crude oil exports "lest the great American oil boom goes bust".
Van der Hoeven argues (disingenuously, in my view) that the shale oil boom could dry up overnight due to the Brent/WTI spread. What she does not say is that such a move would cut the throats of domestic refiners who rely on the Brent/WTI spread, while handing a windfall to oil producers.
Conclusion
Holding both MRO and MPC is essentially a long dated call option on higher energy prices. MRO offers significant alpha from increasing cash flows based on decreasing costs of capital, ample reserves, and rising domestic production. MPC's refining operations allow shareholders to cash in on high gas prices going into the summer driving season.
MRO is trading well below analysts' consensus price target, while MPC is trading about 3.8% above par. Sub-industry diversification also allows investors to hedge against a drift in future U.S. energy policy in favor of producers.
As with any investing strategy, there are risks. An extended decline in liquid hydrocarbon prices would erode the carrying value of MRO's assets and cash flows. The limited downside protection afforded by MPC's Marathon/Speedway retail chains and steady pipeline fees may not be enough to offset significant losses if gasoline crack spreads narrow in sympathy.
Disclosure: I have no positions in any stocks mentioned, but may initiate a long position in MPC over the next 72 hours. I wrote this article myself, and it expresses my own opinions. I am not receiving compensation for it (other than from Seeking Alpha). I have no business relationship with any company whose stock is mentioned in this article.
Disclaimer: This article provides opinions and information, but does not contain recommendations or personal investment advice to any specific person for any particular purpose. Do your own research or obtain suitable personal advice. You are responsible for your own investment decisions.