As in some of our recent articles, we've found a blue chip dividend stock that looks very undervalued for growth. Later in this article, we also list 2 options trades for this stock, from our Covered Calls Table and our Cash Secured Puts Table. This company has bounced back from a very poor fiscal 2012, and its growth projections are also getting a bit of a hand from currency exchange rates.
Honda Motor Company (HMC) manufactures and distributes motorcycles, automobiles, and power products, and also offers retail lending/leasing to customers and wholesale financing to dealers.
Honda's fiscal year ends on March 31st, and it had a very poor fiscal year ending 3/31/12, with EPS dropping nearly 60%, due to the combined effects of the earthquake in Japan and flooding in Thailand, which damaged some of its factories. Things have turned around nicely for HMC in the past 3 quarters, though, and it looks poised for substantial growth for fiscal years 2013 and 2014. HMC now looks very undervalued on a 2013 and 2014 PEG basis:

Honda's biggest export region is the US, measured by Net Sales and Operating Income, followed by Asia. HMC achieved big sales growth in these 2 major regions in its most recent quarter, (ended 12/31/12), and even had good growth in economically-stressed Europe. January also saw exports gain strongly in all regions, and a big jump in domestic sales in Japan.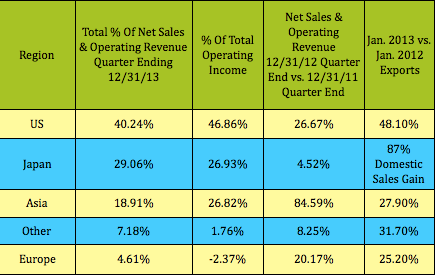 Honda's regional growth translated into robust quarterly EPS growth for the quarter which ended 12/31/12. Analysts are also once again calling for robust long-term EPS growth for HMS, giving it a very low 5-year PEG: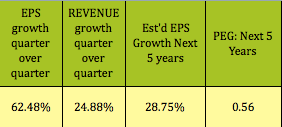 Currency Exchange: Japan's new currency inflating policy, which is meant to make its exporting firms' goods cheaper in the global marketplace, has helped Honda, but not as much as other Japanese exporters, which make more of their goods in Japan. (Honda manufactures about 17% of its products in Japan.) Japan's currency policy has helped to cause the Yen to slide over -17% vs. the Dollar in the past 6 months, including a nearly -9% fall year to date.
Dividends: Here's the fly in the ointment - US ADR holders of HMC get paid a lower dividend in dollars, if the Yen continues to deflate. Please note: many of the online dividend calendars incorrectly list HMC's Yen-based dividend amounts as dollar amounts.
How much of a difference? The currency exchange rate decline between 9/30/12 and 12/31/12 translated into a $.02/share drop in HMC's payout to US shareholders - although HMC's declared dividend was steady, at 19 Yen for both quarters, the $USD payout for the 9/30/12 quarter ending dividend was $.24/ADR share, vs. $.22/ADR share for the 12/31/12 dividend. (1 ADR share = 1 common share of Honda.)

Fortunately, Honda seems to be on an upward path for dividend growth, having increased its dividend by 27% in fiscal 2013. Given its growth prospects, we also may see more dividend increases this year.
Options: One short term way to battle the currency slide would be to sell Covered Calls on HMC shares. You'll get paid your option dollars now, vs. waiting for upcoming dividends. The July $40 call currently outpays HMC's next 2 quarterly dividends by over 3 times.
This trade also has the potential for $1.85 in assigned price gains, ($40.00 strike minus $38.15 share price), so, even if your shares get assigned before the 2 ex-dividend dates, you'd still earn $3.25 in option income and assigned price gain. (We listed the 2 upcoming dividends as $.20/quarter, due to the current lower Yen/dollar exchange rate.) There are more details on this and over 30 other current Covered Call trades on our website.

HMC's July $35.00 cash secured puts have a lower payout than the covered calls, but are still over twice the projected 2-quarter dividend amount. You can see more details on this trade and over 30 more trades on our free Cash Secured Puts Table.

Share Performance: HMC has had a good run over the past 52 weeks, but trails the market in 2013:

Financials: HMC's ratios still trail its peers, but, if its earnings continue to grow as forecasted, they should improve.

Other Valuations: HMC has a lower Price/Book and P/E than its peers: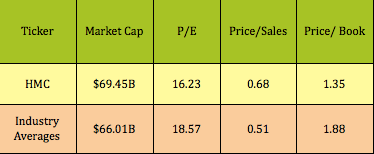 Disclosure: The author held no Honda Motor Company shares at the time of this writing.
Disclaimer: This article was written for informational purposes only and isn't intended as investment advice.
Disclosure: I have no positions in any stocks mentioned, but may initiate a long position in HMC over the next 72 hours. I wrote this article myself, and it expresses my own opinions. I am not receiving compensation for it (other than from Seeking Alpha). I have no business relationship with any company whose stock is mentioned in this article.