What exactly makes an exchange-traded fund in a given economic segment "cheap?" I am beginning to think that the concept is as arbitrary and as disobliging as the automatic spending cuts in Washington D.C.
For example, Russ Koesterich is the Chief Investment Strategist for Blackrock. I genuinely enjoy reading his perspectives on "everything iShares." Indeed, every exchange-traded fund enthusiast should follow Russ on Twitter or sign up for Blackrock's weekly update. That said, in a 3/6/13 blog post, Russ declared that the energy and technology sectors look like bargains. The implication? One should consider investing in the iShares DJ Energy Sector Fund (NYSEARCA:IYE) and/or the iShares DJ Technology Sector Fund (NYSEARCA:IYW).
Year-to-date, both IYE and IYW have underperformed non-cyclical segments like health care and consumer staples. Is this a contributing factor for declaring that IYE and IYW are inexpensive?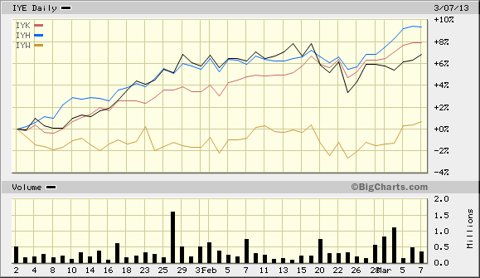 Perhaps the notion that energy and tech may be cheap has more to do with P/E ratios. At iShares.com, the trailing price-to-earnings ratio for IYE and IYW are 16.24 and 19.48. These numbers are not lower than their corresponding 5-year averages. However, they are closer to their historical averages than non-cyclicals like staples and health care.
Of course, there are other forms of valuation, from price-to-sales to forward earnings projections to proprietary fair value estimates. Incidentally, independent researchers at Morningstar believe the energy and tech sectors to be "fairly valued."
Nevertheless, investors in either IYE or IYW must look under the hood. The former has a 24% allocation to Exxon Mobil (NYSE:XOM) alone, while the latter has a 16% stake in Apple (NASDAQ:AAPL). Even if you believe that these sectors offer compelling, bargain-basement value, you might prefer equal weighted trackers like Guggenheim S&P 500 Equal Weight Energy (NYSEARCA:RYE) or Guggenheim S&P 500 Equal Weight Technology (NYSEARCA:RYT).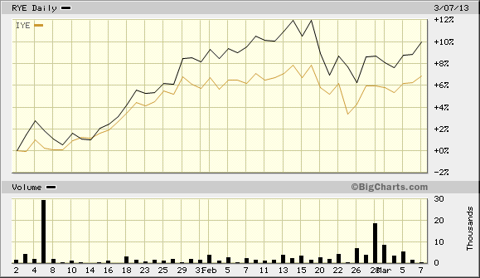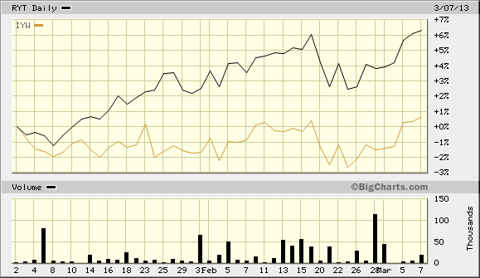 Granted, artificially low interest rates allow households and corporations to improve their balance sheets. Yet the markets themselves may find it difficult to embrace below-trend economic growth in the U.S. and Europe. Doubts about economies that cannot sustain themselves often find their way into the price movement of cyclical sectors like energy and tech. In essence, you might wait for these "bargains" to become much bigger bargains.
Disclosure: Gary Gordon, MS, CFP is the president of Pacific Park Financial, Inc., a Registered Investment Adviser with the SEC. Gary Gordon, Pacific Park Financial, Inc, and/or its clients may hold positions in the ETFs, mutual funds, and/or any investment asset mentioned above. The commentary does not constitute individualized investment advice. The opinions offered herein are not personalized recommendations to buy, sell or hold securities. At times, issuers of exchange-traded products compensate Pacific Park Financial, Inc. or its subsidiaries for advertising at the ETF Expert web site. ETF Expert content is created independently of any advertising relationships.