The number of ETF Deathwatch constituents dropped by 29 for March, the best monthly improvement in the history of the index. The list now contains 342 names (245 ETFs and 97 ETNs). The previous record decline was 24, established in September 2009, when the list shrank from 142 to 118. On a percentage basis, the previous record remains the more impressive of the two, reducing the count by 16.9% versus this month's 7.8% reduction.
Nine new names joined the list as 38 came off. There are not many surprises in the new additions, with the possible exception of PowerShares Dynamic Semiconductor ((NYSEARCA:PSI)). This was once a popular and heavily traded fund, but newer products like the iShares PHLX SOX Semiconductor (SOXX), based on a more popular index, seem to have made inroads the past couple of years.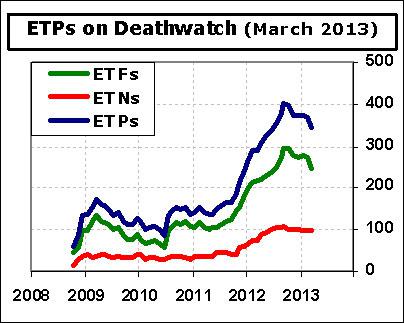 For the 25 products escaping the list due to improved health, four came off as a result of huge increases in assets the past month. They were First Trust Mid Cap Value AlphaDEX (NASDAQ:FNK), PowerShares Fundamental Pure Large Growth (NYSEARCA:PXLG), SPDR S&P Transportation (NYSEARCA:XTN), and SPDR SSgA Multi-Asset Global Allocation (NYSEARCA:GAL). The remainder were removed primarily due to significant increases in trading the past three months – investors and traders are starting to notice them.
It is interesting to note that two funds coming off the list are slated for closure later this month. Trading activity increased enough the past three months for Guggenheim MSCI EAFE Equal Weight (NYSEARCA:EWEF) and Guggenheim Wilshire 5000 Total Market (NYSEARCA:WFVK) to be removed from ETF Deathwatch. However, Guggenheim already announced the last day of trading for these two ETFs will be March 15, and recent activity is not sufficient to warrant a change to those plans.
Thirteen funds came off the list because they are no longer with us. These include an ELEMENTS ETN issued by Credit Suisse and 12 of the 13 ETFs shut down by PowerShares. PowerShares Global Coal (NASDAQ:PKOL) also closed, but it was not on Deathwatch.
Ten products went the entire month of February without any trades. The iPath Short Enhanced MSCI EAFE ETN (NYSEARCA:MFSA) is again the ETP suffering the longest drought, having last seen action on Oct. 9, 2012. A total of 144 ETPs had zero volume on the last day of the month.
Industry executives will likely welcome this month's decrease in ETF Deathwatch membership. However, 582 of the 1,444 (40.3%) currently listed products account for only 1% of ETP assets under management. The largest of those 582 only has about $30 million in assets. There is still a long road to climb before all these funds are profitable.
Complete List of 342 Products on ETF Deathwatch for March 2013
The 9 ETPs added to ETF Deathwatch for March:
The 25 ETPs removed from ETF Deathwatch due to improved health:
The 13 ETPs removed from ETF Deathwatch due to death and delisting:
Disclosure: No positions in any of the securities mentioned. No positions in any of the companies or ETF sponsors mentioned. No income, revenue, or other compensation (either directly or indirectly) received from, or on behalf of, any of the companies or ETF sponsors mentioned.