Newcastle Investment Corporation (NCT) plans to increase its annual dividend payout by 20.4%. This increase will occur in conjunction with a planned spinoff into two entities. The spinoff will occur at the end of March. I believe the current valuation discounts Newcastle's valuation on earnings and valuation metrics.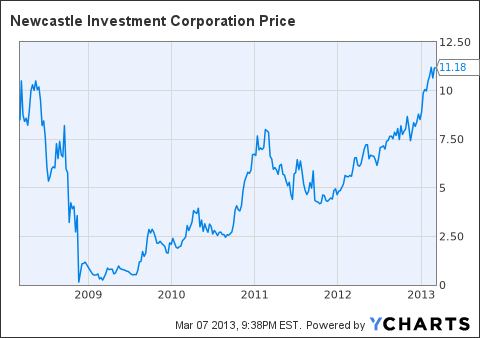 Newcastle Investment Corporation is a real estate investment trust (REIT) that initially invested in commercial real estate debt using collateralized debt obligations (CDO) and later, in September 2011, started investing in residential mortgages. Newcastle uses leverage to juice up earnings and dividends, and has steadily raised dividends. Investors have also done well with high returns on Newcastle shares.
Newcastle is externally managed by, and affiliated with, Fortress Investment Group (NYSE:FIG) which manages over $53.4 billion in assets.
The new dividend will be in place during the second quarter of 2013. The new dividend yield will be $1.06 per share. Newcastle currently pays an 88 cent dividend per share. This is a mouth watering 20.4% dividend hike.
2012 Earnings and Spinoff
Newcastle presented its 4th quarter results and 2012 earnings on a February 28th conference call. Newcastle's core 2012 earnings, per diluted share, was $1.03.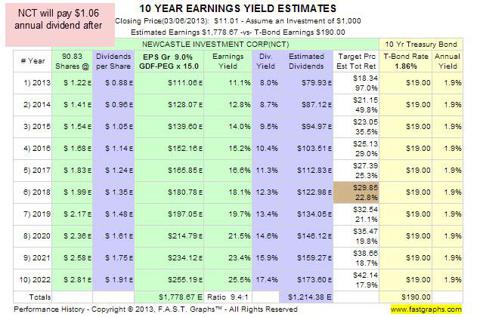 Acquisition of 1/3rd Stake in $310 Billion Residential Mortgage Pool
On January 7, 2013, Newcastle acquired a 1/3rd equity interest in excess mortgage servicing rights (Excess MSRs) with approximately $310 billion in unpaid principal balance (UPB) from Nationstar Mortgage Holdings (NSM). Nationstar will retain a 1/3rd equity stake and Newcastle-affiliate Fortress Fund will hold the remaining 1/3rd stake. 47% of this total loan pool is guaranteed, insured or backed by U.S. government agencies such as Ginnie Mae; 53% of the loans are non-conforming private securitizations.
Spinoff of Residential Mortgage Business
On January 7, 2013, Newcastle also announced its intent to spin off its Excess MSRs (acquired from Nationstar Mortgage Holdings) and related residential mortgage assets into a new publicly traded entity - New Residential Investment Corp. - which will trade under ticker symbol "NRZ". The rationale for this spinoff is increased transparency into the company's separate residential and commercial operations and the unlocking of shareholder value.
The spinoff also reflects new opportunity as U.S. banks come under increasing pressure to exit or reduce their substantial exposure to risky mortgage servicing after the 2007-2008 meltdown. As a result, banks are reducing their exposure to non-performing loans, non-agency securities and MSRs where New Residential sees opportunity for attractive unlevered returns. The non-agency RMBS category - which recently outperformed almost every other fixed income asset class - also offers tremendous upside potential through improved portfolio performance and the collapsing of deals to unlock the trapped value of underlying loans.
New Residential will focus on Excess MSRs, residential mortgage backed securities (RMBS), non-performing loans and related residential mortgage assets. The surviving entity, Newcastle, will focus on commercial mortgage investments such as CDOs, senior housing, opportunistic restructurings and other real estate debt.

As part of the spinoff, existing Newcastle shareholders will receive one share of New Residential for every NCT share they hold. New Residential will continue to be managed by an affiliate of Fortress Investment Group under terms similar to its existing arrangement with Newcastle. The spinoff will likely be completed around the end of March 2013.
New Residential will have an estimated book value of $960 million comprised of $610 million in Excess MSRs, $477 million in non-agency RMBS (less $157 million in repo debt) and $30 million in investable cash.
Newcastle (the surviving commercial debt entity) will have an estimated value of $824 million comprised of $830 million in real estate debt, $76 million in senior housing (less corporate debt of $112 million) and $30 million in investable cash.
$1.06 Annual Dividend
The below image is from page 5 of the February 13th investor presentation document. The entire document can be downloaded from Newcastle's website. New Residential will pay an annual 56 cents per share. Newcastle will pay an annual 50 cents per share. The total is an annual payout of $1.06 per current Newcastle share.

If Newcastle shares, hypothetically, increase to $12.50, the yield will be 8.48%. An 8.48% annual yield is still less than Newcastle's peer group. This assumes the current stock price moves from $11.19 to $12.50. This hypothetical share price increase amounts to an 11.7% gain.
Yield Tightening
Management expects New Residential to trade up in value after its IPO because its current less than market valuation reflects a yield of 12% whereas comparable peers trade at an average yield valuation of 6.8%. An increase in New Residential's shares will decrease its yield to 6.8%, in line with similar publicly traded peers. This potential yield tightening could also benefit Newcastle shares after the spinoff. The valuations are highlighted, with peer group comparisons, in the detailed February 13th presentation.

Newcastle's March 6th Purchase
Newcastle purchased a HSBC Holdings plc (HBC) loan portfolio with a face value of $3.4 billion. Newcastle purchased this asset with partner SpringCastle Acquisition LLC. Newcastle and SpringCastle Acquisition LLC will vend the portfolio and derive income based upon their success.
Summary
Newcastle is a well-run REIT with strong expertise in residential and commercial real estate and the talent to unlock hidden value in high yielding assets such as non performing loans and non agency securities. The spinoff will likely enhance shareholder value if shares of the two independent post spinoff entities trade at peer market valuations. Moreover, industry factors, such as banks' exiting mortgage servicing due to risk and higher capital requirements, have opened up significant upside opportunities for companies such as New Residential that are willing to step in where banks are exiting.
Disclosure: I am long NCT, FIG. I wrote this article myself, and it expresses my own opinions. I am not receiving compensation for it (other than from Seeking Alpha). I have no business relationship with any company whose stock is mentioned in this article.