With the market at all-time highs, a number of stocks have seen prices rise, some of them quite a bit. One stock I follow is cigarette giant Philip Morris (NYSE:PM). The stock is only a couple of dollars from its 52-week and all-time high, and remains a value investors dream due to a solid dividend and large stock buyback program. Philip Morris was my top value pick for both 2012 and 2013. However, the stock right now is just too expensive, and with a potential market pullback looming, investors should wait for a better entry point. Here are just a few reasons.
Current Expectations:
When comparing Philip Morris, I look at three other names currently: Lorillard (NYSE:LO), Altria (NYSE:MO), and Reynolds American (NYSE:RAI). The following table is one I've used in several articles for this industry. It shows the currently expected growth, in terms of both earnings per share and revenues. These are the current analyst estimates for 2013 and 2014, as well as a two-year total. I've also provided each company's dividend yield as another way to compare these names. The yellow highlight indicates the leader in that specific category.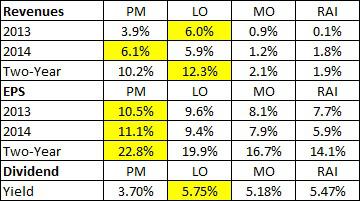 In my last update, I was able to give 2013 and 2014 numbers after all the names had reported 2012 results. This article will be the first one where I can update the 2013 and 2014 numbers. Since it's only been a few weeks, we haven't seen too many changes to each company's forecast, but it's important to discuss what we have seen.
Philip Morris has not seen any changes to its revenue forecast in terms of the two-year total. However, analysts have decreased their 2013 revenue growth forecast from 4.1% to 3.9%. At the same time, they have increased the 2014 growth forecast from 5.9% to 6.1%. The same has happened with the company's earnings forecast. The 2013 earnings growth forecast has been reduced from 10.7% to 10.5%, while the 2014 forecast has been increased from 10.9% to 11.1%.
Lorillard has seen its 2014 revenue growth forecast reduced from 6.1% to 5.9%. This has reduced the two-year total from 12.5% to 12.3%. Lorillard's earnings growth forecast has not been changed.
Altria's changes are similar to those of Philip Morris. The two-year revenue forecast has not changed. However, the 2013 growth forecast has been reduced from 1.0% to 0.9%, while the 2014 forecast has been increased from 1.1% to 1.2%. Like Lorillard, Altria has not seen any changes to its earnings forecast.
Reynolds American has seen similar changes to those of Lorillard. Reynolds' 2013 revenue growth forecast has been reduced from 0.2% to 0.1%, which has lowered the two-year total from 2.0% to 1.9%. Like Lorillard and Altria, the earnings forecast has not changed.
Additionally, we've seen some rather interesting stock moves lately, which have really impacted the dividend yields of these names. Since my last update, Philip Morris' yield has actually decreased by one basis point. However, Lorillard has seen its yield jump by 36 basis points. Lorillard is now yielding 5.75%, more than two full percentage points a year more than Philip Morris. Altria has seen its dividend yield rise by 10 basis points, and Reynolds' yield has increased by 16 basis points.
As mentioned in my last article, Philip Morris leads in earnings per share growth (expected), while Lorillard leads in revenue growth. Investors must realize that Philip Morris leads in earnings growth primarily thanks to the buyback, which is boosting earnings per share tremendously. Philip Morris' growth profile isn't dramatically ahead of the other names, and you are getting a substantial amount less in dividends. That means the only real "benefit" is the added share buybacks you are getting, as the other three names are buying back stock as well. Is Philip Morris' larger buyback worth the premium you are paying? Let's see.
Current Valuations:
I always say that growth is important, but the more important part is how much are you paying for that growth. Well, the following table shows valuation metrics for each, as of my last update and now.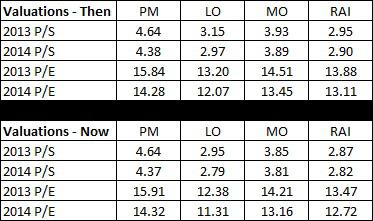 You can notice that Philip Morris' valuation has stayed flat or risen since the last update, while the other names have seen significant decreases in their valuations. Considering we haven't seen any real changes to the growth forecasts, does this change seem warranted to you? Well, it doesn't to me. As anyone who has read my past articles knows, Philip Morris has always traded at a premium to the other names in the space. That premium can be found in the table below.

It's not just the staggering premium you are paying that catches my eye, but the rate of change as well. This was a significant increase in the premium you are paying for Philip Morris, and I don't see any reason why. I am one of the biggest Philip Morris fans out there, but at this point, the premium cannot be justified.
The analyst take:
Don't just take my word for it when it comes to Philip Morris. It's always good to see what the analysts say. The following table shows the average rating, where a 1.0 is a strong buy and a 3.0 is a hold. The table also shows the average, or mean, price target currently, and the upside to that target from Thursday's close.

Since my last update, Philip Morris has seen its rating stay the same. Altria's rating has dropped back into a tie with Philip Morris, while Lorillard's rating has decreased a little. Reynolds' rating has not changed. However, Philip Morris is now closer to the average analyst target, meaning that analysts project less upside. All three other names have seen their potential upside increase. Additionally, despite a tie for the best rating, analysts see the least upside in Philip Morris. When that happens, it's time to step to the sidelines.
Why the pullbacks matter:
I've always mentioned that Philip Morris stock has traded in a range over the past year, between $80 and $94, roughly speaking. In the last nine months of 2012, the stock had eight significant pullbacks of at least $4.00, most of them starting above $90. I've always mentioned to investors that buying on these pullbacks is the way to go, and many of my articles have highlighted both times to buy and times to wait.
Today, I'm going to show why waiting for those pullbacks is so important. I'm going to compare two investors. Investor 1 buys near the high points, and Investor 2 buys near the low points. For this example, each investor will make eight purchases of 10 shares each. Investor 1 will buy the shares at 50 cents below the high point (the start of each pullback), and Investor 2 will buy the shares at 50 cents above the low point (the end of each pullback). The table below shows each purchase for the investors.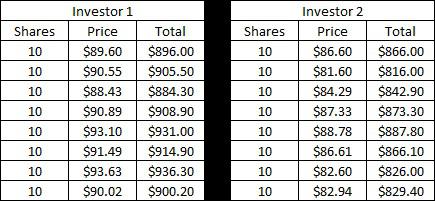 In the end, Investor 1 has bought 80 shares for $7,277.10, or an average of $90.96 per share. Investor 2 has obviously done much better, getting 80 shares for $6,807.50, or an average of $85.09. Some may say this timing is not possible for everyone, but I'm not even using the full value of the pullback. I'm using a dollar spread on each, meaning the difference could have been even greater.
The key takeaway here is that on those 80 shares alone, Investor 2 has saved nearly $470. That is a considerable amount, and would allow investor 2 to buy another 5 shares and then some. Don't forget, this is just the difference on 80 shares. If the purchase was raised to 1,000 shares, Investor 2 would have saved $5,870. Obviously, the more shares, the greater the savings. This is why investors need to watch for the pullbacks in Philip Morris, and take advantage of them.
Final Thoughts:
Philip Morris stock remains elevated with markets at new highs and the stock looks ripe for a correction. The valuation has stretched to a point where buying just does not make sense. As I detailed above, those who purchase this stock near its highs will end up with a significantly smaller position over time. The recent high in this stock was $93.48, meaning one of those patented $4.00 pullbacks would bring us down to $89.48. At the least, I wouldn't touch this stock above $90 right now. If the market pulls back, Philip Morris could be one of the first casualties. I would encourage investors to wait for the $87 to $89 range, with anything lower than that being preferred. Philip Morris may be my top value pick for the second straight year, but I can't justify overpaying for it, and neither should you.
Disclosure: I have no positions in any stocks mentioned, and no plans to initiate any positions within the next 72 hours. I wrote this article myself, and it expresses my own opinions. I am not receiving compensation for it (other than from Seeking Alpha). I have no business relationship with any company whose stock is mentioned in this article.
Additional disclosure: Investors are always reminded that before making any investment, you should do your own proper due diligence on any name directly or indirectly mentioned in this article. Investors should also consider seeking advice from a broker or financial adviser before making any investment decisions. Any material in this article should be considered general information, and not relied on as a formal investment recommendation.