I've been looking at Kellogg (NYSE:K), to try and find out if this would be a good stock to buy. I've used Morningstar's website to find the financial data .In this article I will be looking at Kellogg's revenue, income, EPS, dividend, valuation and its current assets and liabilities. I will use General Mills (NYSE:GIS) and Mead Johnson Nutrition Company (NYSE:MJN) as comparison for the current ratio, profit margin and valuation.
Sales and income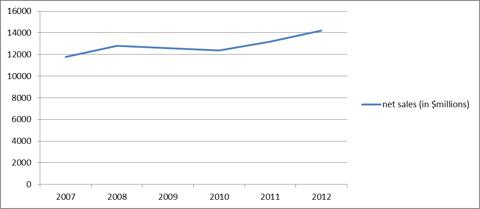 Kellogg has raised its sales by 20.6% from $11.8 billion in 2007 to $14.2 billion in 2012. This is an average yearly growth of 3.8%. However, profit margins (divined as sales divided by net income) have dropped from 9.4% in 2007 to only 6.8% in 2012. Net income went from $1.1 billion to $0.96 billion in the same period.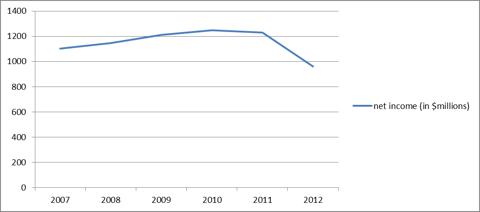 The reason for Kellogg's decline in net income is simple: It's costs are growing at a high rate . Total operating expense has been between $3.3 billion and $3.5 billion from 2008 to 2011, but in 2012, it climbed to $3.9 billion.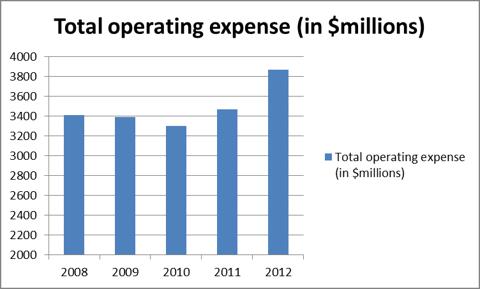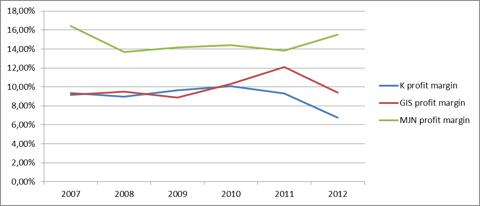 Dividends and EPS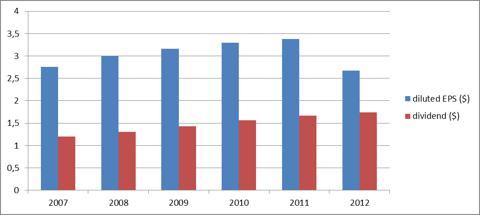 Kellogg has grown its dividend from $1.20 to $1.76 over the last 5 years, giving it an annual dividend growth rate of 7.7%. Unfortunately, EPS hasn't grown as fast, which has raised its payout ratio.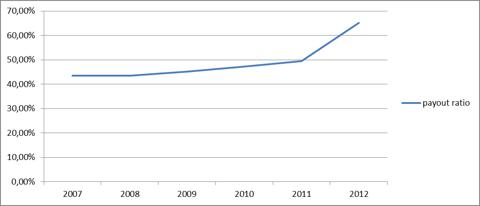 K's payout ratio has gone from 43.5% in 2007 to 65.1% in 2012.
Current assets, current liabilities and the current ratio
The graph below shows current assets and current liabilities for the last 5 years. Current assets have grown from $2.7 billion to $3.4 billion, while current liabilities have gone from $4.0 billion to $4.5 billion.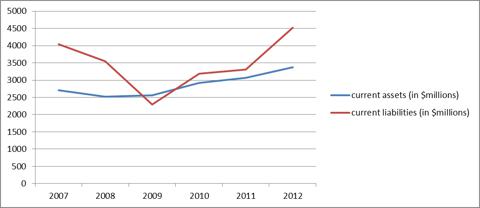 The current ratio gives us an indication of a company's liquidity, by comparing current assets to current liabilities. The graph below shows the current ratio for K , GIS and MJN over the last 5 years.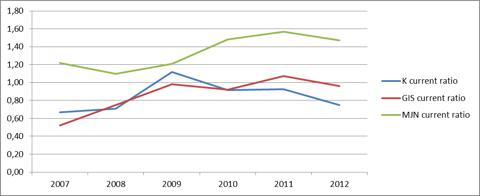 Kellogg's current ratio has been going down since its high in 2009, and is now at only 0.75.It's a lot lower than the current ratio for GIS and MJN. Current liabilities for K are now over a billion dollars higher than current assets.
Valuation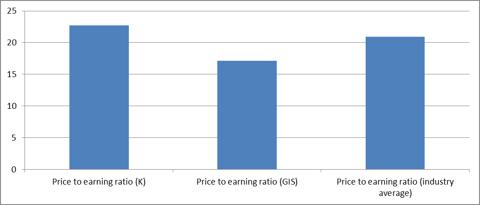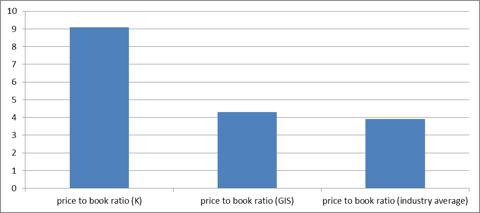 Kellogg is currently trading at a PE of 22.7, which is above the industry average of 20.9. It's price to book ratio is at 9.1, more than double the industry average of 3.9.
Kellogg's price to earnings ratio has been significantly lower over the past 10 years, with an average of 18.1.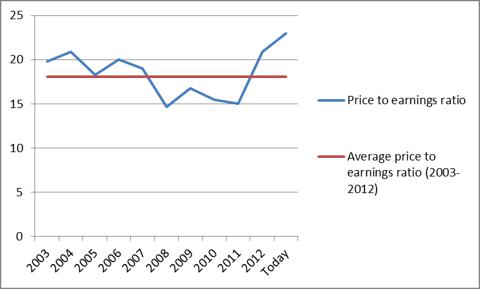 Conclusion
Over the past couple of years, there have been a number of times when K would be an amazing investment. Right now however, it's trading at 23 times earnings, which is more than I believe it's worth.
Based on Kellogg's high p/e and p/b ratios, combined with its dropping net income, declining profit margin and low current ratio, I would say it's overvalued at current prices. Kellogg needs to lower its costs to be able to get the operating margins they had in previous years. I wouldn't buy K until its p/e ratio comes near the 17.1 that GIS is currently at. This would give it a price of around $45, which is 27% from its current price of $61.47.
Disclosure: I have no positions in any stocks mentioned, and no plans to initiate any positions within the next 72 hours. I wrote this article myself, and it expresses my own opinions. I am not receiving compensation for it (other than from Seeking Alpha). I have no business relationship with any company whose stock is mentioned in this article.