Share price of Michael Kors (NYSE:KORS) has risen by 26.3% over the past 12 months while the price of Coach (NYSE:COH) dropped by 33.9% in the same period. Which stock represents a better investment to leverage the ongoing recovery of the US consumer spending? In this article, I will elaborate on my valuation analysis which may assist you in formulating an appropriate investment decision.
Consensus estimates on average predict Michael Kors's revenue, EBITDA, and EPS to grow at 2-year CAGRs of 28.4%, 27.6%, and 28.1%, respectively (see chart below). Those consensus estimates are substantially above Coach's averages of 8.9%, 7.0%, and 8.6%, respectively. Similarly, Michael Kors's long-term EPS growth rate is forecasted to be 35.9%, considerably above the Coach's estimate at only 13.9%. On the profit side, however, Coach demonstrates a better performance as the company's various profitability margins are above Michael Kors's level. In terms of capital return, Michael Kors does a better job as its ROIC metric is notably above that of Coach. On the debt side, both firms have a minimal leverage. Lastly, Coach's free cash flow margin is significantly higher than Michael Kors's, but the latter's current and quick ratios are markedly better, reflecting a healthy balance sheet condition.

To summarize, although Coach has a higher profitability, its outperformance is only marginal. Given Michael Kors's robust growth potential and fortress-like balance sheet, I believe its shares' fair value should command a significant premium over Coach's valuation. At present, Michael Kors is trading at 14.7x forward EBITDA (next 12 months) and 27.6x forward EPS (next 12 months) compared to Coach's trading multiples at only 7.3x and 12.7x, respectively. At a first glance, Michael Kors stock appears to be fully valued on a relative basis given the large valuation premium. When accounting for the company's strong growth potential, the shares are trading at a long-term PEG ratio of only 0.77x, about 15.3% below Coach's 0.91x, suggesting Michael Kors's valuation is indeed quite attractive (see chart above).
Further, both stocks' forward P/E multiples have decreased substantially over the past 12 months (see chart below). Despite the rise in share price, Michael Kors's P/E multiple has dropped by 48.3% over the period compared to the decrease of 33.9% for Coach's ratio.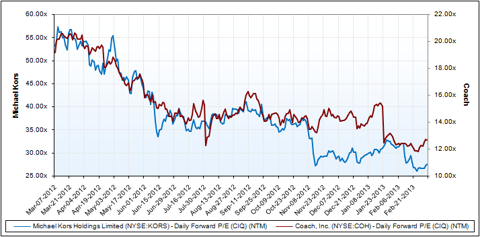 Based on the charts shown below, Michael Kors's consensus revenue, EBITDA, and EPS estimates as well as its long-term EPS growth estimate have actually been raised substantially over the period while those of Coach have experienced a few downward revisions.


Coach




Moreover, throughout the past 4 quarters, both companies' profitability and free cash flow margins have been trending steadily (see chart below). However, Michael Kors's revenue, EBITDA, and EPS growth rates have seen a notable improvement while Coach's growth has slowed down dramatically (see chart below). The implication here is that the drop in Michael Kors's trading multiple presents a great buying opportunity as the stock becomes cheaper while fundamentals remain strong, but the decline in Coach's P/E multiple is primarily attributable to the concern on the company's growth prospects.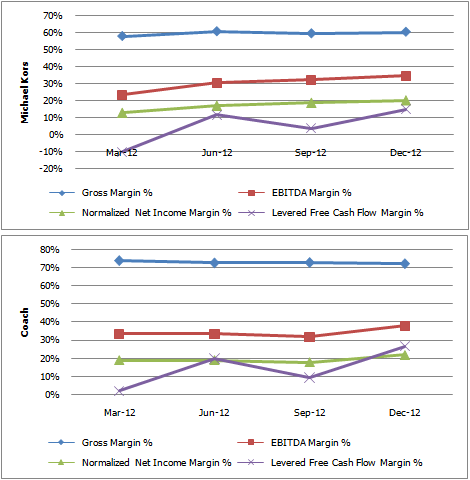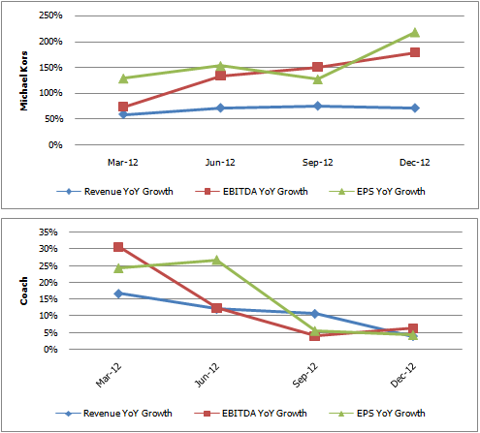 Bottom line, despite the recent price decline, market's persistent concern on Coach's growth prospects makes it difficult to call the bottom. On the other side, although Michael Kors is trading at lofty EBITDA and EPS multiple, those valuation metrics are compressing and the stock appears to be favorably valued after taking its robust growth rate into consideration. In the light of the high growth and the solid support from the market's positive sentiment, Michael Kors should be your choice.
All charts are created by the author except for the consensus estimate charts, which are sourced from Capital IQ, and all financial data used in the article and the charts is sourced from Capital IQ.
Disclosure: I am long KORS. I wrote this article myself, and it expresses my own opinions. I am not receiving compensation for it (other than from Seeking Alpha). I have no business relationship with any company whose stock is mentioned in this article.