On Thursday, Pandora (NYSE:P) reported fourth quarter and fiscal year 2013 results, which exceeded Wall Street's expectations and sent the stock soaring 20% in after-hours trading. In addition to reporting earnings, the company also reported that it would replace its current CEO Joseph Kennedy. The company's revenue, earnings, and fiscal year 2014 projections did not outpace analysts' expectations by a far margin, but was enough to further extend the rally the company has been having over the past quarter. The company's fourth quarter and full-year 2013 results are as follows: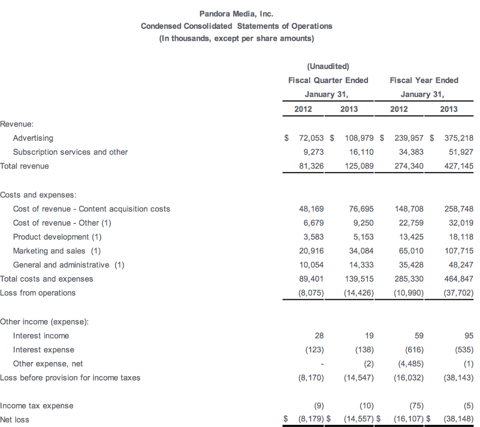 The main takeaway that the Pandora bulls are pointing to is the company's 105% growth in mobile revenue. Though this is important and illustrates the company's ability to monetize its mobile platform (which has the most opportunity for growth growing forward), it does not point to the issue of the rising cost of content. Pandora's CEO and Chairman Joe Kennedy stated:
We continue to monetize mobile at record levels and exceeded our expectations for the quarter. We closed the year with a record 8% share of total U.S. radio listening and record mobile monetization that cemented our leadership in mobile advertising. We have completed our technology integration with radio ad buying platforms and are rolling it out to the market. Pandora has been hiring top talent in local radio markets to further increase our share of the $15 billion radio ad market. We are now effectively the largest radio station in almost every major market and begin fiscal year 2014 with extraordinary momentum.
From an investment perspective, Pandora is an example of a company that has a modern and potentially profitable business model, but also has tremendous uncertainty as to when profitability will arise. This results in a stock that fluctuates dramatically and does not achieve clear investment results for shareholders. For this reason, investors with an attention to steady growth should stay clear of Pandora in the wake of the company attempting to turn a profit.
In the wake of rising royalty costs, Pandora announced that it will only give listeners 40 hours of free music per month before charging a $.99 fee. The problem with this approach is that it does not guarantee increased revenue, but has the potential to decrease customer loyalty. Spotify, AOL Radio, and Sirius XM Radio are all infringing upon Pandora's turf and providing a more competitive landscape for streaming music carriers. Spotify, in particular, has shown the pace that online music moves. Only several years ago, Spotify was a small London music streamer and today the company has over 20 million subscribers (5 million of them paying the $4.99 or $9.99 monthly fee). This uncertainty in the industry makes Pandora a purely speculative trade. There is no assurance that the company will be able to drive ad revenue past its increasing royalty fees. This is in large part due to the nature of its royalties. As Pandora grows its user base, its fees increase and thus it becomes more difficult to achieve profitability. Malathia Nayak of Reuters reports:
Pandora's per-track royalty rates have increased more than 25 percent over the last 3 years, including 9 percent in 2013 alone and are set to increase an additional 16 percent over the next two years.
With this type of increase in costs, even an aggressive increase in advertising income may not be enough to cover the per-track royalty fees that are eroding Pandora's profit into the negative territory quarter after quarter.
The question thus becomes: When will it be the right time for investors to jump in? The answer to this question lies in large part with what the investor is looking for. From my perspective, Pandora in its current state is a speculative trade due to the uncertainty surrounding profitability. The issue is not Pandora's platform, but simply the cost of obtaining content. For investors who are looking for a speculative trade in a company that could prove its worth and achieve profitability, then Pandora is a strong investment opportunity. On the other hand, if an investor is looking for long-term growth and short-term stability, then Pandora is a company to stay away from due to continued uncertainty surrounding its profitability.
Although investors may be leaving money on the table by not buying the stock at today's prices, it is too difficult to value the company. Therefore, investors should be cautious of the potential upward climb Pandora may have in reaching profitability. From a valuation perspective, Pandora is difficult to appraise due to a -8.29% profit margin and -29.92% return on equity. My claim is not that Pandora will never be able to reach profitability, but rather that investors should be cautious as to the uncertainty surrounding the cost associated with obtaining content.
(All financial metrics referenced above are obtained from Yahoo Finance, CNBC Analytics, S&P Capital IQ and Thomas Reuters.)
Disclosure: I have no positions in any stocks mentioned, and no plans to initiate any positions within the next 72 hours. I wrote this article myself, and it expresses my own opinions. I am not receiving compensation for it (other than from Seeking Alpha). I have no business relationship with any company whose stock is mentioned in this article.