A week or so ago Glaucus Research wrote an eye opening article about Hain Celestial (NASDAQ:HAIN) concerning their marketing practices. I'm not really concerned about the marketing practices because all it will take is just a slap on the wrist for the company before they will put a label on their packages kind of like the one found below on a package of potato chips. Instead, what I'd like to do is take a look at the stock for an investment opportunity rather than looking at the company.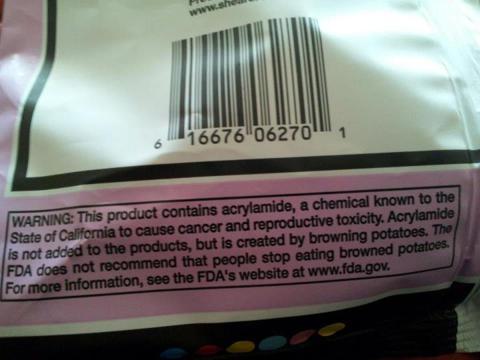 Valuation
The valuation metrics I normally look at don't show me anything that tell me the stock is relatively inexpensive or expensive. With respect to the trailing twelve month earnings, the stock's P/E ratio is 22.8, but I don't pay much attention to that metric as much as I do the 1-yr forward-looking P/E ratio which currently sits at 19.14. With respect to the 1-yr fwd P/E, I'd like to see the stock come down to around $43 before I begin to consider the stock as inexpensive, or I'd like to see some upwards earnings revisions/forecasts from analysts. The company has double digit earnings growth forecasts for the next five years which make the PEG ratio somewhat appealing at 1.37, but nothing to go jumping for joy about. The forward-looking valuations don't scream "buy" to me just yet making me not want to buy a huge position in the company right now.
Technicals
The relative strength index shows the stock is almost in oversold territory but has an upward trajectory. The current price however trades below the 50 and 20-day simple moving averages, of which I consider the 50-day SMA, the first point of resistance at $56. The $56 value represents a 1.9% gain from current levels, however, the first point of support as shown by the "S1" line in the graph is at $50.82 which is a whole 7.5% drop from current levels. This is important to bear in mind while taking a look at the moving average convergence-divergence graph which indicates the stock is in a bearish movement with the black line below the red line, but looking like its leveling off.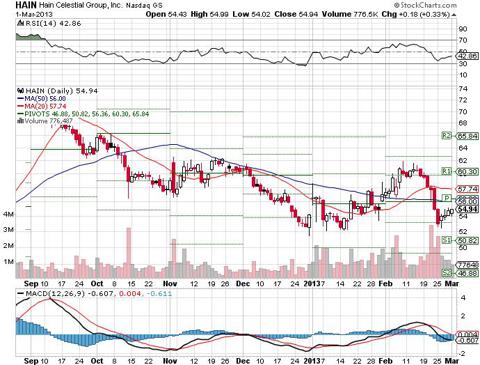 Recent News
In the month of February, UBS (NYSE:UBS) boosted the price target from $65 to $66 while Argus reiterated its "buy" rating on the stock but lowered its price target from $77 to $72. These actions don't speak too highly of the current situation at the company in my opinion and I just see the stock muddling around at these levels for now.
The company reported on 05 Feb13, its quarterly earnings were $0.72 against analyst estimates of $0.69. Revenues came in lighter than expected in the midst of the company lowering its full-year revenue forecast which I believe can guide the stock to lower levels.
HAIN may be exhibiting a symbiotic relationship with Whole Foods (NASDAQ:WFM), as goes WFM so goes HAIN. When you walk into a WFM, you notice that a lot of its aisles are filled with HAIN products. For this reason, I believe that HAIN is guilty by association with the recent declines in WFM and will probably follow WFM up and down on the charts.
Conclusion
I don't see anything in the stock right now fundamentally or technically that makes me want to go out and buy big lots of it in any big hurry. Personally, I'm going to take a very small chance with a bite out of it just to begin with and see what happens in the next coming days with respect to the resistance level I mentioned in the technical section. I like the company because healthy eating is actually a "thing" and not a fad. I myself am pretty lean, but beginning to eat much healthier. A sliver of light might personify itself in the form of Carl Icahn as he is a 10% owner in the company, and having recently been able to put two appointed members on the board of Herbalife (NYSE:HLF) I don't doubt if he tries to do something with HAIN and HLF together, maybe some sort of merger or something.
Disclaimer
These are only opinions of mine, do with them as you wish. You should always do your own homework and remember only you are responsible for your own investing decisions. Happy investing!
Disclosure: I am long HAIN. I wrote this article myself, and it expresses my own opinions. I am not receiving compensation for it (other than from Seeking Alpha). I have no business relationship with any company whose stock is mentioned in this article.
Additional disclosure: I'm long HAIN but with a very small position of my overall portfolio.