Insider transactions don't always serve as prophetic indicators that dictate the future direction of a company's stock. But every now and then, certain transactions could be viewed as being atypical and therefore worthy of mention. For this reason, we take a look at a recent purchase by the CEO of Codexis, Inc (CDXS), Mr. John Nicols.
While there are many reasons for insiders to sell their shares of a company, there are quite often very few reasons for them to buy shares apart from a positive outlook on the underlying equity. Likewise, it's quite clear that officers and directors tend to have a greater understanding of the company's operations than the typical investor. Therefore, they may be entitled to a higher opinion on its outlook. For those who like to follow leaders who are willing to put their own interests on the line when guided by their conviction, Mr. Nicols has initiated an open market purchase for common stock in Codexis.
Codexis is a company dedicated to creating a sustainable future for industry. The company produces industrial enzymes used in the manufacturing of biofuels, chemicals, and pharmaceutical ingredients. Through industrial biotechnology, Codexis reengineers enzymes and microorganisms in order to create the effective catalysts needed to solve the challenges faced by large companies. Whether it be turning waste biomass into a viable source of clean fuel or lowering the cost of pharmaceutical production, Codexis maintains the rights to a technology platform capable of optimizing industry performance.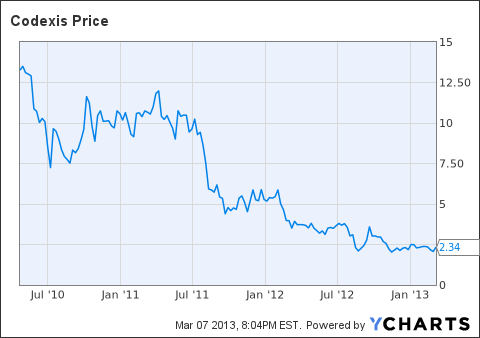 The company's chart tells the story of the criticism Codexis has faced on the market. The challenges in the industrial biotechnology space have largely been across the board as similar drops in share prices could be found in companies like Amyris (AMRS), Gevo (GEVO), (KIOR), and Solazyme (SZYM). The sector remains largely in the development phase with an average life in the public realm of less than 3 years.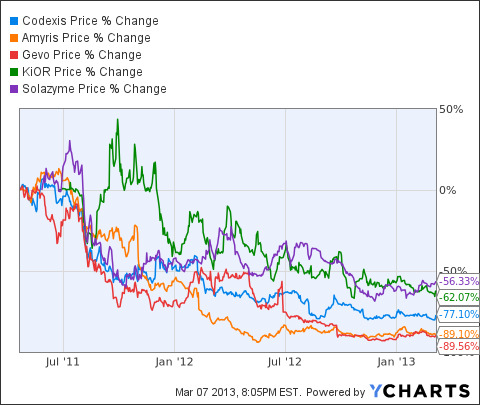 Yet the story at Codexis has also endured an extra share of bumps along the road. In 2012, the company dropped its founding CEO, Mr. Alan Shaw. It also had a setback when it's partner Shell (RDS.A) went in a different direction away from the original intent of the partnership.
As of March 7, the company has a current market capitalization of $87.94 million. It currently trades with a price-to-sales ratio of 0.92 and a price-to-book ratio of 1.03 although it fails to have positive earnings. The company's revenues have also been in decline.
Yet the recent purchase by the current CEO could suggest that the company is nearing its bottom lows. As seen by the filed Form 4 found here, Nicols directly purchased 54,000 shares of common stock at an average price of $2.22. The total transaction was worth $119,621 and altogether it brings his total up to 884,000 shares in the company. In the company's most recent earnings transcript, Nicols was also quoted as saying the following:
"With much of the transition overhangs now behind us, I believe that 2013 will be a very exciting and important year for Codexis as we reemerge back on to a solid growth track going forward."
Apparently he's not alone in his conviction. On March 4, CFO David O'Toole also purchased an additional 10,000 shares at an average price of $2.02. Despite the low values, the back-to-back purchases do stand as the first insider purchases on the open market conducted within a week of each other since August 2010. Additionally, it stands as the first open market purchase by Nicols since becoming CEO of Codexis.
Disclosure: I am long CDXS, SZYM. I wrote this article myself, and it expresses my own opinions. I am not receiving compensation for it (other than from Seeking Alpha). I have no business relationship with any company whose stock is mentioned in this article.